Tashiev Thunders Against 'Kolbaev-Matraimov Mafia'
It appears a purge is underway, as Tashiev decries the corrupt in Kyrgyzstan.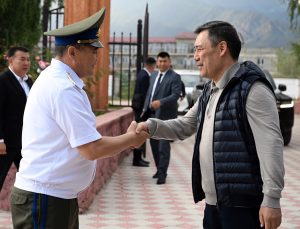 Kamchybek Tashiev, the head of Kyrgyzstan's State Committee for National Security (SCNS), announced late last week that more than 200 civil servants were being dismissed from their jobs "for connections with criminal elements and organized crime groups," specifically naming Raiymbek Matraimov and Kamchybek Kolbaev. 
Kolbaev was killed last month by SCNS officers in a Bishkek pub. According to the security services, when officers attempted to detain him, he "offered resistance using firearms" and was killed in the resulting shootout. Kolbaev had a long, infamous, career of escaping the law both internationally and within Kyrgyzstan.
Matraimov, a former deputy customs official, has been the subject of several investigative reports highlighting his links to corruption at a grand scale. The first, published by the Organization Crime and Corruption Reporting Project (OCCRP) in partnership with RFE/RL and Kloop in November 2019, came weeks after a core source was assassinated. It set off a steady stream of revelations about the extent of corruption in Kyrgyzstan. But Matraimov took advantage of kusturizatsia, an informal system in which the corrupt repay some of what they've skimmed off the state and thus evade more traditional or accountable justice mechanisms – he paid a fine in 2021 and went on with his life.
But the ground may be shifting. 
After Kolbaev's killing in Bishkek, security head Kamchybek Tashiev – who was opening a new State Committee for National Security building in Tokmok – warned "all those who were close to the crime boss who was liquidated yesterday" that if "anyone tries to raise their head against society or organizes any illegal actions, they will be severely punished according to the law."
He went on to proclaim, "From now on, there will be no thieves-in-law, no organized crime groups in our country."
A month later, while opening yet another new SNCS building – this time in Kemin district, in northern Kyrgyzstan's Chuy Region – Tashiev said, "We told everyone that from now on there will be no organized crime in our country and we must keep this word."
He explained that 92 civil servants associated with Matraimov and 60 associated with Kolbaev had been identified and would be dismissed. He said that an additional 50 employees of the customs service were also identified as connected to criminal elements. 
He said a "cleansing of government agencies" is underway.
Tashiev also proclaimed that "from now on there will be neither Kolbaev's mafia, nor Matraimov's mafia, nor other mafias in Kyrgyzstan."
When RFE/RL's Kyrgyz Service, Radio Azattyk, contacted Iskender Matraimov – a deputy in the parliament and Raimbek's brother – he reportedly responded in brief, stating that "the Matraimov clan does not exist."
How far Tashiev's purge will go is yet to be seen, but as with anything involving an alleged criminal underworld there is much hidden from view.
Kloop, in an editorial published in late October, called Kolbaev's death "a very strange murder" and charted how it "exposed the conflict between Japarov and Tashiev." 
The two men have a long political history together. And they came into power together in October 2020 after Sadyr Japarov was busted from prison amid the unrest following the botched parliamentary election that month. From the very start, there were rumors that Japarov's rapid rise into the presidency was assisted by various unseemly elements – namely Kolbaev and Matraimov. In the eyes of many political analysts, the resulting government was ruled not by Japarov alone, but the "tandem" formed by Japarov and Tashiev. 
In the wake of Kolbaev's killing, Japarov was quiet – commenting nearly two weeks after the incident that he'd learned about it from the internet. Meanwhile, Tashiev thundered on about purging the government of the corrupt. 
It's clear something is happening, a shift in the power dynamics as they have existed in Kyrgyzstan. Whether that shift results in positive change in the long run or not depends on myriad factors, not the least of which is whose base of power retains a handle on the government and whose is ousted in shame. And for now, it looks like Tashiev's game.