Policy Advisers Urge US Government to Ratchet up the Pressure on China
From economies to politics, the language on China is increasingly direct, as evidenced by a recent USCESRC hearing.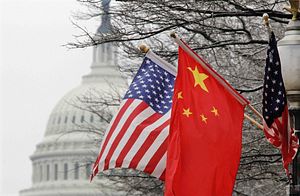 China specialists in the United States are beginning to prescribe unorthodox strategies for dealing with an increasingly aggressive China – and are using ever plainer, direct, and less diplomatic language in their discussions.
Commissioners at the U.S.-China Economic and Security Review Commission heard testimony earlier this month from a wide spectrum of China specialists. Many of those experts advised the Commission to recommend that the U.S. government place increasingly stringent limits on the Chinese government's ability to invest in the United States, to influence fiscal policy, and to compromise the integrity of U.S. national security.
Some of these strategies could be applicable across the board; they are not uniquely American. China's ever-rising economic, military, and technological prowess is an issue as much, if not more, for the smaller nations of the world as it is for the major powers.
One commissioner told The Diplomat that countries should "forget about the TPP" – the Trans-Pacific Partnership, a mega-trade deal involving 11 Pacific nations – and instead take a page out of the successful model evidenced by Bilateral Investment Treaties (BITs), which are currently in force between the United States and 39 countries around the world.
No Southeast Asian countries currently have BITs with the United States. In South Asia, only Sri Lanka and Bangladesh have BITs with Washington, suggesting that there is room for far more economic cooperation with Asian nations looking for a more reliable and transparent partner than the Chinese Communist Party.
Calculate the Leverage of Policies
Matt Pottinger, former U.S. deputy national security advisor under the Trump administration and now a Hoover Institution distinguished visiting fellow, told the Commission that "decoupling has been Beijing's strategy ever since they entered the WTO."
"Ever since they got access to our capital markets they began shutting down access to their economy," Pottinger said.
Pottinger, who spent seven years in China as a journalist in the late 1990s and early 2000s, is a China specialist who uses unvarnished language to communicate his insights and policy prescriptions on China.
Pottinger emphasized that it is critical to calculate the amount of leverage that every budget and bill gives to the United States versus that which it gives to China. "Does it increase leverage or surrender it?" he asks. That includes partnerships between government and industry, such as the Biden administration's $174 billion plan for electric vehicles (EVs). The plan gives significant leverage to China and its highly developed lithium battery sector, which is required to fuel EVs.
Second, Pottinger stresses that "No U.S. counter-strategy is likely to succeed if it doesn't curtail the mighty flow of American capital into China's military industrial complex. Somehow Wall Street missed the memo that Beijing is waging an existential fight whose objective is 'the eventual demise of capitalism and the ultimate victory of socialism,' to quote Chairman Xi."
In an interview with The Diplomat, Pottinger recommended countries borrow from multilateral institutions, such as the Asia Development Bank and World Bank, rather than borrow from Chinese policy banks such as Export-Import Bank and China Development Bank, whose terms are opaque and predatory.
In addition, Pottinger suggests trading "as little as possible" in Chinese yuan-denominated contracts.
"We Don't Need a 'Long-Term' Strategy"
China specialist Jude Blanchette, speaking to a select commission of advisors to the U.S. government on China policy, said earlier this month, "In truth…we don't need a 'long-term' strategy. In fact, quite the opposite. What the United States needs is, like China, a ten-year sprint strategy."
Blanchette's point is well taken. "By focusing on a vague and indeterminate timeline, our fixation with finding a 'long-term' strategy clouds our judgment over what to prioritize… It also has the practical effect of allowing current political leaders to procrastinate… Beijing understands that in ten years, the competition will be largely decided, even if the game has three more quarters to play."
Despite China's propaganda to the contrary, he argued that "China remains one of the least effectively regulated of the world's major economies, with significantly more space for actions that would be considered unsafe, fraudulent, or wasteful by many other political and regulatory systems… As a result, perplexing and seemingly contradictory outcomes are commonly seen."
Blanchette pointed to China's ability to create "thoroughgoing coercive dragnets of incredible scale and sophistication where it feels its core security interests are threatened, such as in the Xinjiang Uygur Autonomous Region or in response to the COVID-19 outbreak." Yet the power it takes to perpetrate those projects of mammoth authoritarian control seem wholly inconsistent with what should have been the relative ease of by-stepping the "massive fraud" that became Wuhan Hongxin Semiconductor Manufacturing (HSMC), which was supposed to develop China's capability "in an area of core strategic importance to the Xi administration."
As past Chinese leaders have, "Xi Jinping views technology as a key component of geopolitical rivalry with the United States." At the same time, however, Xi and his administration view the market forces that could realize the maximum gains of that technology as "unreliable and unpredictable" mechanisms for ensuring that the desired national security outcomes are produced.
"China's technological ambitions are directly tied to its evolving view of the international environment, which Beijing has assessed will become more hostile to its political and development interests."
In other words, the Chinese Communist Party knows that its behavior is anathema to internationally-accepted norms, and Blanchette suggests that the CCP attempts to adjust accordingly – not by changing its behavior, but by trying to change the norms.
Redress The Biggest Policy Failure Of The Past 50 Years
Miles Yu , who surprisingly, given his credentials, hasn't testified before the Commission for 16 years, was China policy adviser to Secretary of State Mike Pompeo, advising "the Secretary on all China-related issues," and helping to "overhaul U.S. policy toward China."
Yu, as a Hudson Institute and Hoover Institution fellow, and a professor of military history and modern China at the U.S. Naval Academy, brings a unique perspective to his analysis. He was born, raised, and university educated in China, coming to the U.S. in 1985 despite the difficulties he would have faced in gaining an exit visa allowing him to leave China.
Yu's remarks were as frank and forthright as many of his fellow witnesses.
Pointing out "the peculiar and paradoxical nature of the Chinese economy and the West's role in sustaining it," Yu went on to categorically define the political nature of the country of his birth.
"If there's one thing that every American should understand about the People's Republic of China, it is that it is a communist dictatorship ruled by a Marxist-Leninist party. The Party is dedicated to maintaining and strengthening its monopoly on all powers in the world's most populous country, and to mounting the most serious challenge to the free world since the Cold War."
His takeaway: "We should face the reality and redress the biggest foreign-policy failure of the past half a century."
Yu made the point that "China has been afforded the benefits of a global free-market system…enriching and strengthening the Chinese Communist Party" which is now a "mortal threat" not only to the U.S. but also to the very international free market economic system that has enabled the rise of the communist state."
Reciprocity is key. Yu urged Congress to ban Chinese investments in the U.S. that are prohibited for U.S. companies in China. These would include investments in mining, and critically, media, including entertainment, effectively cutting off a major channel for Chinese propaganda seeping into American culture.
Conclusion
Evidence of the idea that successive U.S. administrations over the last 40 years have continued increasing engagement with China for the politically palatable reason of bringing democracy and freedom to a poor and suffering Chinese nation is slim on the ground. Almost invariably, corporate interests have driven the policy, often to the detriment not only of national security interests, but also to the lives and livelihoods of American families.
The United States is not alone in having exposed itself to these risks. Indeed, the U.S. is joined in this China dilemma by many nations, allies in the elected democracies and otherwise.
Encouragingly, those who advise decision-makers are showing increasing backbone in public forums, and are willing to make risk-taking policy prescriptions that go against corporate interests, interests which, in the United States at least, play a significant role in funding political campaigns.
The trend is welcome and should be supported. In the end, even corporations answer to their customers.