Settling Central Asia's Borders Is No Easy Task
People on both sides of these possibly shifting borders have strong feelings about it.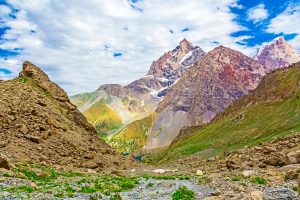 Shortly after declaring that the Kyrgyz-Uzbek border issues were resolved "100 percent," the head of Kyrgyzstan's State Committee for National Security Kamchybek Tashiev changed his tune, underscoring the deep difficulties in settling Central Asia's remaining unsettled borders.
As Bruce Pannier covered for RFE/RL, while in southern Kyrgyzstan in late March, Tashiev visited the Kyrgyz village of Birlik, which borders the Uzbek exclave of Sokh. Speaking in the Uzgen district of Osh Province after the visit, he said, "Concerning this area, there was no final decision. To be candid, we did not reach an agreement on this section, including adjacent territory."
As Pannier explained, Birlik had been the site of clashes in 2020 "that destroyed several homes and vehicles and left more than 200 people injured."
Although earlier Tashiev proclaimed a bevvy of land-swaps with Uzbekistan to finally settle the delimitation of the border, in the province he admitted that "Of course, if the people are against [the land-swap agreements], it is possible that some will not be implemented."
Tajikistan pre-emptively, isn't interested in land-swaps either. In announcing the good news on the Kyrgyz-Uzbek border business, Tashiev also mentioned that the Kyrgyz side had proposed a possible land-swap to settle the tension over the Vorukh exclave (Tajik territory surrounded by Kyrgyzstan).
Visiting the area this week, Tajik President Emomali Rahmon assured residents of Vorukh that no land-swaps were being considered. 
"There have not been any talks about the possible exchange of Vorukh for another territory in the last 19 years, and there is no possibility for it," he said, citing recent news reports as the reason for his statement. "Border demarcation is a long process and there is no place for emotions in the matter," he said.
According to RFE/RL's Tajik Service report, Rahmon said agreements had been reached on almost half of the Kyrgyz-Tajik border over 100 rounds of negotiations since 2002. He claimed that the Tajik side had finished the work on its end outlined in a 2016 joint road map but that the Kyrgyz had failed to keep to the plan for "unknown reasons."
It certainly seems that the Tajik government isn't yet as keen as the Uzbek government on dealing with the border matter. And none of this approaches the difficulties that come after high-level agreements.
As I wrote last month:
As Kyrgyzstan and Uzbekistan move from agreeing on paper to where their border lies, or delimitation, they will have to take up the nastier matter of demarcation — or physically marking the border. That process may trigger tensions at the local level, especially when swapped territory comes into play.
The demarcation process is liable to be ugly. People on both sides of these possibly shifting borders have strong feelings about it. The governments involved also all struggle with the democratic bridge between the individual and the state while also, especially in Kyrgyzstan, being keenly aware that people's sentiments cannot be entirely ignored. This in turn allows for the bilateral political matter of border demarcation to be weaponized for domestic purposes as needed.
For President Sadyr Japarov's government a win is critical to stabilizing the country's political situation. There is an small window of time for Japarov to prove there's substance to back up his promises, that he can bring about both political and economic stability before he could go the way of nearly every other Kyrgyz president. For Uzbek President Shavkat Mirziyoyev, settling the border helps feed his preferred reformist image, underpinned by his government's emphasis and pursuit of greater regional cooperation. In Tajikistan, Rahmon has perhaps less incentive to see the border matter settled. The tenuous status quo hasn't harmed his regime the way persistent border dramas have helped undercut Kyrgyz governments.