With Severe Sentence, Thailand Deepens Its War on Critics of the Monarchy
Thailand wields a controversial law in its attempt to stamp out a campaign of student-led protests.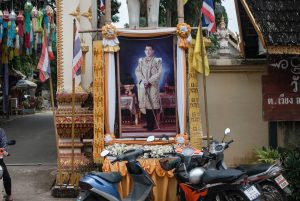 As I mentioned briefly in an article yesterday, a Thai court yesterday sentenced a woman to a record 43-and-a-half years for criticizing the monarchy – the most severe sentence ever handed down under Thailand's controversial lese-majeste law.
The Bangkok Criminal Court found Anchan Preelert, a former civil servant, guilty of violating the law on 29 instances, for posting audio clips to Facebook and YouTube with comments deemed critical of the palace. This initially added up to a term of 87 years, but the sentence was halved after the defendant admitted her "guilt."
According to the group Thai Lawyers for Human Rights, the woman sentenced was in her mid-60s, meaning that she will likely die in prison for doing what in most nations is an entirely innocuous activity: expressing her opinion online. Her sentence exceeded by some way the 35-year sentence handed down to a man by a military court in 2017, for social media posts deemed defamatory to the monarchy.
Both the conviction and the sentence were swiftly excoriated by human rights groups. "Today's court verdict is shocking and sends a spine-chilling signal that not only criticisms of the monarchy won't be tolerated, but they will also be severely punished," said Sunai Phasuk, a senior researcher for the group Human Rights Watch.
The sentence comes amid an ongoing protest movement that has seen unprecedented public criticism of the Royal Palace and mockery of its current inhabitant-in-chief, King Vajiralongkorn. In its initial stages, the government shied away from using the lese-majeste law to pursue protest leaders, perhaps heeding Vajiralongkorn's wish, expressed shortly after he took the throne in 2016, that the government rein in the use of the controversial law.
But that changed in November, at the height of the protests, when Prime Minister Prayut Chan-o-cha announced that "all laws" would be used to pursue protest leaders breaking the law. Since then, the police have charged more than 40 people with lese-majeste, including key student protest leaders, a popular actress, and three minors.
Some of the pretexts have been laughably thin. In the case of one group of student activists, the charges were imposed after they held a protest at a Bangkok mall while dressed in crop-tops, a sartorial quirk known to be favored by King Vajiralongkorn. Today, royal defamation charges were also reportedly levied against the opposition politician Thanathorn Juangroongruangkit, whose popular Future Forward party was disbanded on a flimsy pretext in February 2020.
Thailand's lese-majeste law – known widely as Article 112 – has been in place since the early 20th century, but only began being implemented energetically in the 1970s, when the Thai ruling establishment faced serious challenges from student unrest and a China-backed rural communist insurgency.
Since then, Article 112 has been used to prevent the public from poking holes in the royalist myth that sacralizes and legitimizes Thailand's grossly unbalanced distributions of concentrations of wealth and power. One of the most capricious things about the law is that anyone can lodge a complaint, initiating legal proceedings that can drag on for years. Unsurprisingly, the student-led protest campaign has also made the abolition of Article 112 one of its central demands.
While this week's sentence involved charges that date back to 2014-15, shortly after Thailand's most recent military coup, the timing and severity of the sentence suggest a broadening of the lese-majeste offensive in a bid to quash any and all criticism of King Vajiralongkorn and the institution that he represents.
James Buchanan, a scholar of Thai politics based at the City University of Hong Kong, wrote on Twitter that the case suggested that in addition to filing new lese-majeste cases against protest leaders, the authorities "seem to have been ordered to clear a backlog of historical cases, which were put in limbo after the king instructed the law not to be used anymore."
Buchanan also highlighted the case involving a 45-year-old manual laborer named Mr. Issaret, which he described as possibly the first in this "new wave" of lese-majeste cases. Issaret was arrested in September last year on charges dating back to 2016, when he speculated in a Facebook post about a possible succession struggle following the death of King Bhumibol Adulyadej that October.
All this suggests that far from showing signs of flexibility or willingness to compromise, Thailand's ruling establishment is doubling down on its war against those demanding change.