Thailand Buffeted by Third Wave of COVID-19 Infections
The new outbreak threatens to undermine Thailand's economic recovery before it has even begun.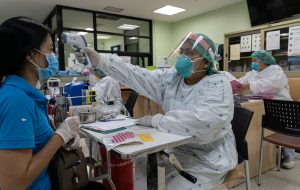 After months of successful containment, Thailand has set a new daily record for COVID-19 cases, as it strains under a third wave of infections that include the highly contagious B.1.1.7 variant of the virus.
On Monday, the country recorded 985 confirmed cases of COVID-19, a spike comes on the cusp of the Songkran new year holiday, which authorities have banned for a second year due to the pandemic.
The outbreak, which has infected at least one cabinet minister and forced a number of other politicians into self-quarantine, has brought Thailand's total to 32,625 confirmed positive cases and 97 deaths as of Sunday. Monday's record total followed 967 new COVID-19 cases on Sunday – another total – and 789 cases and one death the day before that. On April 1, by contrast, the country recorded just 26 cases.
To cope with the increased burden on the hospital system, a Thai health official said that the government plans to set up 10,000 field-hospital beds in Bangkok, while a 280-bed field hospital has also been established in the city of Chiang Mai, in the north of Thailand, which has also seen a spike in cases.
The current spike is the largest since an outbreak in mid-December, centered on a seafood market in the coastal province of Samut Sakhon, which is home to a large population of migrant workers, mostly from Myanmar.
The current outbreak has been traced to a number of bars and nightlife venues in the heart of Bangkok, including many popular with the rich and powerful. At least 38 provinces have required visitors from risk areas to undertake a 14-day quarantine. Pubs, nightclubs, and karaoke bars in Bangkok and 40 other provinces will be closed until April 23. The current outbreak has spread to at least 62 of Thailand's 77 provinces.
Most worryingly, the third wave has seen the presence of the B.1.1.7 variant of the coronavirus first identified in the United Kingdom, which is both more transmissible and more deadly than the previous dominant strain.
The outbreak is heaping pressure on the government of Prime Minister Prayut Chan-o-cha over a tanking economy and its glacial rollout of COVID-19 vaccines. As of April 10, Thailand had administered 485,959 doses of COVID-19 vaccine to its population, the equivalent of just 0.7 percent of the population, according to the University of Oxford's Our World in Data project. This puts it in eighth place in Southeast Asia for vaccines administered relative to population, ahead of only Vietnam and Brunei.
The slow progress now threatens the undo the good work that saw Thailand experience a laudably small number of cases in 2020, despite being the first country outside China to report a case of COVID-19 in January of last year.
But the low case numbers have been purchased at a heavy long-term economic cost, in particular to Thailand's tourism industry, which makes up as much as 15 percent of its gross domestic product. On the weekend, the Thai government announced a seven-day quarantine for tourists who could prove they have received a COVID-19 vaccine, a move that it hopes will get the industry back up and running
According to the World Bank's latest economic forecast, Thailand's economy contracted by 6.1 percent in 2020, and is expected to return to modest growth of 3.4 percent this year. But a protracted vaccine rollout and spiking COVID-19 numbers threaten, once again, to set back the government's plans for recovery.
"The week before last, businesses – particularly those in the tourism sector – held out hope the country could reopen to foreign travelers in coming months, with an economic recovery to follow," Dusida Worrachaddejchai, Lamonphet Apisitniran, and Somruedi Banchongduang wrote in the Bangkok Post on Monday morning. "But the fresh outbreak dimmed their hopes with fears the whole process will return to square one."