Thailand Halves Quarantine Requirement for Vaccinated Visitors
The move reflects Bangkok's new policy of balancing the endemic reality of COVID-19 with the need to reopen crucial sectors of the economy.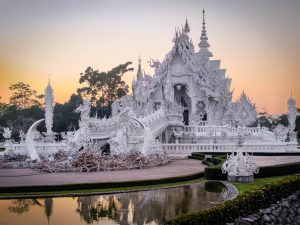 Thailand is taking another step toward the revival of its economically pivotal tourism industry, with the government set to slash the quarantine for vaccinated travelers to just seven days from Friday.
According to the plan, which was unveiled by Thai tourism officials on Monday, international travelers who have been fully vaccinated against COVID-19 and can prove it with a vaccination certificate will only be required to undergo seven days of quarantine upon their arrival. Visitors will have to show a vaccination certificate, and will also be required to return two negative COVID-19 tests.
"They'll be swabbed twice. The first time is between Day 0 and Day 1, which is the first day they arrive. The second time is between Day 6 and Day 7," a spokesperson for Thailand's COVID-19 Situation Administration Centre told reporters on Monday.
International travelers who are not fully vaccinated will have to be quarantined for 10 days if they enter Thailand by sea or air. If they enter by land, the quarantine period will remain at 14 days, a likely concession to the ongoing outbreaks of COVID-19 in Myanmar, Cambodia, and Laos.
The new rules will also apply to the "Phuket sandbox" program, introduced in July, under which vaccinated international visitors were able to roam the island of Phuket (and later other island destinations) freely for 14 days rather than spending it in hotel quarantine, after which they are free to visit other parts of Thailand. Under the new quarantines, this 14-day restriction will also be halved to seven days.
As Opas Karnkawinpong, director-general of the Department of Disease Control, explained to the Bangkok Post, the changes are part of Thailand's plan of treating COVID-19 as endemic, and learning to balance the risks of the disease against the need to reopen crucial sectors of the economy.
"The shorter quarantine periods are symbolic of the readiness to co-exist with COVID-19," Opas said. "It is difficult to eliminate the virus from society in a short time," he added. "It is about adjusting and co-existing with the disease and reducing the fatality rate and severe symptom cases."
While Thailand managed to contain COVID-19 with relative success for the first year of the pandemic, the shutdowns and collapse in international travel devastated the country's tourism industry. Prior to the pandemic, Thailand was attracting nearly 40 million foreign tourists per year, and the industry generated an estimated 20 percent of Thailand's GDP.
This contributed to Thailand experiencing the second-worst recession of the 10 nations in the Association of Southeast Asian Nations in 2020, with the Asian Development Bank (ADB) reporting that its economy contracted by 6.1 percent.
In an update to its Asian Development Outlook report released last week, the ADB also downgraded its economic outlook for Thailand from 3 percent growth to just 0.8 percent for 2021, due to sluggish vaccine rollouts and the country's continued struggle to contain COVID-19.
While Thailand passed the peak of its current outbreak last month, it is still recording around 12,000 new infections per day. Its cumulative total has risen to more than 1.58 million and it is just shy of 16,500 deaths.
After a slow start, the pace of vaccinations is beginning to gain momentum, especially in the country's major population centers. As many as 1 million doses were administered daily over the past week, and the country has now administered at least one dose of vaccine to more than 40 percent of its population.
Widening vaccination coverage forms the basis for the government's four-phase plan for the reopening of its tourism industry. Under this plan, according to Channel News Asia, authorities have plans to extend the "sandbox" scheme to a number of other island destinations in October, and then to other important tourist centers, including Bangkok, Chiang Mai, and Chonburi, in November. The country then has plans to take the final steps toward a full opening in December and January of 2022.
Whether or not Thailand reaches this goal remains open to question. Its tourism opening plans have already experienced considerable delays, something that can be chalked up to both the unexpected and contagious Delta variant of COVID-19 and the government's own missteps in vaccine procurement and distribution. And the recovery of tourism will have to battle a number of external challenges, from international visitors' perceptions about Thailand's COVID-19 performance to the delays in the recovery of international travel after an 18-month slump.
With a bit of luck, however, 2022 might well be the year that Thailand's tourism industry gets at least a bit of its mojo back.