Turkic Council Sets Sights on Upgrade Rooted in Economic Connectivity Projects
The Turkic Council aims to grow its political and economic significance.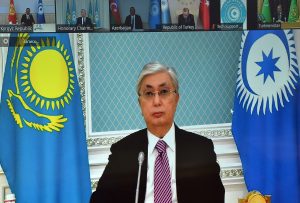 The unofficial summit of the Turkic Council attended by the Hungarian prime minister and the presidents of Azerbaijan, Kyrgyzstan, Turkey, Turkmenistan, Uzbekistan, as well as current and former presidents of Kazakhstan, met on March 31. The group is scheduled to meet for its eighth formal summit in the fall of 2021 in Turkey.
The latest meeting closed with two significant developments: First, Tashkent showed unity with Azerbaijan and Turkey on the outcomes of the latest conflict in Nagorno-Karabakh and the transfer of its territory to Azerbaijan. Second, several leaders remarked positively on the upcoming transformation of the Turkic Council into a political and economic organization as it plans to tie regional economic projects around the organization. 
At the summit, Uzbekistan President Shavkat Mirziyoyev congratulated Azerbaijan's president and the Azerbaijani people for regaining the territory of Nagorno-Karabakh, which he called "the restoration of historical justice." He offered assistance in rebuilding ancient monuments and other cultural facilities in Nagorno-Karabakh. This statement was the strongest political support Mirziyoyev has offered to Baku since the ceasefire following a month-long conflict between Azerbaijan and Armenia in November 2020. The statement is a clear indication of which side Tashkent stands on in the conflict. The choice of platform, a meeting of Turkic leaders, to make such a statement was symbolic of unity and support to Turkic brethren. 
Mirziyoyev's policy of support to Azerbaijan is a continuation of his predecessor's stance toward Azerbaijan and the Nagorno-Karabakh issue. Officially Tashkent has always seen Nagorno-Karabakh as Azerbaijan's territory. The cost of that position has been diplomatic representation. Armenia appointed its first ambassador to Uzbekistan in June 2019, though because there is no Armenian embassy in Tashkent, he's based in Yerevan. The last time Tashkent showed similar support for Azerbaijan was in 2010 when then-President Islam Karimov said that Nagorno-Karabakh was an indivisible territory of Azerbaijan.
The Turkic Council is developing from an informal summit, as it is called now, to an organization with several economic projects anchored around it. The presidents of Azerbaijan and Turkey, Ilham Aliyev and Recep Tayyip Erdogan, both spoke about a transport corridor to connect Azerbaijan to Turkey and through that connection allow Central Asian countries to link with Europe. Erdogan specifically spoke about the Trans-Caspian East-West-Middle Corridor, which according to its current description will go through Georgia, Azerbaijan, and the Caspian Sea, and reach China by following a future Turkmenistan-Uzbekistan-Kyrgyzstan route. 
The corridor plans to offer a more economical and quicker alternative to the current overland Asia-Europe Trans-Siberian railroad that moves freight from China to Europe. For Central Asian countries that seek a larger role in the Belt and Road Initiative, these potential projects enhance their presence and increase their significance. Such opportunities to participate in larger projects will be welcomed by Central Asia. 
The presidents of Kazakhstan and Uzbekistan, Kassym-Jomart Tokayev and Mirziyoyev, emphasized the need for transportation projects in the framework of the Turkic Council. Mirziyoyev stated:
It is strategically important to raise the transportation and transit potential of our region. It is crucial to ensure access via Central Asia to main global markets, including China, India and Pakistan and other Asian countries, as well as from Azerbaijan and Turkey to European nations. Development of transport corridors in these directions and joint realization of major projects to create logistical infrastructure meet our common interests entirely.
First President of Kazakhstan Nursultan Nazarbayev, who was named honorary president of the Turkic Council in 2019, spoke about how transportation routes will increase the role of the Caspian Sea in the project as an option for the shortest and safest route between China and Europe. 
It is expected that the Turkic Council will transform into an organization with more political clout, evolving from its current informal state. Erdogan and Nazarbayev spoke in favor of the Turkic Council becoming an international organization, to be formalized in the next meeting of the council.
Several leaders indicated that the Turkic Council will be moving away from being solely a gathering point for presidents to a political organization, anchoring itself with economic projects, something the organization has lacked in the past 12 years of its existence. Regional infrastructure projects, if realized, will provide the central project for members to coalesce around.