EU-Central Asia Economic Forum: Is Central Asia Ready for More Assertive EU Policy?
At the EU-Central Asia Economic Forum, the EU kept its rhetoric uncontroversial. However, Central Asian countries signaled they may respond well to more ambitious EU goals.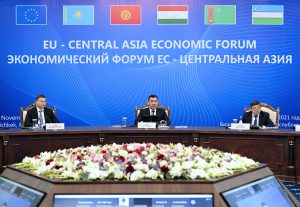 EU leaders met in Bishkek on November 5 with prime minister-level Central Asian representatives at the first EU-Central Asia Economic Forum, where the EU promised a continued flow of investments and aid in line with existing programs. They did not challenge Central Asia's governments to make specific, radical reforms in the forum's three highlighted three areas for cooperation: green recovery, digitalization, and improving the business climate. However, the Central Asian delegations, in some cases, showed an appetite for more ambitious EU policy.
Many forum participants came to Bishkek fresh off the plane from the U.N. Climate Change Conference in Glasgow, COP26, but environmental policy was the least promising of the forum's topics. Participants talked past each other on energy investment, for example. The president of the European Bank for Reconstruction and Development (EBRD), Odile Renaud-Basso, and director general of the European Investment Bank (EIB), Luca Lazzaroli, were crystal clear about their green investment policies. Aligned with them, Kyrgyz Chairman of the Cabinet of Ministers Akylbek Japarov and Tajik Vice Prime Minister Usmonali Usmonzoda emphasized their countries' renewable energy potential. Meanwhile, Uzbek Prime Minister Abdulla Aripov and Turkmen Deputy Chairman of the Cabinet of Ministers Chary Gylyjov highlighted hydrocarbons as a top-priority sector for cooperation, while also expressing interest in alternative energy. This indicates a desire to continue pocketing income from fossil fuels while taking EU funding for renewables. 
While green investment received a lot of interest from all sides and the EU delegation talked passionately about the need to reduce emissions, no one discussed details of more painful ways to decrease reliance on hydrocarbons. Issues like carbon pricing and fossil fuel subsidies were included in a recent OECD report, which EU Representative for Central Asia Tehri Hakala cited as the basis for EU policy. However, these specific goals were not mentioned in the EU speeches or in the joint statement published after the forum. Tellingly, emissions reduction is even sensitive in Kyrgyzstan, which is not one of the region's fossil fuel producers. Kyrgyz President Sadyr Japarov noted that the country set more ambitious emissions targets at the Glasgow conference, but pointedly remarked that Kyrgyz emissions are a result of the everyday life of people, not industry. The targets he mentioned are conditioned on international funding, showing a desire to join the international effort but unwillingness to bear its full cost.
In this context, it is surprising that the EU did not highlight Kazakhstan, whose Prime Minister Aksar Mamin emphasized that the country is willing to work closely with the EU on climate issues. Kazakhstan has set the region's most ambitious unconditional emissions targets despite significant reliance on hydrocarbons, which currently makes it the 20th largest greenhouse gas emitter in the world. Mamin did not discuss the fossil fuel industry in his speech, unlike the Uzbek and Turkmen delegations. Kazakhstan – while far from perfect – has also taken the most concrete steps in the region, including adopting a long-term low emissions development strategy, introducing carbon pricing, and mandating environmental assessments for infrastructure projects. 
In contrast, the commitments of every Central Asian county to business climate reforms were substantive. Even Turkmenistan, which essentially remains a planned economy, agreed in the joint statement to privatize or improve governance of state-owned enterprises. Hoping to attract international investment, all Central Asian delegations except Kazakhstan detailed recent business-oriented reforms in the areas mentioned in the joint statement. (Kazakhstan, whose prime minister also did not focus on digitalization, despite Kazakhstan's strength in this area, may have been trying to signal that it has already modernized and does not need EU endorsement, much less assistance.) The EU speakers did not capitalize on this opportunity to push hard for radical reform, instead emphasizing the continued flow of technical assistance and aid money through existing programs.
Even in the context of an economic forum, the elephant in the room is that all Central Asian countries are authoritarian except – perhaps – Kyrgyzstan. When discussing reforms, EU leaders chose to use the gentle words of "transparency" and "inclusivity" rather than "anti-corruption" and "democracy." Hungarian Minister of Foreign Affairs Peter Szijjarto, whose country is embroiled in a battle with EU leadership over democratic standards, seemed to tacitly rebuke the EU for any interference in Central Asian domestic affairs. He said relations should be based on "mutual respect rather than lecturing each other." 
Yet surprisingly, Kyrgyzstan and Uzbekistan invited this conversation about democracy. Kyrgyz President  Japarov provocatively claimed that all participants have a shared value of freedom. Uzbek Prime Minister Aripov said Uzbekistan is undergoing democratic transformation, which carries the tacit acknowledgement that the country was not previously democratic. Both the Kyrgyz and Uzbek officials highlighted anti-corruption efforts as well, unlike the other Central Asian countries. 
The forum reflected some gradually evolving dynamics in the region, including the Kazakh commitment to fight climate change, Turkmen progress toward a market economy, and Uzbek efforts at democratization. Of course, this may be empty rhetoric. However, the EU will only find out whether these countries are serious if Brussels takes greater risks in its own rhetoric and challenges Central Asia to do better. Kyrgyz Chairman of the Cabinet of Ministers Akylbek Japarov proposed creating a standing committee to monitor progress on commitments from the forum. This would be one possible mechanism to further ambitious EU-Central Asia economic relations.