What the China-Iran Strategic Cooperation Pact Means for India
New Delhi must revisit its approach to Tehran, especially if it wishes to limit China's growing influence within Iran.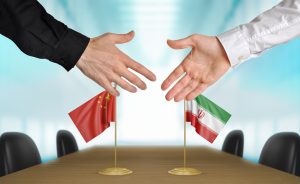 On March 27, China signed a landmark 25-year Strategic Cooperation Agreement with Iran, marking a renewed commitment to their Comprehensive Strategic Partnership established in 2016. News reports have claimed that the deal may be worth $400 billion in Chinese investments and provide Beijing with a source of cheap oil for the coming quarter century. The finalization of the deal – a draft of the 18-page document was leaked in June 2020 – caused a media frenzy, with many concerned that China and Iran were looking to form a new axis in the Middle East, aimed at undermining the United States.
India's stake in the situation hinges on its interest in Iranian natural gas reserves and its desire for continued participation in the Chabahar port project with Iran. With the deal now inked, and considering India's changing geopolitical and security environment vis-a-vis China, what are the key implications of the China-Iran pact for India? How can New Delhi respond to Beijing's major drive to support Tehran?
A China-Iran Axis in West Asia?
Historically, China's relationship with Iran has been a positive, albeit largely limited one. China has been exceedingly careful in its dealings with the turbulent Middle East; it has cautiously adhered to a balanced policy of not cozying up to Iran and maintaining an equidistant relationship with rival Gulf nations like Saudi Arabia and the United Arab Emirates (UAE). In fact, a quantitative analysis of China's economic and security engagement in West Asia found that Iran is lagging in comparison to other states like Pakistan and Saudi Arabia.
The China-Iran deal has been widely claimed a game-changer for the region, and a cornerstone for China's footprint in West Asia. However, in substantial terms, the pact is merely an extension of China's Arab policy, outlined in its 2016 White Paper. The $400 billion investment figure is both unsourced and unrealistic, considering that Chinese FDI in Iran totaled just $3.23 billion in 2018. Further, the Strategic Cooperation Agreement conforms to similar agreements between Beijing and both Saudi Arabia and the UAE, currently in the works. The deal is thus meant to reinforce the "strategic" element to the China-Iran partnership through a grand political statement, but not materially elevate it.
This emerging political synergy makes the China-Iran agreement a strategic concern for India. Both Beijing and Tehran are subject to U.S. sanctions; for Iran, these sanctions have been crippling and made courting Chinese investment ever-more important. While Chinese investments may not amount to the massive $400 billion figure often quoted, they nevertheless fill a crucial gap for Tehran. Iran's foremost objective will thus be to attract increasing investments. The Beijing-Tehran connection could hinder New Delhi's strategic aims with Iran and foreign policy engagement with the region.
In other words, as Iran attempts to curry increasing favor with China, it could result in making critical concessions to Beijing that may weaken a competing or emerging actor like India's position in the Gulf region.
Beginning of New Cold War Alliance Politics?
The superpower rivalry between China and the United States is quickly coming to resemble the development of the Cold War, and officials in Beijing and Washington are positioning themselves into blocs of like-minded states. Under such conditions, China is attempting to forge an "alliance of autocracies" to counter the United States' "alliance of democracies" (like the Quadrilateral Security Dialogue in the Indo-Pacific). Beijing, for example, has sought to form a trans-Himalayan Quad grouping of its own with Pakistan, Nepal, and Afghanistan. Beijing's outreach to the Middle East, particularly its Strategic Cooperation Agreement with Iran, are examples of such overtures.
Iran previously proposed an alliance of five nations with China, Pakistan, Russia, and Turkey for regional peace, stability, and progress. Iran's Islamic connections with Pakistan and Turkey, strengthening relationship with Russia, and the China-Iran agreement could be the building blocks of such a "Quint" grouping. In fact, in January 2021, Tehran signed a cybersecurity cooperation agreement with Moscow, which will likely be centered on intelligence sharing; the Strategic Cooperation Agreement promotes China-Iran defense cooperation, potentially creating space for a broader new Cold War alliance. Furthermore, the deal could allow for China's investment in Iran to be an extension of its China-Pakistan Economic Corridor (CPEC) – for instance, by linking the Iran-Pakistan gas pipeline to CPEC and therefore acting as a bridge between Islamabad and Tehran.
So far, given the incredibly steep tradeoffs involved, China has not found increasing its economic and security engagement with Iran worth changing its risk-averse policy toward Arab states. Beijing's promise to safeguard the Iran nuclear deal and its recent provision of COVID-19 vaccines to Tehran are carefully calibrated moves in this direction. However, this could quickly change as Beijing's rivalry with Washington escalates; the Strategic Cooperation Agreement provides the treaty framework for just such a surge in bilateral ties.
Under such circumstances, India – which has increasingly found synergy with the United States in the security domain – could be confronted with a China-led alliance of hostile nations. While a China-Iran-Pakistan-Russia-Turkey axis is not a reality yet, it could very well take shape in the near future and pose a serious national security challenge for India. China is already extending its activities in the Indian Ocean, where New Delhi has long feared a so-called "String of Pearls" network encircling India. The emergence of a similar axis to India's north – with a trans-Himalayan Quad and the proposed alliance of five nations – would encircle India entirely and therefore, severely limit its outreach capabilities.
India's Central Asia Engagement
Most critically for India, such an alliance could be a hindrance to New Delhi's own outreach to the West and Central Asia. With China-India ties at a new low since their Galwan Valley clash at their disputed border, New Delhi is trying to protect its regional influence; the Chabahar port, set to be completed within a year,  is a key part of this strategy. Not only does it connect India to Afghanistan and Central Asia, bypassing Pakistan (which is currently the only route of access), but Chabahar also acts as a balance to CPEC and a symbol of India's commitment to Iran and Afghanistan. India is reportedly poised to invest nearly $500 million in the project, with a total commitment of 1 billion rupees (or $13.4 million) in its Union Budget 2021-2022 alone. The project's importance in Indian perception is further demonstrated by India's proposal to commemorate "Chabahar Day" on March 4, 2021.
However, should Iran be integrated into CPEC, India's continued access to the port could be in jeopardy. Last year, reports suggested that India was suddenly dropped from the Chabahar rail project, hours after news of Iran's Strategic Cooperation AGreement with China broke. Although the Indian Ministry of External Affairs recently confirmed that India remains engaged with the railway project, the incident goes to show the precarious and high-risk nature of India's investment, and how China may hold the power to push India away from the region.
For India, Iran is an essential gateway to the five land-locked republics of Central Asia: Kazakhstan, Kyrgyzstan, Tajikistan, Turkmenistan, and Uzbekistan. Continued and positive engagement with Iran is therefore crucial to Indian interests; the new agreement denotes Iran's increasing dependence on China, which could undermine Indian access.
Further, India relies on Iran for access to Afghanistan, which is geopolitically, geostrategically, and geoeconomically crucial to New Delhi. As an all-weather-friend, India has actively promoted an "Afghan-owned, Afghan-led and Afghan-controlled" peace process and been a steadfast investor in the country's future, funding construction of the parliament building and energy and infrastructure projects. India's intense outreach is also drawn as a counter to Pakistan and balance for Chinese engagement. However, like Central Asia, Afghanistan remains accessible to India only through Iran and Pakistan. With the Pakistan route blocked to India, Iran becomes all that more crucial; a China-Iran axis could thus be devastating for India's engagement.
Rethinking India's Iran Policy
Moving forward, India must rethink its Iran policy and recalibrate the way forward to detract from a possible China-Iran alliance. India cannot hope to compete with the massive amounts of funding that China can provide Tehran. However, it can broaden the scope of its cooperation with Iran to make their partnership a more strategic one.
After years of crippling sanctions, Iran is suffering from a collapsing economy; it has steadily declined since the former U.S. President Donald Trump withdrew from the Iran nuclear deal, the Joint Comprehensive Plan of Action (JCPOA), in 2018, reversing the brief growth it experienced after the deal was signed in 2016. U.S. sanctions have particularly hit Iranian oil exports hard, and the IMF estimates that they will continue to fall in 2021 as world trade with Iran keeps declining. Simultaneously, Tehran is experiencing a widening trade deficit, high inflation and a weak currency, rising unemployment, and a growing fiscal deficit. Sanction relief is therefore key for Tehran, and re-negotiating the nuclear deal is the first step toward this.
Yet, until recently, the United States and Iran were stuck in what became a classic game of chicken, with neither willing to blink first. After weeks of failed attempts, Iran and the U.S. agreed to begin indirect talks on a return to the JCPOA in Vienna on April 2. The P4+1 – Britain, France, Russia, China, plus Germany –  will act as intermediaries, with no personal meetings between the U.S. and Iran delegations. Despite this admittedly major step forward, it remains unclear whether the JCPOA can be resurrected. U.S. Secretary of State Antony Blinken has indicated that Washington in interested in a "longer and stronger" accord that not only goes beyond 2030 (the expiration date for the JCPOA), but also deals with "other problematic areas" like Iran's ballistic missile program and aid to proxy factions in Iraq, Lebanon, Syria, and Yemen. Moreover, with an Iranian presidential election coming in June, any progress made could be quickly rescinded with a change in government and the institution of a more hawkish leader with deeper military ties.
Here, India can emerge as a neutral third-party with cordial ties to both regimes to bring Iran and the United States closer to direct talks to further the peace process and discuss a new, broader nuclear deal. Iran sees EU states as staunchly aligned with the U.S., while Washington is not on friendly terms with China or Russia. India, however, shares friendly relations with Iran based not only on their infrastructure project but also as one of the largest markets for Iranian oil exports and other products. India's engagement has continued despite U.S. sanctions; the India-Iran relationship has rebounded from New Delhi's vote against Iran in International Atomic Energy Agency (IAEA) resolutions limiting Iran's nuclear weapons program to engage in a pragmatic partnership. While India-Iran relationship may not be a strategic partnership, both states share cordial ties based on their historic relationship. To manage its ties with Iran, India has adhered to a finely calibrated balancing act between Iran and the U.S. – making it an ideal actor for convincing both parties to return to the table in face-to-face negotiations for a new, more extensive agreement.
India can carve a critical place for itself as a vital partner for Iran. New Delhi must – as an immediate strategic priority – revisit its approach to Iran, especially if it wishes to limit China's growing influence within Iran and restrain Tehran's increasing dependence on Beijing. The Strategic Cooperation Agreement, even if not materially substantial – comes as a strong political statement of China's support for Iran and growing synergy between both actors. India must therefore reassess the level of its engagement with Iran and consider new avenues of outreach. Currently, Iran's unyielding position vis-a-vis the United States is a calculated risk under a belief that it can hold out against greater economic pressure for the time-being. But with COVID-19 causing additional economic strain, this may not be the case for much longer. If India can convince Tehran to agree to direct negotiations, and play a role in successfully arbitrating a nuclear deal with the U.S., it can position itself as major partner and maintain its advantage over China.