What the Second Wave of COVID-19 Means for India's Public Diplomacy
Vaccine diplomacy has given way to vaccine nationalism as India struggles with a massive spike in infections.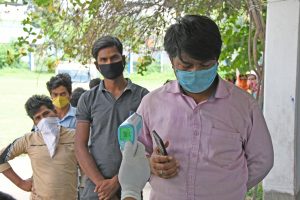 As COVID-19 has drawn global attention to the significance of public health in national security strategy, international public health has also become a new frontier in international relations between countries. With the elevated significance of international public health, vaccine diplomacy has emerged as an effective diplomatic tool for nation-states. As a rising power looking to enhance its role and influence in the international system, India was quick to recognize this opportunity and play its part in international healthcare management. India's leading position as a manufacturing hub of generic drugs and vaccines places it in a solid position to pursue vaccine diplomacy. India is currently the world leader in producing generic medicines, accounting for 20 percent of their global production and 62 percent of global demands for vaccines.
Thus, well-placed to employ vaccine diplomacy, India not only proactively engaged in the international system but also gave a massive impetus to its public diplomacy. India's supply of vaccines to other countries under the Vaccine Maitri (Vaccine Friendship) program has far exceeded its domestic usage. In doing so, New Delhi also exhorted the international community to view the situation with shared concerns and share vaccines with less developed countries. Indian Foreign Minister S. Jaishankar's statement that New Delhi's global vaccine outreach has "raised India's standing and generated great international goodwill" speaks to the emphasis on this pandemic public diplomacy, which India perceived as a win-win situation for itself and its target countries.
However, owing to the alarming surge in COVID-19 cases within India (its second wave of COVID-19), New Delhi's commitment to equitable vaccine distribution and its active role in global coordination efforts to fight the pandemic seems to have taken a hit, with knock-on effects on India's public diplomacy.
Vaccine Diplomacy as Effective Public Diplomacy
Vaccine diplomacy is essentially a form of public diplomacy. The latter is defined as communicating with foreign publics to generate favorable international public perception, understanding, and goodwill about a country's policies and overall image. Fundamentally anchored in the idea of advancing a country's national interest through attraction rather than coercion, at the core of public diplomacy practice is a people-oriented approach aimed at cultivating and maintaining public goodwill and influencing foreign governments through their publics. The general public is the most immediate beneficiary of vaccine diplomacy, reflecting its advantage for enhancing public opinion and reputation-building in the international arena.
Moreover, as COVID-19 tied every country's national interest closely to shared concerns, engaging in the public diplomacy of this kind benefits all parties involved. Vaccine diplomacy is uniquely positioned to bolster ties with foreign publics as well as governments alike. With the pandemic mounting to the level of a national security issue, governments worldwide are facing domestic political challenges. Governments are susceptible to negative public opinion, both domestically and internationally, about their pandemic performance. As a result, countries seeking vaccines and medical assistance have little hesitation in endorsing and promoting the public diplomacy of vaccine providers, making vaccine diplomacy a less confrontational form of persuasive influence.
Vaccine Nationalism and Public Diplomacy Challenges
Before the arrival of the so-called second wave of the pandemic, India's vaccine diplomacy seemed to be in line with its domestic situation. Fast COVID-19 recovery rates and a steep fall in the number of COVID-19 cases had placed New Delhi in a relatively better position to pursue pandemic public diplomacy. However, the rapid increase in COVID-19 cases and consequent vaccine shortage at the moment is baffling the government, creating an ironic disparity between India's aspirations and its capacity to play a massive role in international healthcare management.
Under severe internal pressure to manage the looming COVID-19 crisis, overriding domestic political concerns are steering the government away from the broader notion of shared concerns and collective action at the international level. This new turn is seemingly enforcing a significant shift toward a narrowly confined domestic orientation and driving New Delhi to reconsider its vaccine diplomacy, with the once-denounced vaccine nationalism as the new policy course. India's halting of vaccine exports has already produced vaccine shortages in many parts of the globe, especially among poor countries.
Although vaccine nationalism may be domestically appealing amid surging infections in the country, it offers little hope as a concrete measure to deal with the situation. Beyond the potential weakening of international healthcare and the collective fight to restore the pre-pandemic normal, it could damage India's remarkable public diplomacy efforts to bolster the country's standing in the international arena. Broadly speaking, the implications of the current predicament for India's public diplomacy are two-fold: first, public diplomacy's external dimension associated with India's engagements beyond its borders, and second, the external public perception of India's domestic (mis)management of the crisis.
In the conduct of international relations, vaccine nationalism presents itself as a public diplomacy challenge for India. India's vaccine diplomacy has noticeably placed New Delhi in a strong position of attention and attraction in the comity of nations, wherein it currently enjoys a privileged position of vaccine leadership. But such a leadership position, while it potentially boosts the country's public image, comes with parallel normative role expectations and responsibilities, including the pursuit of cooperative behavior and internationalism. Performing these normative role expectations and responsibilities is critical to maintaining India's trust and credibility.
India's image as the pharmacy of the world is one such branding that requires maintaining its credibility. During the pandemic, India's pharmaceutical sector has attracted foreign countries to come forward to intensify their bilateral cooperation with New Delhi. Further, vaccine nationalism contradicts the cultural, philosophical ethos of vasudhaiva kutumbakam (the world is one family) and seva paramo dharma (service is the greatest virtue), both of which New Delhi sought to promote as part of its pandemic public diplomacy. Since any effective public diplomacy rests on combining ideas and rhetoric with praxis, rhetoric without actions risks undoing the public goodwill India gained.
The domestic dimension of the challenge deals with the question of national management of the crisis. In this regard, crafting a success story is an important aspect of national reputation building in the age of pandemics. The case of South Korea is an excellent example in this regard. Seoul's effective containment of the pandemic enhanced its international reputation. Conversely, failure to manage the COVID-19 gives a country a poor national reputation in the international system. The United States dropping four positions, from the sixth rank in 2019 to the 10th in 2020, in the Nation Brand Index (NBI) 2020 speaks to the way poor crisis management affects countries' international reputation. India's second wave of COVID-19 throws up the same domestic challenge of achieving effective crisis management and recovery.
Thus, India's second wave of COVID-19 does not augur well for the country's public diplomacy. As India is looking to play a more significant role in the international system, the second wave of COVID-19 coupled with New Delhi's own vaccine nationalism have further complicated India's possibilities in public diplomacy. Finding a delicate balance between vaccine nationalism and domestic crisis management has therefore become critical to yield the desired public diplomacy outcomes. However, the difficulty in achieving that calls for some deft handling of the situation. A resistance to vaccine nationalism while simultaneously showcasing an effective domestic response depends on whether India takes public perception as a serious focus in its crisis management policy.