What's Driving the Flurry of Financial Activity in Southeast Asia's Tech Sector?
With a wave of mergers and IPOs in the works, Southeast Asia's tech giants stand to get even bigger.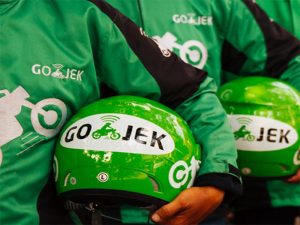 Gojek has been the crown jewel of Indonesia's booming tech sector for a while now. The company's green-jacketed drivers are ubiquitous in cities across the archipelago, and have recently expanded operations to neighboring countries like Singapore and Vietnam. Riding wave after wave of venture capital from big players like Google, Tencent, and Warburg Pincus, Gojek has steadily branched out from its core ride-hailing and food delivery functions into other fields like e-payments.
The goal is to eventually be a one-stop lifestyle app and digital wallet from which users can pay their bills and manage their finances while ordering food, booking vacations and shopping online. Gojek took a big step closer to its final form earlier this month as it sought investor approval for a merger with e-commerce giant Tokopedia, another home-grown Indonesian tech unicorn. The deal is reportedly valued at $18 billion, and is expected to set the stage for a dual listing in Jakarta and New York.
This news comes amidst a flurry of financial moves by other Southeast Asian tech companies. Singapore-based Grab, Gojek's biggest direct competitor, announced plans this month to go public – sort of. According to reporting from Resty Woro Yuniar and Kok Xinghui in the South China Morning Post, Grab will be merging with a U.S.-listed special purpose acquisition company (SPAC): "SPACs are companies with no commercial operations that are set up to raise money in an IPO. They are formed and listed for the sole purpose of later acquiring an existing company, which will then indirectly and quickly be listed on the exchange." Grab stands to get about $4.5 billion in cash from the deal. Traveloka, the leading online travel booker in Indonesia, is reportedly pursuing its own SPAC merger.
Arguably, this flurry of financial moves is being driven by the desire of regional rivals to catch up with Singapore's Sea Limited, owner of e-commerce platform Shopee and gaming hub Garena. Sea went public on the New York Stock Exchange in 2017 and has seen its market capitalization skyrocket since, helped along by a pandemic-induced increase in demand and the granting of a digital bank license by the Monetary Authority of Singapore.
Expectations for digital commerce in Southeast Asia are huge. The oft-quoted Temasek Google study estimates the market will be worth $240 billion by 2025, $100 billion of which will come from Indonesia alone. The competition between tech companies is therefore very fierce as they rush to corner as much of the market as possible, and that requires big outlays of cash now. With the stock market in the U.S. roaring thanks to loose monetary policy and big fiscal stimulus, there is an urgency to raise capital quickly before this wave of liquidity falls back down to earth.
But a note of caution is warranted. Excessive financial innovation, particularly when capital is easy to come by, is not always desirable. The frenzy over SPACs is a case in point, with investor sentiment already cooling and new SEC guidance suggesting warrants in SPACs might actually count as liabilities instead of equity. Rushing headlong into poorly understood financial instruments because you need cash in the short-term has, historically, not worked out very well. Hopefully Traveloka and Grab don't find that out the hard way.
There is also the question of how much consolidation is too much. The merger of Gojek and Tokopedia will produce a corporate octopus that will straddle the online consumer market more or less from end to end. If they go on to realize their goal of becoming a full-service finance and banking company that can rival the big incumbent banks, the question will need to be asked at some point whether one company controlling that much of an economy is really desirable. In a slightly different context, Jack Ma recently had this question answered in blunt way as Chinese regulators cracked down on Alibaba, likely as a move to rein in Ma's influence and power.
In my estimation, these tech companies are an unalloyed good for regional economies, and the capital flows they pull in are certainly to the liking of policymakers. But as they grow, merge and transform into newer iterations at breakneck speed, it is important to keep in mind these larger questions of how much consolidation is too much and remain healthily skeptical as they fund growth by raising capital in increasingly inventive (and potentially riskier) ways.