Amid Case Surge, Malaysia's COVID-19 Infection Rate Surpasses India's
So far this month, the number of "brought in dead" has tripled over April's total.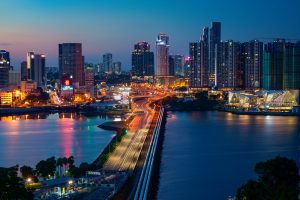 Malaysia's aversion to lockdowns and severe measures imposed by other countries to curb the spread of COVID-19 is costing it dearly, with the Southeast Asian nation surpassing India in the number of confirmed cases on a per capita basis.
According to Our World in Data, Malaysia's daily COVID-19 infections per million people, on a seven-day rolling basis, exceeded India this week amid a surge in the disease.
Although Malaysia's population of about 32 million is much smaller than India's 1.4 billion people, statistics showed Malaysia had recorded 205.1 cases per million people on a weekly rolling average, compared with 150.4 cases in India.
Malaysia is experiencing its second pandemic wave this year and finally went into lockdown on May 10, ahead of the Muslim festival of Eid. To date the Southeast Asian country has recorded at least 533,000 cases and 2,432 deaths with the daily rate of confirmed cases rising fivefold since March 30.
This includes at least 93 "brought in dead," or victims who did not die in a hospital, recorded between May 1 and May 25, more than three times the number announced for April.
On May 2, Health Minister Dr. Adham Baba said the B.1.617 strain, also known as the Indian variant, had been detected in the country, adding that the mutation was detected from an analysis through a whole genome sequencing after screenings at Kuala Lumpur International Airport.
That announcement was made five days after Malaysia suspended all flights from India, while ships and Indian citizens with Malaysian work permits were also banned from entering the country.
Dr. Noor Hisham Abdullah, Malaysia's director-general of health, has warned the country's daily COVID-19 cases was "following an exponential trend." He said that this could trigger vertical surge in the pandemic and that his country had to prepare for the worst.
"We have detected the first case of the Indian variant, the double mutant strain, through the entry of an Indian national when we were carrying out tests," he said.
Malaysia is also struggling to secure vaccinations and is well behind Singapore and Cambodia in the race to inoculate enough people to generate a herd immunity, but says it is now moving to speed up its rollout and is acquiring a further 16 million doses of vaccines over the next two months.
That includes 2.2 million doses of the Pfizer BioNTech vaccine, 12 million doses of Sinovac, and 1.2 million doses of AstraZeneca with the aim of inoculating 80 percent of the population.
But it is yet to decide on whether or not to allow Malaysians to choose their own vaccine, venues and appointment dates – issues which have long been dealt with across the causeway in Singapore.
Prime Minister Muhyiddin Yassin did impose a state of emergency in January but public anger has been palpable – particularly online – amid accusations his government has done too little too late with less than three percent of the population fully vaccinated.
Complaints include putting business interests ahead of public welfare by refusing to introduce total lockdowns much earlier, an issue which disturbed Adeeba Kamarulzaman, an infectious diseases specialist with the University of Malaya.
"Many are concerned that a strict lockdown will damage the economy… But the impact is going to be worse, or go on for much longer, if we continue with half-hearted measures," he warned.
The Prime Minister said he was aware of the criticisms.
"They can call me 'stupid prime minister' – it's OK," he said in a televised interview. "I know how difficult it is to manage, but this is our joint responsibility."
Luke Hunt can be followed on Twitter @lukeanthonyhunt