Amid Chinese Push, US Official to Visit Three Southeast Asian Nations
Deputy Secretary of State Wendy Sherman is scheduled to visit Jakarta, Bangkok, and Phnom Penh.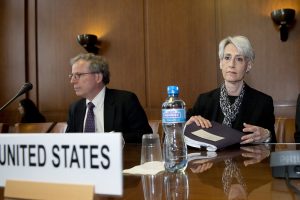 U.S. Deputy Secretary of State Wendy R. Sherman will today kick off an 11-day diplomatic tour that will include stops in three Southeast Asian nations, amid a flurry of Chinese diplomatic engagements with the region.
According to a State Department press release, the trip, the first to Southeast Asia by a senior U.S. official since the Biden administration took office in January, will see Sherman make stops in Brussels and Ankara this week, before traveling to Jakarta, Phnom Penh, and Bangkok.
While in Southeast Asia, Sherman "will reaffirm the United States' commitment to ASEAN centrality and address a range of bilateral and regional issues, including efforts to urge the Burmese military to cease violence, release all those unjustly detained, and restore Burma to the path of democracy."
The choice of Thailand and Indonesia is unsurprising, given the former's status as a treaty ally of the U.S., and the latter's size and centrality to the region. Both nations are also uniquely situated with regard to the political crisis in Myanmar. In the case of Thailand, this is due to its proximity and close relations with the Myanmar military, while Indonesia has played leading role in seeking a diplomatic solution to the crisis.
In Jakarta, the State Department press release noted, Sherman "will meet Indonesian government officials to discuss the growing U.S.-Indonesia partnership and how the two countries can collaborate to address regional challenges." She also plans to meet with officials from the ASEAN Secretariat to "discuss expanding and deepening the U.S.-ASEAN strategic partnership."
In Bangkok, the agenda will be dominated by issues including "U.S.-Thai security cooperation, expanding economic ties, promoting fundamental freedoms, Mekong regional issues, the crisis in Burma, and deepening cultural ties between the American and Thai people."
The choice of Phnom Penh is more curious. The official press release from Sherman's trip notes only that she will "hold a series of meetings" during her stop in the Cambodian capital. The country has never been a major focus of U.S. diplomacy, but has begun to attract attention in recent years due to a rapid growth of Chinese influence in the country.
This has prompted a downward spiral in U.S.-Cambodia relations, in which Washington focuses most of its energy on the country's dire human rights situation, pushing Prime Minister Hun Sen to deepen his reliance on China. This in turn has led to more focus on human rights issues.
However, there are some signs that Phnom Penh is willing to reset relations, perhaps concerned by its over-reliance on Beijing. During the Biden administration's first month in office, Cambodia suspended a two-week military exercise with China's People's Liberation Army that was due to be held in March. Also of relevance to the U.S. is the fact that Cambodia is taking over the ASEAN chairmanship next year, and will thus become a necessary part of any increased U.S. engagement with the Southeast Asian bloc.
As the stop in Cambodia suggests, the clear context for Sherman's trip – and for present U.S. policy toward Southeast Asia writ large – is the rapid growth of Chinese influence in the region, to which Chinese officials have been directing a considerable amount of attention over the past year.
Since October, Chinese Foreign Minister Wang Yi has visited every ASEAN member state bar Vietnam, though Wang also met for talks with then Vietnamese Foreign Minister Pham Binh Minh in Guangxi province back in August. The foreign ministers of Singapore, Malaysia, Indonesia, and the Philippines also visited China for bilateral talks in late March and early April. Next month in Chongqing, meanwhile, China is preparing to host foreign ministers from all 10 ASEAN nations.
While the Biden administration has carried on President Donald Trump's efforts to assemble a regional coalition to counter China's rising power, doubling down on the Trump administration's Free and Open Indo-Pacific Strategy, this has mostly focused on the Quad grouping, which includes the U.S., Japan, India, and Australia.
Despite its "Indo-Pacific" geography, Southeast Asia has not been a priority for the Biden administration. As Malcolm Cook of Singapore's ISEAS-Yusof Ishak Institute noted recently, despite regional expectations that the Biden administration would bolster U.S. engagement with Southeast Asia, President Joe Biden's "has yet to match such expectations."
Cook pointed that according to White House press releases, Trump made 50 phone calls with foreign leaders during his first 100 days in office. None of these was with Southeast Asian leaders, and no Southeast Asian leader was among the 15 that met Trump in person. Similarly, during Biden's first 100 days in office, he neither spoke with nor met any leaders from Southeast Asia.
To be sure, the U.S. government has a lot of competing priorities, and diplomatic resources are finite. Ultimately the differential level of U.S. and Chinese engagement with Southeast Asia reflects the fact that the region is simply closer to China, and hence more important to its overall security.
As in the military domain, China enjoys a considerable asymmetric advantage in its near abroad. Proximity alone guarantees that its influence will continue to grow in the years to come – and that any uptick in U.S. engagement with the region will be welcomed in Southeast Asian capitals.