China Proposing to Host ASEAN Ministers Next Month
The proposed meeting follows a flurry of Chinese engagements with Southeast Asia in recent months.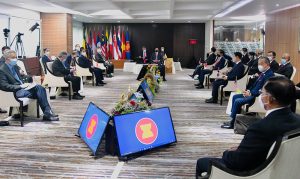 China is proposing to host a foreign ministerial meeting with the 10-member Association of Southeast Asian Nations (ASEAN) next month, a summit that would extend and consolidate a recent Chinese diplomatic offensive in Southeast Asia.
Citing Chinese government sources, Mainichi Japan reported on Friday that the Chinese government is considering hosting a summit with ASEAN foreign ministers in a city other than the capital Beijing.
The report was short on details, but pointed out that this year marks the 30th anniversary of China-ASEAN dialogue relations, suggesting that 2021 will be a bumper year for sunny diplomatic communiques and China-ASEAN summitry.
If the proposed meeting goes ahead, it would also mark a deepening of a period of marked Chinese engagement with Southeast Asia, amid intensifying U.S. efforts to assemble a regional coalition to counter China's rising power.
Since taking office in January, U.S. President Joe Biden has doubled down on the Trump administration's Free and Open Indo-Pacific Strategy, focusing on consolidating relations with the Quad grouping, which includes the U.S., Japan, India, and Australia. On March 12, U.S. President Joe Biden hosted a virtual summit with Quad leaders for the first time, a sign that the once unsteady four-nation grouping continues to cohere, in large part due to shared concerns about belligerent Chinese behavior.
So far, however, the Biden administration has engaged in limited outreach to Southeast Asia and ASEAN, leaving a vacuum in which Chinese diplomats have undertaken a flurry of engagements. Most recently, the foreign ministers of Singapore, Malaysia, Indonesia, and the Philippines visited Fujian for bilateral talks from March 31 to April 2.
This followed two diplomatic tours by Chinese Foreign Minister Wang Yi in October 2020 and January of this year, bracketing the U.S. presidential election. These collectively saw him visit every ASEAN member state bar Vietnam, though Wang also met for talks with then Vietnamese Foreign Minister Pham Binh Minh in Guangxi province back in August.
This diplomatic offensive is also matched by China's COVID-19 outreach to Southeast Asia, which has involved shipments of Chinese-made vaccines to nearly every nation in the region.
The fact that China is proposing a new foreign ministers summit highlights once again the importance that Southeast Asia plays in key Chinese economic and strategic interests. The region straddles vital sea lanes of communication that represent China's access to the global market, including vital imports of Middle Eastern oil. Economically entwined with China, the relatively small nations of the region also offer ample opportunities for Beijing to advance its influence and weaken what Chinese strategists perceive as a U.S.-engineered chain of encirclement around the Chinese mainland.
The likely Chinese focus of any summit will be on depicting China as an unavoidable and inevitable partner of Southeast Asia in its attempt to defeat COVID-19 and drag the region's economies out of their pandemic slump.
These carrots are likely to be deployed in order to offset the recent Chinese shows of force in the South China Sea. Since late March, China and the Philippines have clashed over the deployment of several hundred Chinese vessels around the Philippines' Exclusive Economic Zone (EEZ) in the South China Sea. The Philippines said Wednesday that patrols had spotted nearly 300 Chinese fishing boats and maritime militia vessels continue to lurk in and around its EEZ, prompting a further round of bilateral tensions.
In addition to diplomatic outreach, the Mainichi report also suggested that China may also use the putative summit to organize working-level talks on the political crisis in Myanmar. China's support is widely seen as central to any process of negotiation in Myanmar, and could potentially build on the "five-point consensus" agreed ASEAN's special meeting on April 24.
However, past precedent suggests that China's approach to the Myanmar crisis will continue to be dictated by the need to ensure stability and safeguard its existing interests and investments in the country.