Boten: the Renaissance of Laos's Golden City
The one-time casino boom town on the Laos-China border is on the rise again, powered by billions in Chinese investment.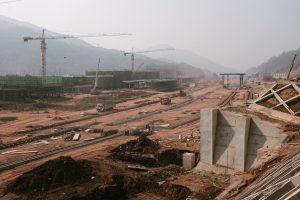 A thick morning mist covers the empty buildings as Lao workers lazily walk towards construction sites and Chinese businessmen, waiting for noodle soup, frantically shout into their mobile phone. "In ten years, 300,000 people will live here, they are going to build a hospital and an international school," says Suk, 35, a Lao restaurant owner who moved to Boten after COVID-19 made him jobless in March 2020. Suk speaks perfect English and used to manage personnel in a hotel in Luang Prabang. He is learning Chinese, his daughter will soon go to school, and his restaurant is packed every evening with Chinese and Lao construction workers. Boten, a rural village counting a few hundred inhabitants less than twenty years ago, is shaping up as China's gateway to Laos and Southeast Asia.
Located in Luang Namtha province, in the far north of Laos, Boten lies on the border with China and since the 1990s has been an official border crossing between the two countries. Dramatic development began in 2003, when the area was designated a Special Economic Zone (SEZ) and the Lao government signed a 30-year lease on 1,640 hectares of land with a Chinese developer who invested $500 million. To leave space for the SEZ, the whole village of Boten was relocated twenty kilometers away in a settlement area called New Boten. The SEZ, which focused on casinos and hotels, was named Boten Golden City, which ran on Beijing time and sought to attract gamblers from China and Thailand.
In a short time, the city built a bad reputation due to violence, murder and suicide of people unable to pay off their debts to the Chinese casino concessionaires. The Lao government, backed by China, then decided to shut down the main casinos in 2011. The main investors fled, and sent Boten through a few years of economic uncertainty. Only with the rise of the Belt and Road Initiative (BRI), and consequent construction of the Laos-China Railway did money start flowing into Boten once again. The SEZ agreement was revised in 2012: Boten would become the first stop of the planned Laos-China Railway, the country's first substantial railway line, and an important logistics and economic hub.
Following years of planning and negotiations, the town's reconstruction begun in 2016. The Haicheng group, a Yunnan-based developer, says it plans to invest $10 billion to transform the former "Golden City" into what it describes as the "Boten Beautiful Land Specific Economic Zone." The developers estimate that 300,000 people will live in Boten by 2035. The city is meant to be modern, futuristic, and, to avoid the problems of its earlier counterpart, casino-free: high-rise apartments, luxurious hotels, shopping malls are being built in what is going to be the central business district of town. In the periphery, Haicheng Group plans to partly reproduce the peaceful Lao village that Boten was before the SEZ construction, aiming at attracting Chinese tourists interested in experiencing authentic "Lao village life."
It is past sundown, construction workers swallow cans of Beer Lao at the feet of a thirty-story hotel after their working shift, while Lao and Vietnamese waitresses fix their makeup outside the glittering karaoke bars. In Boten, Suk is the exception; most of the businesses are owned and run by Chinese nationals. The Lao, who are seen to have limited experience in both the industrial and the service sectors, are generally employed in construction sites or as housekeepers. "It is hard to deal with the Chinese," says Suk, "They are often impolite and they speak out loud." He adds, "But we have to adapt."