Giant Buddha Statue Plan Rankles Residents of Laos' Capital: Report
A Chinese firm's plans to build a 100-meter-high Buddha statue in low-lying Vientiane encapsulate China's outsized economic presence in Laos.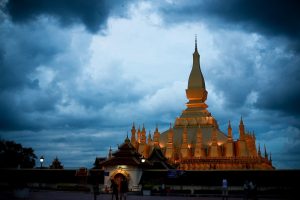 Yesterday, Radio Free Asia's Lao-language service carried an interesting report about the backlash against a Chinese real estate company's plans to build a 100-meter-tall Buddha statue in a special economic zone in the capital Vientiane.
According to the report, the developer Wan Feng Shanghai Real Estate Company plans to build the outsized Buddha in the That Luang Marsh Special Economic Zone (SEZ) in Vientiane, in a bid to attract domestic and foreign (read: Chinese) tourists.
In 2012, Wan Feng was granted a 99-year lease on the 365-hectare SEZ, in which it is planning to build residential buildings, hotels, offices, restaurants, public parks, and other facilities. The plans for a giant Buddha were reportedly first aired in 2016, but appear to be moving forward, RFA reported, after a national steering committee for the statue's construction met at the end of last month.
The RFA report quoted several local residents, who described the plan as a form of cultural encroachment. Specifically, they took issue with the fact that the statute would depict a standing Buddha in the style of Mahayana Buddhism, which is predominant in China, rather than the Theravada style that prevails in Laos, which generally depicts Buddhas sitting or lying in a meditative pose.
"With a Chinese-style Buddha, Laos will lose its image and its identity," one resident told the U.S.-funded broadcaster. "The Buddha statue should be Lao because it's in Laos." Added a Lao Buddhist monk quoted by the RFA, "Personally, I don't want to see a Chinese Buddha statue in the SEZ in the heart of the capital Vientiane."
The mooted Buddha statue represents in quite literally concrete form the dominant nature of the Chinese economic presence in Laos. If built, it would be the third tallest structure in Vientiane and would be visible from most parts of the city of 950,000. It would also overshadow the That Luang stupa, a symbol of Lao culture and nationhood which (as its name suggests) sits in the same eastern district of Vientiane as the That Luang Marsh SEZ.
China's influence and investment presence in Laos has grown over the past 20 years in line with the spectacular growth of the Chinese economy and the development of overland infrastructure that has broken down the challenging geographic terrain that once divided the two nations.
Since the end of the Cold War, and particularly over the past decade, highways between the two nations have been upgraded, supercharging the old mule trading routes and smuggling trails that historically connected the Lao principalities to what is now southern China. These have since been supplemented by the new railway connecting Vientiane to China's Yunnan province, a feat of engineering that is scheduled to open in December.
The result of this integration has been a rapid jump in Chinese immigration to Laos, particularly to Vientiane and the northern provincial capitals. Estimates are necessarily vague, given the country's weak legal framework and the political sensitivities that attach to Chinese migration, but one puts the number of Chinese expatriates to Laos at 300,000.
This has been accompanied by a flood of Chinese capital into every sector of the nation's economy, from agriculture and hydropower to construction and infrastructure development. Since 1989, China has invested a cumulative $16 billion in Laos, Minister of Investment and Planning Sonexay Siphandone said last week, in "over 800 small, medium, and large-scale projects."
Public opinion in Laos is hard to gauge given the repressive nature of the Lao People's Revolutionary Party's rule, and the RFA report presents only an anecdotal evidence of local discontent. But it is consistent with  reports that have emerged over the years about growing concern over particular Chinese investments in Laos, some of which have resulted in protests and public complaints.
In November of last year, RFA reported that a Chinese company was forced to remove Chinese decorations that it had erected on utility poles that the company helped build in Vientiane, after many Lao residents complained, some claiming that parts of Laos were "almost China now." (A similar sentiment is also common in Sihanoukville, a city on Cambodia's coast that has become a magnet for Chinese organized crime syndicates.)
While proper public opinion surveys are lacking, the RFA report suggests that the growing Chinese economic presence in Laos has had an abrasive effect that could sow the seeds of a backlash against the increasingly intimate ties between the two governments.