Can a United Opposition Defeat Duterte at the 2022 Philippine Elections?
In attempting to bring together a scattered opposition, the recently launched 1Sambayan movement faces a host of challenges.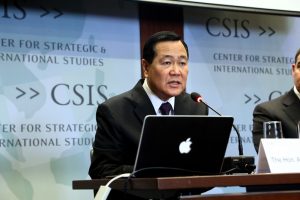 Opposition groups in the Philippines have joined forces in a bid to defeat the party or anointed successor of President Rodrigo Duterte.
The country's presidential election is scheduled for May 9, 2022. Duterte is constitutionally barred from seeking a second term, but some of his supporters are urging him to run as vice president if his daughter, Davao City Mayor Sara Duterte-Carpio, decides to seek the presidency. In recent months, "Run Sara Run" banners have sprouted across the country in public places, despite lockdown restrictions.
The opposition coalition is named 1Sambayan (One Nation/One People), which highlights the call for unity to defeat Duterte, who continues to enjoy high public trust ratings amid allegations that his government bungled its pandemic response.
Leading the opposition is retired Supreme Court Justice Antonio Carpio, who, in launching the coalition on March 18, said that "the Filipino people deserve a better government." He emphasized the need for anti-Duterte forces to unite ahead of the 2022 polls.
"We have discussed this, again and again, and this is the understanding of everybody: That unless we are united, we cannot win in 2022," he said. "We have the majority, but the majority will become a minority if they are divided. So we have to remain united."
Joining him are former Ombudsman Conchita Carpio Morales and former Foreign Affairs Secretary Albert Del Rosario. They are not traditional politicians but prominent public servants who have long been critical of the Duterte government.
1Sambayan also includes representatives from the political left, a group of former junior military officers, civil society, sectoral party list formations, provincial politicians, and the Liberal Party, the country's ruling party from 2010 to 2016.
The first success of 1Sambayan was to convince opposition parties to set aside their ideological differences and instead work together to defeat Duterte at next year's election. Since its launch, it has set about organizing town hall meetings and establishing chapters inside and even outside the Philippines.
1Sambayan said it will endorse candidates based on criteria that it will release in the coming months. It mentioned a shortlist of potential presidential candidates, which excluded the president's daughter.
Reacting to the launch of 1Sambayan, Mayor Sara Duterte-Carpio described it as "authoritarian".
"They claim to be a coalition of democratic forces but they reject so many who do not agree with them. They sound authoritarian to me," she said in a statement issued to the media.
1Sambayan's Carpio responded by alluding to the "baggage" of the Duterte government.
"We have made our position clear that we are against extrajudicial killings (EJKs), against violation of human rights, against political dynasties. We have a lot of Filipinos who are capable of running this country without the baggage of EJKs and violation of human rights," Carpio said.
He added that a Duterte candidacy could violate the intent of the 1987 Constitution which bans political dynasties. "A president anointing his own daughter as his successor, I think that's the height of political dynasty," he said.
Soon enough, 1Sambayan's Carpio would find himself engaging in a war of words with no less than Duterte himself, albeit on a different issue but also relevant to the 2022 election campaign.
In several televised speeches, Duterte singled out Carpio for his statements criticizing the alleged inaction of the Philippine government over the recent presence of Chinese ships in the West Philippine Sea, as the Philippines refers to its portion of the disputed South China Sea. Duterte reiterated the country's friendly ties with China and accused Carpio of being responsible for the loss of several reefs in the past. He challenged Carpio to a debate, which the latter accepted, but the president later designated his spokesperson as his proxy.
Carpio's public statements are often issued on behalf of 1Sambayan. which boosted the media visibility of the opposition coalition. Duterte's debate challenge also guaranteed that the government's reluctance to challenge China's illegal claim over the West Philippine Sea will become a key issue in next year's presidential race.
Despite the positive public reception following its launch, 1Sambayan faces many tough challenges. It may be a coalition of several opposition political parties but it is significantly smaller compared to the membership and nationwide clout of Duterte's ruling party. Its resources and machinery cannot hope to match what the ruling party can mobilize between now and the election next year.
Still, the emergence of the coalition a year before the election represents a symbolic victory for the opposition which managed to unite despite the earlier assumption that it is impossible to achieve. It reflects the intent of various opposition groups to hold Duterte accountable for his bloody human rights legacy. 1Sambayan will hurdle bigger obstacles in the next few months and the fragile unity of the coalition will be continually tested. It should also always remember that the incumbent president is not a lightweight but a political maverick who has not lost an election since he became an elected official in the 1980s.