Can China-US Relations Improve During the Biden Administration?
So far, there have been no major changes in Biden's China policy, but there's still hope for a stabilized relationship.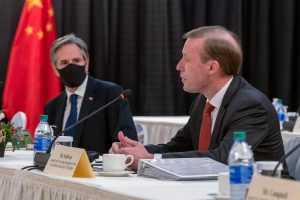 So far, Joe Biden, during his first 100 days as president, has adopted a China strategy that differs little from the Trump administration. With most of the confrontational measures intact, such as economic barriers and human rights criticisms, China-U.S. relations are still at their lowest point in the last four decades. However, it is not a surprise to see that the relationship got off a bumpy start. One main reason is that Biden inherited a toxic relationship with China that was largely guided by Donald Trump's zero-sum, unilateralist, and protectionist approach. The near-continuous downward spiral in China-U.S. relations since 2018 has left Biden little room for maneuver.
More importantly, the new bipartisan consensus, which labels China as a revisionist power and calls for toughened China policy, has become a defining factor in the reset of the U.S. stance on China. And Biden is no exception to this trend. During his campaign for the presidency, Biden repeatedly criticized Trump for his "soft" and "ineffective" response to China's growing power and promised to redefine U.S. foreign policy toward China once he took office. Concerns inside the Beltway in Washington are also reflected among the public, especially after the outbreak of coronavirus. According to the latest Gallup survey, only 20 percent of Americans hold a favorable view of China – the lowest level since Gallup began polling on this question 40 years ago. Amid strong bipartisan and public support for "getting tough," Biden's initial hardened reaction to China is an understandable response.
Strategically, Biden could also profit from the United States' seemingly tougher approach toward China. After the devastation of alliance relations in the Trump era, Biden really needs to find common ground for the United States to regain its allies' trust and cooperation. A "China threat" thesis seems ever more tempting in this regard. One of the main aims of Secretary of State Antony Blinken during his visit to Japan and South Korea was to draw attention to what he called China's "coercion and aggression" in the region. Domestically, with party politics becoming more polarized, the China challenge is one of few issues to receive overwhelming bipartisan support. It is likely that Biden will use this issue to advance his own agenda in the name of national security.
As for the Chinese part, the Chinese government is not interested in a speedy recovery in bilateral relations either. China under President Xi Jinping has become ever more assured in its ability to promote its own agenda and increasingly unbowed by diplomatic pressure from the outside world. The infamous "wolf warrior diplomacy" accusation, although it does not represent a fundamental shift in Chinese foreign policy, does a least reflect a new level of activeness or assertiveness from the Chinese government. As a result, China is now quietly and patiently waiting to see if the Biden administration would first make some friendly moves to improve China-U.S. relations, particularly after the 2020 COVID-19 pandemic crisis actually gave China an upper hand in economic recovery and global influence. Hence the famous words by Director of Central Foreign Affairs Office Yang Jiechi: "China now look at the U.S. from an equal point of view."
Despite both side's reluctance to reconcile the relationship, we believe there is cause to expect improved relations between the United States and China later this year, if not earlier. There are three main reasons for that.
First, both the United States and China do not really want to seek confrontation with each other, with a prime example being the China-U.S. meeting in Alaska. The opening of the meeting saw both Chinese and U.S. top diplomats exchange combative words over a number of issues, ranging from cyberattacks, the handling of Hong Kong, Xinjiang, and Taiwan, to the rules-based international order. The start of the meeting was certainly not pleasant, but the end result is not as bad as people would think. The Chinese side released a statement saying that "this strategic exchange was frank, constructive and helpful," signaling a more favorable attitude toward the United States, was certainly very different from the last year of the Trump administration.
Second, the United States and China share an extensive agenda of common bilateral and global interests that call for cooperation. The most significant area of cooperation between the world's top two economies so far is on the topic of climate change. Special Presidential Envoy for Climate John Kerry's visit to China and Xi's address at the climate summit hosted by Biden are early signs that the U.S. and China could build long-lasting cooperation in this area. But it does not stop here. Regional security concerns such as the Iran nuclear issue and North Korea issue must involve cooperation between the United States and China to be successful. The ongoing global COVID-19 crisis certainly would not be resolved if the U.S. and China continue to distrust each other and not recognize each other's vaccines. Needless to say, the global trade and financial system cannot operate effectively without the two largest economies working together in the world.
Last but not least, an often-ignored fact is that it takes time for China-U.S. relations to heal. Like any other scars, the damages caused by the Trump administration in the last three years could take a long time to heal. As a Chinese saying goes, "the ice didn't freeze in just one day." It will take a long time for both the U.S. and China to finally recognize the values of their cooperation, not competition and confrontation. Hence, the right approach is not to rush things; sometimes eagerness would instead lead to more damage. Improving the relationship should start with small steps, and then build upon it to aim for bigger things.
To be sure, there is no guarantee that both China and the U.S. would even want a much-improved relationship. China is already taking steps to strengthen its technological prowess and reduce economic pressure points in core technologies, such as semiconductors. And the United States also shows no signs of backing down in areas such as human right protection and democracy promotion. That is why the first year of Biden's tenure will be crucial for the bilateral relationship, since key issues involving China are still "under review." And Biden, like his predecessor, has not yet constructed a comprehensive China strategy, if that is possible at all. Ultimately, whether China-U.S. relations will continue to be in a dangerous downward spiral will depend heavily on the Biden administration's assessment on contentious issues involving China, and also on how China can move cautiously and slowly in expanding its role in the global stage.