COVID-19 Hits Prisons in Thailand, as Nearly 3,000 Cases Detected
Recent Thai COVID-19 outbreaks highlight the dangers posed by Asia's overcrowded and unsanitary prisons.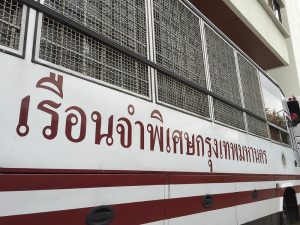 Yesterday, Thailand's Department of Corrections announced that nearly 3,000 inmates at two prisons in Thailand's capital had tested positive for COVID-19, amid the country's ongoing outbreak of the virus.
In a statement, the department said that 1,785 of the 3,274 inmates tested positive at Bangkok Remand Prison, which holds detainees ahead of trial. At the Central Women's Correctional Institution, 1,040 of the 4,475 inmates were infected, it said.
The department said in the statement that various "proactive measures" to control the coronavirus in prisons have been implemented, including a 21-day quarantine and two mandatory COVID-19 tests for new inmates. It said that all positive cases were receiving medical treatment and that critical cases would be transferred to outside hospitals.
"The Department of Corrections would like to confirm it can control the situation and that every prison has strict measures," it said. According to Thai media reports, hundreds of people detained in provincial prisons such as in Chiang Mai and Narathiwat have also reportedly tested positive for the coronavirus.
After escaping from 2020 mostly untouched by the coronavirus, Thailand is battling its third and most serious wave of COVID-19, which spread from clusters at nightclubs and parties in the capital Bangkok last month.
Recent weeks have seen Thailand averaging around 2,000 new cases per day. On Wednesday, the country's health authorities reported 1,983 new cases and 34 more deaths from COVID-19. This came a few days after Thailand detected its first case of the highly infectious B1617 variant of the coronavirus, which was first detected in India.
Today, Justice Minister Somsak Thepsutin held a press conference in which he put the 3,000 cases down to previous low testing, and said that the government has stepped up testing of inmates over the past three days. He said prison authorities are also planning to vaccinate all of the country's 310,000 inmates.
It is unclear if the Thai government would have embarked on the testing spree were it not for the fact that a number of prominent political activists tested positive for COVID-19 during periods of pre-trial detention and publicly declared the fact over the past week. Chief among them was Panusaya Sitthijirawattanakul, who announced that she had tested positive after eight weeks of pretrial detention at the Central Women's Correctional Institution. She was released on bail on May 6.
Panusaya is one of the student-led pro-democracy movement leaders who are awaiting trial on charges of lese majeste, after calling for reforms to curb the power and prerogatives of the country's monarchy. The legal aid group Thai Lawyers for Human Rights said that nine activists who were detained have tested positive for COVID-19, including Panusaya.
The Thai prison outbreaks highlight the disease risks posed by Asia's overcrowded and unsanitary prisons and detention centers, something that rights groups and prison reform advocates have been warning of since the beginning of the pandemic.
In April 2020, Human Rights Watch said that "a major crisis" was brewing in Asia's prisons. "Governments in Asia need to move quickly to reduce detention populations by releasing people who shouldn't be in custody in the first place, like political prisoners and those jailed for minor offenses," the group's Asia advocacy director John Sifton said in a statement.
The Thai announcement came just days after Cambodian authorities discovered a small cluster of cases at Preah Sihanouk provincial prison in the south of the country. On May 8, it announced that 34 detainees at the prison had tested positive, prompting plans to test all of the country's 40,000 inmates for COVID-19.
Cambodian prisoners are particularly vulnerable to outbreaks of the disease, three rights groups said in December, "given the extreme overcrowding in Cambodia's prisons, lack of access to adequate medical treatment as well as basic necessities such as soap and clean water to practice safe hygiene."
The Philippines – also notorious for its poorly ventilated and densely packed prisons – saw a number of COVID-19 clusters among inmates, prompting the correctional authorities to authorize several prisoner releases to reduce risk of COVID-19 transmission. The Philippines prison system has a 464 percent overcapacity rate, making it the most overcrowded prison system in the world.