Kazakhstan Bans Sale of Agricultural Lands to Foreigners
The land code protests of 2016 were a rare occurrence and yielded a rare outcome: a shift in state policy.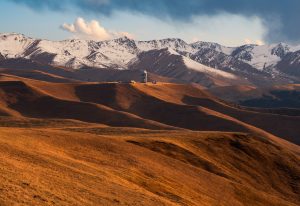 Last week, Kazakh President Kassym-Jomart Tokayev signed into law a bill proposed earlier this year that bans the selling and leasing of agricultural land to foreigners. With the law, Kazakhstan's leaders hope to put aside public concerns about Chinese investors scooping up Kazakh land.
In March and April, protesters in Kazakhstan criticized the draft of the bill. Ultimately, a clause that would have allowed the leasing of Kazakh forests for up to 25 years was nixed in the final version. But other critiques, particularly the narrow focus of the ban on agricultural land only, remain unaddressed
As RFE/RL summarized, "According to the [new] law, foreigners, stateless individuals, foreign companies, Kazakh companies with foreign ownership, international organizations, and scientific groups that have the involvement of foreign countries cannot own or lease agricultural land in Kazakhstan."
Sinophobia in Kazakhstan puts on display the disparities between elite sentiments and public moods, particularly on the topic of land. Paul Bartlett noted in his analysis for Nikkei Asia, "For Kazakhstan's authorities, there is a problem of getting their message across to the public about relations with China."
Political leaders see investor interest from China, the world's second largest economy, as an economic boon. For Kazakhstan, outside of hydrocarbons, one of its greatest resources is land: It is the ninth largest country in the world by area with one of the lowest population densities in the world, just 17 people per square mile.
In 2019, China was the top destination for Kazakh exports and trailed behind only Russia in the ranking of Kazakhstan's import partners. While the bulk of Kazakh exports to China remain mineral and metal products — gas, oil, copper, and so on — Beijing's exports to Kazakhstan and investments in the country are more diverse. As Dirk van der Kley outlined in Eurasianet last year, although the first phase of Chinese investment in Kazakhstan focused on resource extraction and pipeline building, in the last few years investments have shifted to "industrial capacity building." Van der Kley highlighted the Kazakh preference for joint development projects in a variety of industries from a concrete plant to a bus factory. 
The Kazakh public holds a host of views on China, some very negative and further sharpened by nationalism. Historical enmity, from both the pre-Soviet and Soviet periods, provides a base set of beliefs upon which common complaints about Chinese investor behavior, such as importing workers and shoddy quality, fester into deeper dissatisfaction. But there's another factor, as Akbota Karibayeva wrote in a special report for the Caspian Policy Center last spring:
The third and largest dimension of anti-Chinese sentiments in Central Asia stems from local officials' approach to China. Indeed, anti-Chinese protests are often anti-governmental in nature due to the wide-spread association of an inherent link between the two. While Chinese companies may indeed seek to take advantage of the institutional weaknesses of the Central Asian countries, the domestic public is more frustrated with what they perceive as a failure of governments to protect the interests of their own people. 
Kazakhstan's political system largely precludes the shifting of government policy via the ballot box, but Nur-Sultan has been moved by street protests to alter course on select policies. This occurred most dramatically in 2016, when impending changes to the Kazakh land code were set to open more lands to longer foreigner-held leases. The changes, signed into law in November 2015 and set to go into effect on July 1, 2016, belatedly triggered protests across the country in the spring of 2016. 
At first, then-President Nursultan Nazarbayev suggested the protests were the work of provocateurs. One activist, Maks Bokayev, spent 4 and 1/2 years in jail for organizing some of the protests. But the Kazakh government soon pivoted, quelling the protests by imposing a moratorium on the land code changes (at first to 2017, later extended to 2021). When 2021 arrived, Tokayev, who had been chair of the Kazakh Senate back in 2016, sought to make permanent Nazarbayev's moratorium. With his signature last week, the most sensitive of issues — the sale of Kazakh land to foreigners — is seemingly set aside. 
Nothing is that simple, however. Ostensibly, foreign investors could obscure their investments, such as subletting from Kazakh owners. The results would be much the same, just without the direct public fuss and far less oversight. Furthermore, the Kazakh economic problem remains in place: If Nur-Sultan aims to diversify beyond oil and gas, it needs to pursue investor-friendly reforms and banning the sale and lease of agricultural land to foreigners is anything but investor-friendly. 
Lastly, it's worth noting the limits of public protest to shift Kazakh policy. While protests seemingly achieved a degree of success when it comes to the land issue, other efforts — such as protests regarding Chinese policies in Xinjiang — have not had the same effect. There are distinct differences in the size of the protests in each case, and the degree of their wider popular appeal, but also in how important each issue is to Beijing (and therefore how much weight Kazakhstan's leaders afford it). After nearly 100 days of picketing the Chinese consulate in Almaty, nine protestors — most of them women carrying photographs of their vanished husbands and sons — were detained by Kazakh police earlier this month. Nur-Sultan has danced around the edges of the Xinjiang issue, never coming out strongly against Beijing's allegedly massive human rights violations in the region.