Official Hints at Challenges for Chinese Businesses in Uzbekistan
The Uzbek state plays a huge role in the country's economy, generating difficulties for foreign investors trying to operate in Uzbekistan.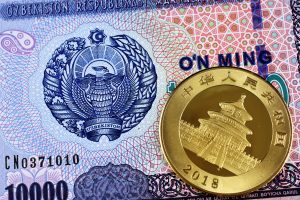 In a recent interview, Jin Yulong, an adviser on trade and economic issues at the Chinese Embassy in Uzbekistan, spoke about the state of commercial relations between the two countries. She praised the strong commercial relations between China and Uzbekistan and positive and stable trade relations despite the negative consequences of the coronavirus pandemic. However, Jin also noted that some Chinese businesses have complained about misinterpretation of regulations at local levels, generating difficulties during implementation. 
Jin stressed that strong economic relations have been maintained over the past year. China remained a major importer and exporter of goods despite the pandemic and there was little disruption to ongoing and emerging projects. She noted that China ranked first in imports of Uzbek natural gas, followed by textile products, and its fifth largest import was agricultural products. Indeed, according to the Observatory of Economic Complexity, in 2019, China's top three import categories from Uzbekistan were natural gas (47.9 percent of all exports from Uzbekistan to China), textile products (20.9 percent), and  raw cotton (7.4 percent). Uzbekistan's imports from China are far more diversified, with the top three products being non-alloy steel (4.02 percent), large construction vehicles (3.18 percent), and stone processing machines (2.92 percent). 
When speaking about the challenges that entrepreneurs from her country face, Jin specifically said that "when investing in Uzbekistan, not everything goes well. Some Chinese investors have contacted us with complaints. This is due to the incorrect interpretation of regulatory legal acts by local authorities, the reduction of benefits promised to some projects. To solve the above problems, we are working closely with the relevant ministries and departments of Uzbekistan to find options acceptable to all parties." 
Jin's statement hints at several issues in Uzbekistan that have implications for both domestic and foreign investments. The first problem is the large presence of the state in the economy, and its close efforts to regulate a majority of economic activities. Uzbek President Shavkat Mirziyoyev in 2018 himself commented that the outsized role of the state, the bureaucracy, and problems in the tax, customs, and banking spheres impede the growth of domestic investments and the wider attraction of foreign capital. 
Regardless of how hard the government of Uzbekistan tries to stimulate and attract foreign investments, without creating a regulatory environment on the ground conducive to greater foreign investment the end result remains unchanged. In early 2020, Chair of the Senate Foreign Relations, Economic Relations, and Investment Committee Ravshanbek Alimov said that while the Foreign Affairs Ministry had organized 1,200 business forums and more than 3,700 visits to Uzbekistan in 2019, they yielded few results and investments. 
The second problem is the fact that regional governments in Uzbekistan interpret state regulations arbitrarily according to their own whims, or are unaware of the proper regulations. This creates further impediments for entrepreneurs and investors. Again, this issue received wide recognition when Mirziyoyev in 2019 told regional governors and mayors to make direct appeals to entrepreneurs promising not to interfere in their activities. 
Nevertheless, even though there is a realization at the most senior level that the large role of the government is counterproductive to economic growth, undoing this reality is difficult. According to Mirziyoyev, transitioning to a real market economy will be an uneasy process. "It is necessary to openly acknowledge: if we want to build a stable economy in our country and live a wealthy and happy life as developed countries, we should introduce real market economy mechanisms, and not just formally or somehow but profoundly and thoughtfully no matter how hard and difficult it might be."
The Chinese official, Jin, expressing the frustrations of Chinese businesses. That the embassy has to interfere to resolve issues for some investment projects is an indication of the endemic problems in the Uzbek economy. Ironically, these issues exist largely because the state plays an outsized role in the economy and that the situation is counterproductive, a fact Uzbek leaders have themselves pointed out. But at the same time, the Uzbek government has taken very slow steps to divest itself from that dominant position.