What to Expect from the Upcoming Biden-Moon Summit
Moon and Biden are looking for very different results from the upcoming summit.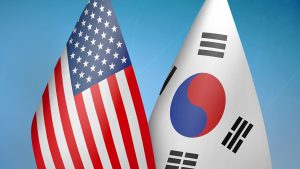 South Korean President Moon Jae-in and U.S. President Joe Biden will meet on May 21 in Washington. This will be the second summit of Biden's presidency, following a meeting with Japanese Prime Minister Suga Yoshihide in April. Biden's decision to prioritize these two allies shows the importance he affords the U.S. Indo-Pacific Strategy. But he presumably regards South Korea as a weak link in U.S. attempts to deal with China. From a U.S. perspective, during his four years as president, Moon has been too friendly toward North Korea and China, and Biden may be looking to change that.
Biden may be hoping he can persuade Moon to formally engage with the Quadrilateral Security Dialogue (the "Quad"), comprising the U.S., Japan, Australia, and India. In a 2021 joint statement following the first Quad summit, members described "a shared vision for a Free and Open Indo-Pacific," and a "rules-based maritime order in the East and South China Seas."
Of course, from China's perspective the Quad is an attempt at containment, and if South Korea were to join hands with the group it would signal a major shift in its foreign policy. The U.S., however, envisions a larger "Quad Plus" to include South Korea and also ASEAN, or at least some members of ASEAN. One version of a Quad Plus grouping — the Quad plus South Korea, Vietnam, and New Zealand — has already met several times, but only to discuss COVID-19 issues. The Quad issue, and South Korea's potential role, is one aspect of the broader question of confronting China.
Moon and Biden will also discuss their contrasting approaches to dealing with North Korea, the parlous state of relations between Japan and South Korea, and how to improve global supply chains (specifically regarding computer chips) by closer cooperation between the U.S. and South Korea.
Moon and Biden are looking for very different results from the upcoming summit. Moon will try to get Biden to be more flexible on North Korea, whereas Biden is more concerned with global security issues including the Quad Plus, climate change, and COVID-19 vaccine distribution. On North Korea, the Biden administration argues that it continues to violate U.N. resolutions and thus sanctions cannot be relaxed, but Moon wants to salvage something from the Singapore summit between then- U.S. President Donald Trump and North Korean leader Kim Jong Un in 2018, believing that negotiations with North Korea can still make progress. Moon's position is weak, however, since he is facing domestic political problems and has only one year left in office. Biden, on the other hand, can afford to wait, and South Korea's next president may suit him better.
The new Biden administration's foreign policy is becoming clearer, and it appears that North Korean nuclear issues are not considered a high priority. The North Korean policy review, announced on April 30, is in some ways a compromise between the U.S. and South Korean approaches, but looks to be mostly intended for domestic consumption, with the primary emphasis on distinguishing Biden's policy from the failures of previous administrations. According to White House Press Secretary Jen Psaki: "Our policy will not focus on achieving a grand bargain, nor will it rely on strategic patience." Biden will follow a phased and realistic approach toward North Korea, employing "diplomacy and firm deterrence," eschewing the grandstanding top-down approach of Trump, but respecting the Trump-Kim Singapore agreement. This should be acceptable to Moon, and even to Kim, though the North Korean state news agency said that "recent comments from Washington are proof of a hostile policy that requires a corresponding response from Pyongyang."
The upcoming summit is critically important for Moon. During the Trump administration he was able to play a mediating role between the U.S. and North Korea, but will that role be useful for Biden? Meanwhile, some of Moon's domestic policies may cause him difficulties in Washington: He has banned conservative civic groups from sending propaganda leaflets by balloon to North Korea, delayed regular military exercises between the U.S. and South Korea, and passed legislation that (at least to U.S. eyes) favors the North Korean regime.
That Biden is less than pleased with Moon's policy positions, both foreign and domestic, can be seen from the U.S. response to South Korean suggestions that surplus COVID-19 vaccines might be made available to South Korea, which is suffering a vaccine shortage and a lack-luster rollout so far. Psaki referred to vaccine cooperation among Quad members, without mentioning the South Korean request. This implied linkage has put further pressure on Moon, and is perhaps connected with recent THAAD developments. Moon has allowed U.S. Forces Korea to replace old and poor facilities at the THAAD Seongju base, and, it seems, to upgrade the THAAD in three phases, to be completed by end of this year. The Seongju THAAD will be integrated with PAC-2/3 missiles, and also linked with other THAAD systems deployed in Japan and Guam. 
These changes represent a notable concession by Moon to U.S. concerns about China, since South Korea suffered extensive economic retribution from China when THAAD was first deployed on Korean soil in 2017. Moon is thus demonstrating to the Biden administration not only his commitment to the South Korea-U.S. alliance, but also his willingness to cooperate, at least to some extent, with the U.S. resistance to Chinese military and political expansionism.
On April 30 the top uniformed officers of South Korea, the United States, and Japan held talks in Hawaii. South Korea's Joint Chiefs of Staff Chairman Gen. Won In-choul, and his U.S. and Japanese counterparts, Gen. Mark Milley and Gen. Koji Yamazaki, vowed to strengthen their trilateral cooperation amid concerns over North Korea's nuclear and missile programs. Various regional security issues were discussed at the annual Trilateral Chiefs of Defense (Tri-CHOD) meeting, including how to extend security cooperation to encompass multilateral arrangements such as Quad. This message accords with Biden's recent speech to the U.S. Congress, marking his first 100 days in office, in which he spoke of "working closely with our allies to address the threats posed … through diplomacy as well as stern deterrence." 
On May 3, at the G-7 foreign ministers meeting, U.S. Secretary of State Antony Blinken met with South Korea's Chung Eui-yong, and separately with Japan's Motegi Toshimitsu. It was noteworthy that the joint statement from the South Korea-U.S. meeting did not mention North Korea, which likely indicates that they failed to reach agreement on North Korean issues. On this basis, a similar outcome might be expected from the upcoming bilateral summit on May 21, with only a bland statement of shared commitment. Moon is hoping that North Korea will take this opportunity to more actively demonstrate its willingness to denuclearize, but it is far more likely that North Korea will embarrass Moon by conducting another ballistic missile test, since Kim would prefer to negotiate directly with Biden without the involvement of South Korea.
In conclusion, there are broad and deep differences between Moon and Biden, and there is no chance of Moon persuading Biden to follow in Trump's footsteps. But Biden may offer some kind of promise to do his best to reengage with North Korea in exchange for Moon expressing his willingness to work more closely with Quad in a wider Quad Plus framework. As for the strategic competition between the U.S. and China, Moon will argue for reducing tensions, lest North Korea take advantage of the situation to the detriment of the U.S. and South Korea. Biden will not heed his plea, however, at least before the China Task Force reports in late June, after which there may well be significant changes in U.S. policy toward China. Of course Biden's China policy is about far more than North Korea, encompassing global security concerns, so Moon can also expect pressure for South Korea to reconcile with Japan. Moon was surely naive to expect great things from Trump with regard to resolving the North Korea issue, and neither can he expect much on this front from Biden.