After Wild Election Season, What's Next for Mongolia?
The Mongolian People's Party now controls the executive and the legislature, but now must contend with COVID-19 and demands to level the political playing field.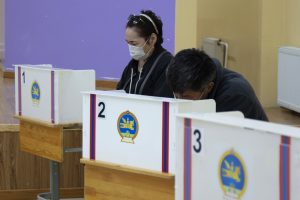 Mongolia is no exception to global trends of democratic decline. The country's outgoing president, Battulga Khaltmaa, elected in 2017, has repeatedly been criticized for heavy-handed moves. In 2019 alone, Battulga removed the head of the Supreme Court and 17 other judges and called for the investigation of predecessor Elbegdorj Tsakhia, while Battulga himself is suspected of major corruption while serving as a minister in a previous administration. Then, less than six weeks before the recent presidential election, Battulga issued an order banning the ruling Mongolian People's Party (MPP), the traditional counterpart to Battulga's Democratic Party. The MPP has held a supermajority in the parliament since 2016. A recent MPP prime minister, Khurelsukh Ukhnaa, went on to be elected president in the June contest, raising some fears about all important political offices being now held by a single party.
While Khurelsukh won with 67.7 percent of the vote, the largest ever margin in a presidential election, voter turnout nationwide was just below 60 percent, lower than in previous elections (and as low as 51.2 percent in the populous and strategically critical Selenge province, for example). Additionally, a third-party candidate, Enkhbat Dangaasuren for the Right Person Coalition (KhUN), won 20 percent of the vote.
The MPP now controls both the legislature and the executive, raising further concerns about the direction in which Mongolia's democracy is trending. Although it should be noted that the MPP-led government has in recent months implemented substantial structural changes in governance and, to a moderate degree, responded to public criticisms around the COVID-19 response, it will be under continued pressure to level the playing field for opposition parties. This includes campaign finance reform, and increasing transparency, both in party and campaign financing and in governance processes at large.
The 2020 parliamentary and 2021 presidential elections, while resulting in major wins for MPP candidates, took place after the conclusion of major legislative changes with the potential to balance out perennially knotty contradictions in Mongolia's semi-presidential/semi-parliamentary system. Somewhat paradoxically, the MPP is now in control of a political office, the presidency, that the MPP-dominated parliament spent much of 2019 and 2020 weakening. It is expected that the MPP, which is internally divided into various factions, will move to temper attempts by Khurelsukh to take too much power.