China-Russia: A Strategic Partnership Short on Strategy
The most recent Putin-Xi summit inadvertently showcased the lack of positive agenda items underpinning the two nations' relationship.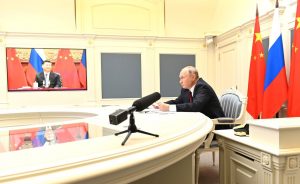 The recent bilateral summit between presidents Joe Biden and Vladimir Putin has launched a geopolitical summit craze. On June 24, German Chancellor Angela Merkel and French President Emmanuel Macron launched a spectacularly ill-conceived effort to secure an EU-Russia summit that immediately fell apart. The next day, China's Ministry of Foreign Affairs announced a video conference between Putin and Xi Jinping scheduled for June 28. The question was what, exactly, they intended to talk about and whether there are any significant bilateral initiatives to announce or else be discerned in motion.
The video conference made for decent theater. The two leaders marked the upcoming 20th anniversary of the bilateral signing of their nations' 2001 Treaty of Friendship and ran through the traditional laundry list of thematic priorities: the extension of said treaty, reaffirmation of the value of the strategic partnership, boilerplate statements about the Belt and Road Initiative and Russia's Greater Eurasia Partnership, and the same about the Northern Sea Route. Nowhere, however, was there any public statement of a significant new policy development regarding a wide range of areas of mutual interest.
Even more telling was Putin's need to sidestep the obvious fact that the two leaders couldn't meet in person because of the Russian state's resounding failure in COVID-19 management and vaccine distribution. None of the agenda items that matter now was put in front of the cameras. The Russian readout of the event did, however, note concerns about the destabilizing effects of U.S. withdrawals from international arms control agreements.
Elephants in the Room
The U.S. drawdown in Afghanistan is an area of joint interest for Moscow and Beijing. Both governments were comfortable with a status quo that locked in large U.S. spending commitments, the deployment of U.S. airpower, and a sizeable U.S. detachment capable of regularly deploying outside of Kabul and key airbases to support the ANSF against the Taliban. Biden wrongfooted Moscow by announcing the withdrawal, though the term should be tempered by the fact that there are now plans to leave 650 troops in Kabul, an understanding that the United States will continue to financially support President Ashraf Ghani's government, and over-the-horizon air capabilities will be stationed at Al-Udeid in Qatar to support military action in the country. Still, the Taliban have gained considerable ground in the last two months and Afghan government troops are now regularly attempting to flee across the Uzbek and Tajik in search of safety.
The lack of a joint statement on Afghanistan at the recent Putin-Xi summit likely reflects the two governments' high degree of ambivalence concerning the conflict. Russia has stepped up its military contacts with both the Uzbek and Tajik governments and deployed more troops to Tajikistan. While China has expanded its security partnerships and presence on the border, it hasn't communicated any change in policy. At the same time, Russia has visibly receded as an "ordering" power when it comes to regional initiatives. In the wake of a border fight between Kyrgyz and Tajik forces over undemarcated territory in the Osh region, China hosted the foreign ministers of all six Central Asian states to discuss Afghanistan and regional economic development without any attempt to include Russia. Moscow never even set up a trilateral meeting or similar initiative between national leaders.
Far less concerning for Beijing – and more concerning for Moscow – is Belarus' economic future. The weight of United States and EU sanctions aren't enough to sink the economy by any stretch, but the loss of access to EU capital markets and targeted sanctions on its refineries have pushed Russian firms to cut oil supplies and Minsk to rely on Russian banks and Russia's financial markets to borrow more. Why should Beijing care? Belarus is an entry point for rail shipments transiting Russia into Europe, though Ukrainian importers are beginning to use Russian routes from China as well. Belarus is by no means a priority for China in Eastern Europe, but it at least has a role in the web of interconnectivity China has pushed as an economic panacea for Eurasia's growth over the last eight years. Yet based on the Putin-Xi meet-up, clearly Belarus doesn't merit any significant public statement.
Viral Loads
On the biggest global issue of the day – public health responses to COVID-19 – China and Russia could scarcely be more divergent. Russia's vaccination campaign has been a tremendous flop. Only about 15-16 percent of the population has had at least one dose since mass vaccinations started in January and the current wave, worsened by the Delta variant, is overwhelming hospitals and bringing the relative increase in mortality levels back to highs not seen since 1947. Even the Kremlin has openly acknowledged that its own 60 percent vaccination target for the fall can't be achieved at this point.
China, on the other hand, has been effective at quickly locking down when needed in response to local outbreaks and, despite misgivings about the efficacy of its vaccines, has fully vaccinated over 220 million people with vaccinations significantly rising since early April and the rollout proceeding smoothly thus far.
Both China and Russia managed to "beat" the pandemic's effect on their economies through their exports. U.S. stimulus and European safety nets allowed Western consumers to shift their spending on services to hard goods at the same time that a new commodity price cycle began, raising the value of Russia's non-oil and gas resource exports. But China's consumer recovery has been a fair bit weaker than its export recovery, with signs now of a slowdown as credit conditions have been tightened to fight off speculation and help manage the surge of capital into the country since the pandemic began. Russia's consumer recovery is evaporating under the weight of high inflation, limited state support to households, and the new wave of the virus. Despite Moscow's assumption that the sheer size of the Chinese economy would be enough to offset the persistent weakness of economies in the EU since the Global Financial Crisis, that won't clearly be the the case in the year ahead.
The Biden Boom and Europe's Green Dreams
These summits aren't just a function of bilateral or multilateral agendas between nations. They're backgrounded by the ebb and flow of global markets, regulations, and money. The size of American stimulus has made the United States, not China, the driver of global growth at the moment, and an ongoing EU initiative to apply tariffs on carbon-intensive imports has forced Putin to order up a national decarbonization strategy for this October. The size of markets matter, but the marginal growth of markets matters just as much when assessing different nations' ability to affect norms, rules, and business practices. In practical terms, there's a renewed sense of momentum in the West, if unevenly distributed, that's beginning to weigh on Russia's internal political economy.
China is a natural partner for Russia in the race to decarbonize. It makes a majority of the world's solar panels, refines half the world's cobalt, has lots of industrial know-how and experience establishing competitive manufacturing supply chains for renewable inputs, and would benefit from playing a proactive role in oil exporters' decarbonization plans. Yet there was no attempt to even signal coordination or interest in future cooperation during the conversation on Monday. China's national emissions trading scheme failed to launch by the initial end of June target set by the government and the issue has only just come onto the policy agenda in Moscow, with word that Anatoly Chubais might be given responsibility for managing Russia's national carbon trading system.
The Sino-Russian relationship, nothing like an "alliance," will continue to endure and in some ways deepen. Chinese firms are still interested in Russia's human capital and natural resources and Russian firms and investors want to find growth in China's market. The Putin-Xi meeting, however, emphasized performance over substance, limited by domestic political considerations and the scope of the two countries' mutual interests. There's a sense that there is no clear consensus over what order in Central Asia and Eurasia more broadly ought to look like, nor any attempt to show that it's not just the world's democracies talking a mean game about coordinating climate efforts. Instead, China and Russia continue their repeated focus on presenting a united front against the dominance of American and transatlantic power – without reflecting on what that power is actually doing right now.