China's COVID-19 Vaccine Rollout Surges Ahead
Despite some concerns and criticisms abroad, most Chinese (and expats) are eager to roll up their sleeves for the jab.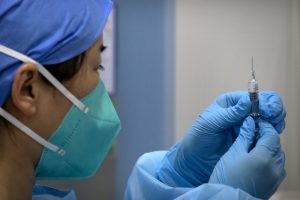 A mere 15 minutes after his Sinovac jab at a Beijing stadium outfitted with vaccination stations on April 5, American expat Steven saw an inoculation status update on his jiankang bao, or "Health Kit," a smartphone mini-app that has become ubiquitous in China throughout the COVID-19 pandemic. It was an efficient and technologically advanced process, according to Steven, who asked to only give his first name. He had eagerly queued up on one of the vaccine's first days of availability for foreigners in China, well before the World Health Organization gave emergency approval to Sinopharm, the country's other major vaccine, on May 7; Sinovac wasn't given the WHO's green light until June 2. One day before its WHO approval, a study in a Brazilian city determined the Sinovac vaccine is 95 percent effective in reducing COVID-19 deaths, according to a June 1 Chinese state media report, while Sinopharm was deemed "safe and effective" in a study published in the Journal of the American Medical Association late last month (though some critics still harbor doubts).
The WHO approval came after months of bad international press about Chinese vaccines. A few days after Steven's inoculation, none other than Gao Fu, the director of the China Centers for Disease Control, was quoted as admitting that Chinese vaccines "don't have very high protection rates," before adding that officials are considering "whether we should use different vaccines from different technical lines for the immunization process." He subsequently called that a misunderstanding, and said he was merely discussing methods to boost vaccine effectiveness "even further," according to a DW article  that went on to point out how Sinopharm and Sinovac are "more effective than some influenza vaccines" that have long been used, even though Western jabs like Pfizer and Moderna have higher efficacy levels against COVID-19. Chinese state media responded with an editorial titled: "Twisting Gao Fu's remark shows spite against China's COVID-19 vaccines."
Some international experts spent months prior criticizing the efficacy rates of Chinese vaccines, while also criticizing Sinopharm and Sinovac for not releasing sufficient data. Adding to the furor was a September 2020 announcement from Sinopharm that it had inoculated hundreds of thousands of Chinese citizens before passing the final phase 3 clinical trials. This was described as "unsound public health practice" at the time by former University of Sydney global health security professor Adam Kamradt-Scott. He told Time magazine, "We have previous examples of where vaccines that have not gone through sufficient clinical trials have demonstrated adverse reactions with long-term health consequences."
But Jennifer Huang Bouey was touting Chinese vaccines even during the rampant international criticism that followed a Brazilian study that put Sinovac's efficacy at 50.38 percent, far short of its formerly announced 78 percent efficacy. At the time, Bouey, an epidemiologist and professor of global health at Georgetown University, said greater attention should be paid to the "endpoint outcomes" upon which vaccine efficacy is based.
In the case of Brazil's phase 3 trial for Sinovac's vaccine, Bouey said the drop from 78 percent to 50.38 could be attributed to the difference between preventing cases that are moderate to severe, versus those that are "very mild," as the endpoint outcome. In her view, the results were therefore "not conflicting nor problematic. It is not a reason for questioning the vaccine's efficacy to prevent moderate and severe cases of COVID-19." She then pointed to the Pfizer vaccine's steep dip to 29 percent efficacy when suspected cases, which are typically mild cases, were factored in. Referencing a blog post by Peter Doshi, editor of the peer-reviewed medical trade journal The BMJ, Bouey said that the Pfizer vaccine's more than 90 percent efficacy was based on 170 symptomatic COVID-19 cases. Meanwhile, over 3,000 suspected and likely mild cases were not part of that calculation. She went on to note that the influenza vaccine that "we take every year" targets severe cases. Its efficacy? Typically a mere 40 percent.
Bouey added that with an understanding that the vaccines' primary goal is "to reduce moderate and severe cases of COVID-19 safely, I'd say people and countries should take any vaccine they can get hold of, and keep social distancing practice until the majority of the population are vaccinated."
That positive sentiment has been shared by a number of expats in China. Approximately 20 percent of foreigners in Beijing opted to be inoculated within their first week of eligibility, according to a survey by English language news site the Beijinger. As of May 8, that number shot up to 80 percent.
Some China expats who spoke to The Diplomat are encouraged that Sinovac and Sinopharm were tried and true inactivated vaccines. Employed for decades against polio, whopping cough, hepatitis A, and more, this traditional vaccine type works by exposing the immune system to the virus via killed viral particles, and is deemed safe because the shots are unable to infect recipients with the virus. The leading Western Moderna and Pfizer vaccines are a departure from that conventional method, using cutting edge mRNA technology. According to the U.S. Centers for Disease Control and Prevention, these vaccines help cells learn how to make proteins that produce antibodies, which defend the body against infection from the virus. The Oxford University-AstraZeneca vaccine, meanwhile, utilized a weakened genetically engineered virus that is the source of the common cold for chimpanzees.
Like those of Sinovac and Sinopharm, AstraZeneca's vaccine can be easily stored at 2-8 degrees Celsius, as opposed to the more exacting -20 Celsius and -70 Celsius storage temperatures needed for Moderna and Pfizer, respectively. This less cumbersome refrigeration requirement has made Sinovac attractive to nations as varied as Indonesia, Brazil, and Chile. Meanwhile, Mexico and Hungary are among the countries using Sinopharm, according to a Chinese state media published list detailing the more than 60 countries that have authorized the use of Chinese vaccines.
In China, the Sinopharm vaccine became available for general use at the end of December 2020, after the company announced an efficacy rate of 79 percent in phase three trials, though it was criticized internationally for not offering further details. Sinovac followed suit in early February. By that time, China's vaccination program, which has involved both of those vaccines, along with another candidate from Sinopharm, had administered more than 31 million doses, with a focus on those at higher risk of infection. A fourth candidate vaccine from CanSino was reportedly being used to inoculate Chinese military personnel.
Those Chinese vaccines had a head start on their Western counterparts thanks to the "uniqueness" of China's regulatory market, according to Yiwu He, the chief innovation officer at the University of Hong Kong, who worked on his own COVID-19 vaccine candidate for the Chinese government. In the spring of 2020, officials established a "green channel" for approval of COVID-19 vaccines. This included five technical routes: inactivated vaccines (like the front-running Sinopharm and Sinovac vaccines), recombinant protein vaccines, adenoviral vector vaccines, attenuated influenza vaccines, and nucleic acid vaccines. "Once the government set up those five candidate areas, it began working with companies and universities on approvals," said He. Chinese citizens didn't doubt these briskly readied jabs, He added. That's because China's swift flattening of its pandemic curve, especially compared to spiking numbers in other locales, led "average people to think: 'If the government can control the spreading of the virus well, then it can also do well developing a vaccine.'"
And yet, criticism has remained steady from a number of experts. University of Hong Kong virologist Jin Dong-Yan took issue with how little vaccine efficacy data was published in China. Prior to the WHO's May 8 approval, he told The Diplomat that not only efficacy rates but also data transparency were important concerns. "The scientific community should push them and others to publish and share the real-world statistics and other results as soon as possible," Jin said.
However, Julian Tang, a professor in the department of respiratory sciences at the University of Leicester in the U.K., said the matter's thorny politics should be taken into consideration. He, by contrast, saw the Chinese government's submission of its Sinopharm and Sinovac data to the WHO as a plus, before concluding: "Given the response of the West to China being the apparent origin of the COVID-19 pandemic, it does not surprise me that they may shy away from publishing their vaccine trial data or results in any Western journals." He then pointed to Russia's Sputnik V vaccine, the success of which made AstraZeneca look comparatively  "overhyped," in his view. That should give Western critics pause before finger wagging, Tang added.
Sinopharm's rollout in the United Arab Emirates, meanwhile, was "encouraging," according to Catherine Bennett, chair in epidemiology at Deakin University's School of Health and Social Development. Prior to the WHO's emergency approval, she told The Diplomat that the 50 percent drop in both cases and deaths once half of the population was vaccinated "suggests good safety and effectiveness" for Sinopharm jabs. She added: "Case numbers have plateaued as of late and we would hope to see the decline continue with that level of vaccine coverage as, with the efficacy reported to be 79 percent, we would hope to see signs it was interrupting transmission, not just protecting those vaccinated." However, she said she would "feel more comfortable" once the WHO completed its review and decided whether or not to grant emergency approval, which it has since done for both Sinopharm and Sinovac's vaccine candidates.
Such hesitancy wasn't shared by a number of expats in China. Shanghai expat Sven said that he "immediately signed up" to receive Sinopharm once it became available. Negative international headlines about low efficacy rates didn't faze him, especially because China is using inactivated vaccine processes that have "been around for decades, the same kind we received as children," added Sven, who, like all vaccinated expats who spoke to The Diplomat, asked that only their first names be used. He sees vaccination as a civic duty that will hopefully raise the overall immunization totals. Meanwhile Sammy, an expat residing in the southern Chinese beach town of Sanya, cited more pragmatic and personal reasons for her vaccination, mainly a desire to visit home more freely after being separated from family since the beginning of the pandemic.
Enthusiasm was even higher among some Chinese citizens. In fact, hundreds of thousands of state officials and pharmaceutical executives were inoculated as early as last summer. Yang Bao Shan, a security guard at a shopping complex in Beijing's Haidian district, had been vaccinated along with his colleagues back in February. "It's really good that we are among the first in line," he said at the time, adding: "Now, we can feel confident to be among the public. I think the government is handling this very well."
That point was seconded by Tang, a driver for the ubiquitous Didi Chuxing ride sharing app. While driving throughout Beijing's Chaoyang district on February 12, he sported a stylish black cloth face mask that complimented his dark aviator sunglasses, rather than the more widely used paper blue hospital masks. All the while, he gently reminded passengers to use their phones to scan the digital jiankang bao health QR code pasted to the back of his seat, to prove they were safe to board. Vaccines were made mandatory for Tang and all of his fellow Didi drivers on January 20. Tang said the jab "makes me safer, which is definitely good for the public." Such comments from Tang are made all the more significant by the hefty 1 million RMB  fine his employer received in January after a handful of Didi drivers tested positive for COVID-19. At a red light, Tang dug into his glove box to proudly show a card certifying his vaccination. He then declared: "Right now, China is the safest place to be during the pandemic."
However, that was by no means the consensus among all Chinese citizens. Take Linda, the Chinese manager of a popular cocktail bar in Beijing's bustling Sanlitun neighborhood, who only agreed to answer questions under her English name. She and neighboring food and beverage proprietors were given notice by officials in January that service industry workers would be among the first to be offered vaccines. But the then-newness of those vaccines, and a lack information about them, made Linda's bar staff "a little bit worried," she said, "so we didn't do it" at the time. Meanwhile Mario, the owner and operator of a popular neighboring bar and grill (who answered questions under similar conditions as Linda) said officials warned him in January that all Sanlitun employees that handle frozen food would need to be vaccinated shortly after the lunar new year, or undergo weekly virus testing. While he was not yet certain that the vaccines were flawless, he was reassured that "it seems all good for everyone who has been vaccinated so far."
Such lingering ambivalence, along with months of successful containment of the virus, undermined vaccination urgency for many Chinese citizens when the rollout for those jabs began in earnest this spring. That all changed, however, thanks to a COVID-19 resurgence in both Liaoning and Anhui provinces in May. While those cases remained in the low double digits, they were alarming enough to propel vaccination rates toward the lofty targets the government had set months earlier. A record high of 14 million doses were doled out on May 16, and the government's goal to vaccinate half a billion of its population was reached a week later.
As more and more Chinese citizens queue up for Sinovac and Sinopharm jabs at home, the WHO's emergency approval of both shots is changing the conversation abroad. Jin, the University of Hong Kong virologist who has been critical of Chinese vaccines in interviews with a number of outlets, admitted the emergency approval "helps to convince others of its efficacy and to justify its use in places where government and people still look up to the WHO, or where the WHO's endorsement is still a big deal. It may also help the vaccination campaign back at home in China." He also said widespread international usage of the vaccine has the potential to the flatten the curve of new cases, decrease deaths and hospitalizations, and grant greater access to vaccines for countries short on resources.
However, the efficacy rates and lack of transparent trial data are still matters of concern, in his view. "Approval from the WHO is not the ultimate goal but just the beginning of a new journey," he said, before encouraging Chinese vaccine designers and manufacturers to enhance those products with dose adjustments, combinations with other vaccines, and perhaps conduct new trials for the development of improved jabs.
Bennett, meanwhile, said skeptics should bear in mind that "we have come to expect very highly efficacious vaccines, but the criteria for approving vaccines is based on safety and a much broader range of efficacy." She went on to describe the potential of Sinopharm to slow the virus and bolster containment methods. "It's another tool in the toolbox, not as sharp as others, but we need them all to fight this virus," she said. "[It's] better than nothing and buys a little time until other vaccines can be more widely distributed."