China's Myanmar Policy 'Not Affected' by Post-Coup Chaos: Official
With no solution to Myanmar's political crisis in sight, Beijing is making a pragmatic bet on the status quo.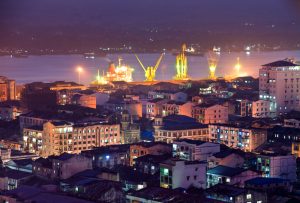 More than four months after the coup d'etat that tipped Myanmar into political crisis, the Chinese government says its policy toward the country remains unchanged, and that it is ready to resume normal bilateral contacts.
During a meeting yesterday after the Special ASEAN-China Foreign Ministers' Meeting in Chongqing, Chinese Foreign Minister Wang Yi told his counterpart Wunna Maung Lwin that Beijing would continue implementing bilateral projects in the Southeast Asian nation.
Wang said that China's policy of friendship toward Myanmar was "not affected by changes in Myanmar's internal and external situations and remains oriented toward the people of Myanmar," according to a paraphrase of the meeting provided by China's Foreign Ministry. "In the past, present, and future, China supports Myanmar to independently choose a development path that suits its national conditions."
Since seizing power at the start of February, the junta's chosen "development path" has embroiled the country in turmoil. At least 858 people have been killed by security forces and thousands have been detained, as anti-coup protests, work stoppages, and acts of sabotage sweep the country. Meanwhile, renewed conflicts with ethnic armed rebel groups have displaced tens of thousands of people.
However, the operative thing in Wang's statement wasn't so much the "choosing its own developmental path" part – that parlance is straight out of China's 2019 white paper "China and the World in the New Era" – as the "Myanmar" part. It seems unequivocal now that Beijing is equating this with the military junta.
Despite Beijing's undoubted frustrations with the turn of events in Myanmar, which has thrown into jeopardy a range of Chinese interests in the country, including a raft of strategic infrastructure projects, there were already signs that the Chinese government was accommodating itself to the reality of military rule. As I noted earlier this week, Chinese state media on Saturday referred to coup leader Sen. Gen. Min Aung Hlaing for the first time as "the leader of Myanmar," dropping the more cautious and indirect references that it had previously employed.
This suggests that China has accepted that the junta will remain in power for the foreseeable future, and that it needs to work within the new reality in order to advance its key strategic interests in the country. Whether China offers substantial support to aid the military's consolidation of power remains to be seen, but its diplomatic recognition no doubt comes at a handy time for a military government that has been heavily sanctioned by the United States and other Western powers.
China's decision is not so much ideological – support for a fellow authoritarian government – as coldly pragmatic. More than four months after the coup, there is no solution to Myanmar's crisis in sight, with the military junta and its opponents grouped around the National Unity Government (NUG) settling into a tense, unsteady stalemate. It will not have been lost on Chinese policymakers that despite imposing sanctions on the military government and its business interests, Western support for the NUG and other opposition forces has been insubstantial.
ASEAN's efforts to solve the issue have likewise stalled. At the special China-ASEAN meeting in Chongqing, three Southeast Asian nations – Indonesia, Singapore, and Malaysia – lamented ASEAN's slow progress in resolving the political crisis in Myanmar, and the 10-nation bloc seems increasingly torn over the issue.
China has pledged to play a constructive role by offering support to ASEAN, which reached a "five-point consensus" on Myanmar at a special summit on April 24 that included an immediate halt of violence and peaceful political negotiations between the contending parties. China has pledged its support for ASEAN's consensus, encouraging "all parties in Myanmar to engage in political dialogue and restart the process of democratic transformation," according to the Chinese Foreign Ministry. China's pro forma support for a process over which the junta holds an effective veto will therefore offer political cover for its resumption of normal diplomatic engagements with the government in Naypyidaw.
Uninterested in promoting any particular regime type or set of political arrangements, the Chinese government retains considerable flexibility, and it is not hard to imagine it shifting tack yet again if the situation were to change significantly in Myanmar in the months to come, as it did after the country's sudden political opening of 2011 and 2012. But China's reluctance to denounce the coup and back opposition forces has made it a subject of loathing among a significant portion of the Myanmar population. Whether they ever forgive it for its current accommodation remains to be seen.