Duterte Gives the Philippines a Choice: COVID-19 Jabs or Jail
Duterte's threat speaks to the concerns that the country may fail to achieve the widespread coverage required to halt transmission of the virus.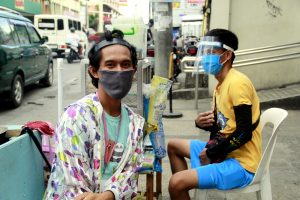 The Philippines' President Rodrigo Duterte has threatened to jail those who refuse COVID-19 vaccines, as his government seeks to bolster its nationwide vaccination rollout to combat one of the worst outbreaks in Southeast Asia.
"You choose, vaccine or I will have you jailed," Duterte said in a televised address on Monday following reports of low turnouts at several vaccination sites in the capital Manila. "Don't get me wrong, there is a crisis in this country," Duterte added. "I'm just exasperated by Filipinos not heeding the government." He also said that village leaders should keep a list of those who refused to be vaccinated.
It is tempting to view the threat as a throwaway remark for a leader who is known for his off-piste comments and rambling monologues. But with Duterte, even apparently outlandish remarks are often shadowed by a deadly seriousness. His "war on drugs," inaugurated within days of his taking office in 2016, has killed thousands of people, prompting the former chief persecutor of the International Criminal Court to request an investigation for crimes against humanity.
Meanwhile, Duterte's administration has also taken sometimes harsh excesses in order to enforce COVID-19 lockdowns and quarantines. In one instance from April, a man died after village guards forced him to perform 300 squats after he was caught breaking curfew.
These punitive measures have done little to stem the spread of COVID-19. The Philippines has now registered more than 1.3 million confirmed cases, the second highest in Southeast Asia in both absolute and relative terms. It has also suffered more than 23,000 deaths, also second in the region.
Duterte's threat of jail was intended to add some extra incentive to the Filipino public to get vaccinated, amid a sluggish vaccine rollout. As of June 20, Philippine authorities has administered at least one dose of vaccine to 6.2 million people, just 5.71 percent of its population, making it increasingly unlikely that the government will reach its target of immunizing 70 million of the country's 110 million people by the end of the year. The Philippine leader has also halted plans to reopen schools and kept in place regulations requiring the wearing of face shields.
Part of the reason for the low rate is the high rate of vaccine hesitancy among the Philippine public. In a survey last month, the local pollster Social Weather Stations (SWS) found that just 51 percent of Filipino adults trusted the government's COVID-19 vaccination program. Just 32 percent of adult Filipinos said they were willing to get vaccinated if they had a "chance to be given a free vaccine that can prevent COVID-19 which has been approved by the Food and Drug Administration."
When asked why they were uncertain about getting vaccinated, 39 percent cited fears of the possible side effects, and 21 percent said the vaccines were not safe and effective. Another 11 percent said that they were afraid or did not trust the vaccines. Another recent survey by Pulse Asia found the number of those unwilling to be vaccinated at 61 percent.
One possible reason for the public's hesitancy is the scandal surrounding Dengvaxia, a vaccine against dengue that was yanked from the Philippine market in 2017 after it was found that it actually increased the severity of the disease for some who received it. This concern has only been compounded by the blood clots that have been documented in a tiny minority of those receiving AstraZeneca's vaccine, and the public's uncertainty about the Sinovac vaccine – two factors that have prompted the Philippine government to make its vaccine rollout "brand agnostic."
While Duterte's administration clearly lacks the capacity to actually jail the millions of Filipinos who might be reluctant to get inoculated against COVID-19, his threat speaks to the concerns that the country may fail to achieve the widespread coverage required to halt transmission of the virus. All this suggests that despite having secured access to a significant stockpile of vaccines, there is a long road ahead for the Philippines.