Duterte Orders Arrest of Quarantine Violators After Taking Unauthorized Vaccine
The Philippines president received the unapproved Chinese-made Sinopharm vaccine as COVID-19 cases continue to surge.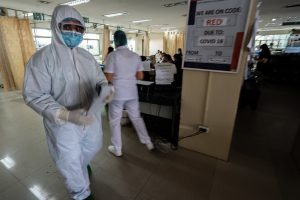 Philippine President Rodrigo Duterte said Wednesday he was ordering policemen to arrest people who are not properly wearing their face masks, one month after the government ended its controversial mass arrests of quarantine violators.
Duterte gave his directive in a characteristically meandering speech during which he apologized for his decision to receive the Chinese-made Sinopharm vaccine, which has not yet been approved by the Philippine Food and Drug Administration.
The Philippines has imposed some of the world's longest and strictest coronavirus lockdowns as it appears increasingly unlikely any part of the country will reach herd immunity by the end of 2021.
Thousands of quarantine violators have been arrested during the lockdowns, drawing the ire of the United Nations and domestic rights groups.
Philippine Justice Secretary Menardo Guevarra announced on April 5 he was recommending that police stop arresting quarantine violators. Days earlier, 28-year-old Darren Peñaredondo, who had been detained for violating curfew, died after he was reportedly forced to do 300 squats as punishment.
The Philippine National Police (PNP) at the time followed the recommendation and announced it would no longer arrest those violating quarantine.
But Duterte told pandemic task force officials on Wednesday he wanted harsher penalties for those who do not wear their masks properly.
"My orders to the police are, those who are not wearing their mask properly, in order to protect the public… to arrest them," Duterte said. "Detain them, investigate them why they're doing it."
The Philippines already has some of the world's most overcrowded prisons, and there have been several deadly COVID-19 outbreaks in jails and prisons during the pandemic.
In 2020, suspected quarantine violators were often detained for days as courts could not keep up with the pace of arrests. Police generally arrested hundreds of alleged violators each day. Guevarra on Thursday said his department is "fully aware" that Duterte's orders could lead to further jail congestion and is creating guidelines to prevent overcrowding.
Legal groups and progressive politicians criticized Duterte's directive, arguing that it could lead to rights abuses and stands on legally dubious grounds. Prosecutors and courts have already thrown out several cases under the pandemic-era law used by authorities to arrest and prosecute alleged quarantine violators.
Jacqueline Ann de Guia, spokesperson for Philippine Commission on Human Rights, said Thursday the directive "may be prone to excessive discretion and abuse."
"Given the overcrowded conditions of jails and other detention facilities in the Philippines, detention may not be sound in preventing the further spread of COVID-19 in communities," she said, adding that "intensive education and information campaigns" would be more effective.
But at least one Filipino has gotten away scot-free for flouting COVID-19 regulations: Duterte himself, who was harshly criticized for receiving his first dose of the yet-to-be approved Sinopharm vaccine on Monday.
The Food and Drug Administration said Sinopharm has not applied for emergency use in the Philippines, but previously received a special permit for compassionate use by the Presidential Security Group.
In January, Duterte ordered members of his security detail not to cooperate with investigators after they received a "gift" of unapproved Chinese coronavirus vaccines in September and October.
Duterte, in response to criticism over his Sinopharm inoculation, said Wednesday he had asked the Chinese ambassador to the Philippines to withdraw a donation of 1,000 Sinopharm vaccines to the Philippines.
He did not, however, express regret for his own choice, saying: "[What was administered to me], it's a decision of my doctor and all things said, this is my life."