Konfrontasi in the Skies
China's recent overflight has raised dormant Malaysian fears about the nation's sovereignty over its Bornean territories.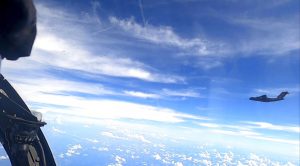 On May 31, the Royal Malaysian Air Force (RMAF) scrambled a flight of Hawk 208 jets from its No. 6 Squadron on Labuan Island to intercept the undeclared entry of Chinese military aircraft into its Air Defense Identification Zone (ADIZ). Incidents in the skies over the disputed South China Sea are not uncommon. Yet this particular event stands out. Why would China commit such a large force of unarmed aircraft to a provocative exercise against a fairly loyal partner? Can claims in the South China Sea alone explain why China would evoke memories of Cold War-era Konfrontasi by testing Malaysia over its geopolitically sensitive territories in Borneo?
These additional factors may explain why Malaysia, typically quiet about such incidents, chose to widely publicize and denounce this particular exercise. Ultimately, this incident should be understood as a clear message that China's security presence in the region is here to stay, even at the expense of heretofore loyal partners. This places the politically embattled Muhyiddin Yassin administration in a difficult position as it tries to balance economic imperatives with the need to maintain the delicate unity of Malaysia's federation.
According to the RMAF, a radar site in Sarawak on the island of Borneo picked up a flight of 16 Chinese People's Liberation Army Air Force (PLAAF) cargo aircraft flying a tactical trail formation spanning around 60 kilometers. None of the aircraft responded to Malaysian air traffic control hails, forcing the RMAF to scramble their Hawk 208s in an attempt to intercept and identify the potential intruders. While none of the PLAAF aircraft violated Malaysian airspace, their entry into Malaysia's ADIZ without permission, and their refusal to respond to communication requests, was a violation of common aviation norms. In response, the Malaysian government summoned the Chinese ambassador for a demarche, and is issuing a formal diplomatic protest.
It is important that the PLAAF's use of cargo aircraft not be misunderstood as a less provocative alternative to the sort of fighter aircraft incursions common along China's airspace borders with Japan, South Korea, and Taiwan. While Il-76 and Y-20 aircraft are unarmed, their use in this sort of large-scale forward deployment exercise suggests that the PLAAF is more interested in the mundane yet impactful than the flashy but fleeting. Sustainment exercises along these lines are intended to train a military in force deployment, combat logistics, and power projection, capabilities far more meaningful to the PLAAF than a symbolic patrol with fighter aircraft, especially considering that the aircraft likely took off from bases in distant China.
China's decision to target Malaysia with this sort of military pressure is surprising to many observers of the country. For one thing, recent Chinese-Malaysian relations have been notably warm under the government of Prime Minister Muhyiddin Yassin, with some commentators even referring to Malaysia as "appeasing" China. In April, Malaysian Foreign Minister Hishammuddin Hussein used a visit to Beijing to reportedly tell Chinese Foreign Minister Wang Yi that Malaysia and China are "brothers," and specifically, that China is the "elder brother," comments that were widely criticized in the Malaysian media. This non-confrontational policy is not new for Malaysia. The previous nonagenarian Prime Minister Mahathir Mohamed openly stated, "if the Chinese take action, we are not in a position to resist or to act against them," given the relative imbalance of power between the two countries.
The basic interest that has driven successive Malaysian governments to adopt such a pro-Beijing alignment – the prioritization of trade with China over territorial disputes – was never without its limitations. While China may have successfully promoted diplomacy with Putrajaya on trade and economics, it has never lost sight of its maritime and territorial claims in the South China Sea. In the maritime sphere, Malaysian and Chinese coast guard and fishing vessels frequently clash over their competing claims to the vital waterway. Since 2019, Chinese Coast Guard (CCG) vessels have repeatedly confronted Malaysian oil and gas exploration vessels conducting work on its continental shelf off the coast of East Malaysia. Later that year, a fleet of Chinese vessels sailed again off the coast of Borneo through the claimed Exclusive Economic Zone (EEZ) of Malaysia and Brunei escorted by CCG vessels. These maneuvers demonstrated Beijing's intention to keep up the pressure on even the smallest claimants to the South China Sea.
As it became increasingly difficult to downplay territorial disputes with Beijing, the Malaysian government began to take on a more assertive role in the South China Sea. In response to the standoff over its drillships, Malaysia in December 2019 formally sent a diplomatic note to the United Nations reiterating its claims to its continental shelf, followed by further notes in support of other claimants Vietnam and the Philippines in 2020, which faced similar Chinese incursions at the height of the COVID-19 pandemic. This strong rebuke of China by regional claimant states was backed by the United States' own robust statement, which officially declared the illegality of China's expansive claims to the South China Sea.
Nevertheless, Malaysia's maritime disputes with China remain at a manageable level for the country's political elites. The real priority for Malaysia in the South China Sea is the presence of offshore oil and gas. The development of Bornean oil fields off the coast of Sabah and Sarawak is a crucial factor in the development of the Malaysian economy. The national oil corporation, Petronas, remains the ultimate symbol of modern, Malay Muslim national wealth. Yet, although Malaysia opposes China's actions, it has not yet fully resolved its own maritime claims with other Southeast Asian neighbors, like the Philippines. Only in 2009 did Malaysia and Brunei agree to resolve their disputes to their EEZ in an unpublished exchange of letters that created a joint development area for the exploration of oil and gas, even though it was never fully operationalized until this past April.
It is for this reason that the air dimensions of Chinese claims in the South China Sea have particularly serious implications for Malaysia's security. Malaysia has been infamous for the shortcomings of its air control capabilities since the disappearance of Malaysian Airlines MH370 from an Air Force operated radar on the border with Thailand. East Malaysia is also a particularly vulnerable and sensitive area for China to target, given the states of Sabah and Sarawak are only connected to the metropole of Peninsular Malaysia by air. As such, Malaysian leaders consider any threat to Malaysian air traffic control as a real threat to the state's sovereignty over its Bornean territories.
Nor are concerns over the airspace of Eastern Malaysia without precedent. Air power was pivotal to the defense of Brunei and Malaysian Sabah and Sarawak during the 1963-1965 Borneo Confrontation, known in the region as Konfrontasi, a period of significant border clashes with Indonesian forces. Air forces proved vital to bridging the inhospitable geography of Borneo's jungles, swamps, rivers, and islands fronting the South China Sea. Although Sabah and Sarawak acceded to Malaysia during Konfrontasi, their membership in the federation has never remained without doubt. Long after Konfrontasi ended, the Philippines still contests areas with Malaysian Sabah. Moreover, the diverse non-Muslim and non-Malay populations of these territories, and their demands for a real tripartite federation, undermine Putrajaya's view of the racial character of the Malaysian state. Strategic anxiety amongst Malaysian leaders on these areas has never truly dissipated, but instead transferred to new threats to Malaysia's sovereignty, like a rising China.
In other words, Malaysia's decision to scramble fighter aircraft was more than a simple political response. It was a recognition of the real threat posed by even unarmed Chinese military aircraft to Malaysian sovereignty and national security. Although this incident appears relatively minor to an American or European observer, Beijing effectively demonstrated to Malaysia that it could successfully split the country in two, and that it has the capacity to support long-range air operations as far south as Malaysian Sarawak. This elevates the ongoing dispute over the South China Sea: It is no longer just a question of control over disputed and potentially lucrative maritime territories, but now touches on the larger question about Malaysia's ability to defend its frontier Bornean states.
It must also be recognized that this security threat occurred at a time of serious political uncertainty in Malaysia. The Muhyiddin administration is an unelected minority government, formed through a backroom political deal by a series of party defectors. With elections expected as soon as practicable after the pandemic, the government, ministers, and political elites across the country are overwhelmingly preoccupied with winning their next election. COVID-19 threatens to disturb the delicate political balance, and the mismanagement of the pandemic could lead many Malaysians to reject the incumbent political elites. Sabah and Sarawak are calling for real political autonomy in ways not seen in decades, and even Malaysia's almost-sacrosanct monarchy is falling under public scrutiny. In many ways, with the country at a boiling point, the Chinese threat could not come at a better or worse time for Muhyiddin.
On the one hand, any "rally around the flag" effect should be beneficial for the Muhyiddin government. While it is unknown if that played into the government's strategic calculations, certainly it can be exploited as a positive side effect. Yet short-term political gains aside, China's decision to conduct such an operation at this time should be viewed in light of Malaysia's current state of political disorganization. In the long term, with the survival of Muhyiddin's government in question, and the formation of another fractious coalition government looming, Malaysia appears simply unprepared to tackle any meaningful challenges from Beijing. So, while the Muhyiddin government likely acted in the best way it could by scrambling fighter aircraft, this incident may ultimately prove to be a hollow victory for Malaysia.
No Malaysian government can hope to take on comprehensively the diplomatic, security, and economic challenge of China without a united and stable government. Without that, China will continue to have the upper hand against Malaysia, as it demonstrated on May 31. For this reason as well, China does not fear any long-term repercussions from its provocations against Malaysia. Perhaps the best lesson from the latest events in the skies over the South China Sea is that Beijing clearly understands there will not be any consequences for its actions as long as Malaysia remains a fractious state.