Mirziyoyev Asks EAEU for Benefits Up Front 
Uzbekistan is an observer in the Eurasian Economic Union, but in a recent speech it's clear Tashkent wants to see the benefits of membership before making the leap.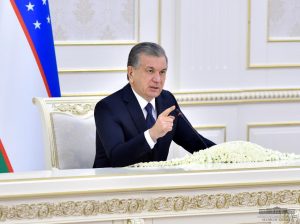 On May 21, Uzbek President Shavkat Mirziyoyev participated in the Supreme Eurasian Economic Council meeting, an annual gathering of heads of states and governments of the Eurasian Economic Union (EAEU). Mirziyoyev said nothing about his country's observer status in the organization or timelines on acquiring full membership. He did, however, express an interest in Uzbekistan receiving the purported economic benefits usually associated with membership immediately (even if full members have yet to see such benefits accrue themselves).
Mirziyoyev said: "It is important for Uzbekistan to ensure the achievement of concrete, tangible results of interaction with the EAEU as an observer. To this end, we consider it necessary to consistently develop systemic cooperation, including on issues of simplifying the procedures for the movement of goods, capital, labor resources and services." 
Uzbekistan became an observer to the EAEU in December 2020, almost a year after first expressing interest in the organization in the summer of 2019. The absence of a timeline to become a member in Mirziyoyev's statement at the recent meeting signals that the country is not in a hurry to change its status and that membership is not a priority. This is all in line with the timelines set by the country's main development roadmap, the Concept of Social and Economic Development of Uzbekistan 2030, which sets a membership timeline as 2022-2025. 
Miriyoyev's speech was akin to setting a condition for member countries to keep Uzbekistan satisfied with the EAEU. The Uzbek president wants to see greater trade and investment activities between Uzbekistan and EAEU member countries, as well as greater movement and employment opportunities for Uzbek migrants. In other words, he wants his country to receive trade, financial, and labor migration benefits typically reserved for member countries.
Mirziyoyev's speech could be an attempt to test whether Russia will extend special treatment to Tashkent, yielding to its desires. The statement could also be a sign that the country wants to experience the benefits of EAEU membership prior to committing itself fully. But Russia and the other members (Armenia, Belarus, Kazakhstan, and Kyrgyzstan) are not bound to make such concessions to an observer. Mirziyoyev's idealistic call to cooperate for the overall benefit of the region may very well have caused Russian politicians to smirk. 
Scholars are split between qualifying the EAEU as a political or economic organization. One camp says that Russia created the organization under the pretext of raising economic well-being of the countries around it with real intention of locking such countries into a coercive alliance in service to Russia's own agendas. If one accepts that line of thought, for Russia having its neighboring countries in the organization is far more important than any possible economic and trade benefits it could offer. Russia's more developed economy compared to the economies of the majority of the EAEU member states would benefit with or without the creation of EAEU. 
The most pressing issue Tashkent currently has with EAEU members, mainly Russia and Kazakhstan, was brought up by Mirziyoyev in his speech: namely closed borders, which impeded the flow of Uzbekistan's excess labor resources to areas with employment opportunities. The Uzbek president called for the resuming of regular air and rail transportation, the two main transportation modes for its large labor migrant body to Russia and Kazakhstan, in order to return to their jobs abroad.
Russia resumed flights with Uzbekistan in April, after the suspension at the start of the pandemic. However, currently twice a week flights from Uzbekistan compared to the pre-pandemic rate of 15-20 flights a day are not nearly enough to satisfy the demand of workers to depart Uzbekistan. Tashkent has also been negotiating with Moscow since August 2020 to resume railroad connections that were also suspended at the beginning of the pandemic. Prior to the pandemic, 13 trains a week used to depart Uzbekistan.
There is no definitive signal that if its requests for benefits upfront are not met, Uzbekistan will not become a EAEU member country, but Tashkent is clearly indicating it will not leap into the membership quickly. A shift in Mirziyoyev's rhetoric is apparent. He went from promoting Uzbekistan becoming closer to the organization to proposing its members integrate Uzbekistan as an economic partner at its current observer status.