Nepal's Mountain Tourism Industry Is Struggling for Breath
As COVID-19 cases sweep through Nepal's mountain villages and base camps, expeditions have been called off, hitting the mountaineering and trekking industry hard.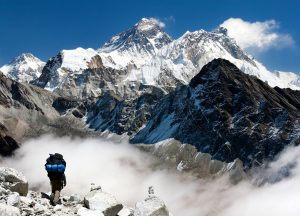 With COVID-19 spreading rapidly in Nepal's mountains — cases have been reported from even the Everest Base Camp — the country's multi-million-dollar mountain tourism industry has been hit hard.
The country is home to eight of the world's 10 tallest mountains, with Mount Everest, the tallest of them all, being the ultimate nirvana that mountaineers seek. Consequently, Nepal is a major attraction for mountaineers and trekkers.
Its mountain tourism industry, which contributed $724 million in 2019, is a significant earner of foreign exchange for the country. However, it earned just $5,989,911 in April this year.
Last year, COVID-19 forced the Nepal government to cancel all climbing expeditions. The industry was looking forward to a better season this year.
But mountain tourism has suffered again this year on account of the pandemic. Climbers, guides, and people in mountain villages have tested positive.
This year's climbing season was hit by the second wave of the pandemic. In mid-May, when the surge was at its peak, the country reported almost 10,000 new cases and hundreds of deaths daily. After several weeks of lockdown, the situation improved. According to the Ministry of Health, the number of new cases was down to 2,607 on June 17 , while deaths due to COVID-19 dipped to 39 that day.
During the second wave, although the Nepal government did earn some royalties from the mountain climbing industry and some Sherpas and others in the trekking business managed to secure work, things have been far from easy.
Hem Raj Bastola, a senior trekking guide in Pokhara, told The Diplomat that although the government was granting trekking licenses, it wasn't supporting guides like himself. "I'm depending on farming to survive now as I'm jobless," he said. His joblessness had forced him to shift his children from private to public schools.
"Mountain trekking is in crisis," Bastola pointed out. "If the government doesn't intervene, we might have to give up this job."
Nepal is scrambling to contain the collateral damage inflicted by the pandemic on the  mountaineering industry.
The government is trying to paint a picture of normalcy. Rudra Singh Tamang, director-general of the Department of Tourism, told Climbing, "We have not seen any reports of Covid-19 cases in base camp. There are similarities between symptoms of high altitude sickness and Covid." Around 100  climbers have scaled Everest between April and May this year, Tamang said, stressing that everything is fine.
According to geographer and mountain leader Niroj Sedhai, four individuals lost their lives in the Everest region since last year. But these deaths were "due to high altitude sickness and fatigue," with one of them "falling into a crevasse."
Initially, "the government opened all climbing/mountaineering and trekking activities" on the condition that "COVID-19 health protocols were followed. It attracted many foreigners and trekkers, especially in the mountaineering sector," Sedhai said.
While some trekkers did "quarantine themselves for the required days in Kathmandu, others didn't."  According to Sedhai, "No one was there to check if they were following the quarantine measures."
Expedition teams going up the mountains and to base camps were required to follow health protocols. "But what I saw was that most of them didn't follow these protocols until the first COVID-19 case was detected in the Everest base camp," Sedhai said.
In April, Norwegian climber Erland Ness became the first climber to test positive for COVID-19. When he showed signs of pneumonia, Ness was evacuated in a helicopter to a hospital in Kathmandu.
Locals have not been as fortunate as him.
Sherpas living in the remote Everest region cannot afford the hefty cost of evacuation by helicopter from high altitudes and hence, are not able to access treatment if they test positive. Without oxygen cylinders and other life-saving equipment many Sherpas have succumbed to COVID-19.
This climbing season was a difficult one for Nepal's Department of Tourism to maneuver. It has had to make a choice between money and health. Fearing economic losses and backlash from the local and international climbing and trekking community, it has sought to downplay the threat of the pandemic to climbers. It downplayed Ness' condition, for instance, claiming that he was suffering from pneumonia-like symptoms only.
A total of 742 expedition permits were granted this spring season. Around 408 permits for climbing Everest were issued until April 30, and an additional three permits were issued the following month. Of the permits issued for climbing Mount Everest, several Western expeditions were canceled their expedition at the last stage.
According to Sedhai, Sherpas who tested positive for COVID-19 were shifted to hotels in Boudha, Kathmandu, for quarantine. As a result, several travel agencies like Tag Nepal, Seven Summits, Furten Bach, and Expedition Himalaya canceled their expeditions in the last stage of the summit bid.
Thirty Chinese climbers, who scaled Mount Everest last month, remain stranded in Kathmandu as the Chinese government is dragging its feet with regard to sending a repatriation flight.
With COVID-19 cases decreasing, the Nepal government has begun loosening lockdown restrictions. This and the likely stepping up of vaccine supplies to the country have revived sagging spirits in the country.
But the threat of the new Delta plus variant remains, and only time will tell if Nepal and its mighty mountains will withstand the third wave or not.