Will Britain's Nepali Gurkha Veterans Get Justice?
With the British government agreeing to discuss their demands, the military veterans ended their 13-day hunger strike recently.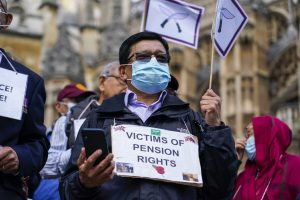 Nepali Gurkha military veterans in Britain have ended their 13-day hunger strike outside No. 10 Downing Street after the British government agreed to hold talks with them over their their long-standing demand for pension parity with other British Army veterans.
Gurkha soldiers who retired before 1997 get just a fraction of the pension to which British-born soldiers are entitled.
It was to protest against this discrimination that a few Gurkha veterans began a hunger strike on August 7. "We want to be treated equally with the British in every aspect," one of the hunger strikers, Gyanraj Rai, told the BBC. "That's why we are here, prepared to die."
The Gurkhas hail from Nepal and are known for their fighting skills and bravery; Gurkha regiments won almost 2,000 awards for gallantry in the First World War.
Since the 1815 Treaty of Sagauli between Nepal and British India, Gurkhas have served in large numbers in the British military. Over 200,000 Gurkhas fought in the two world wars, and in the decades since they have served in Hong Kong, the Falklands, Kosovo, Iraq and Afghanistan among other countries.
In 1947, India, Nepal, and Britain signed a Tripartite Agreement under which the Gurkha Brigades serving in the British Indian Army were divided between India and Britain. Thus, after India gained independence, the 2nd, 6th, 7th, and 10th Gurkha Rifles became part of the British Army while rest were transferred to the Indian Army.
But although British Gurkhas are fully integrated into the British armed forces, they are not treated on par with their British counterparts.
Although the 1947 Agreement promised that all perks, remuneration, benefits, and pension schemes for Gurkhas serving in the British and Indian armies would be on par to those of British and Indian nationals, Gurkha veterans have complained for decades that Britain's policies discriminate against them.
Their fight for justice and equal treatment has not been easy.
A 2003 court verdict went against them. Then in 2007, Gurkha veterans scored a partial victory when pension rules were amended to give Gurkha soldiers still serving and those who retired after 1997 equal pension rights with other service personnel in the U.K. But those who retired before July 1, 1997 were denied the benefits of these new rules.
According to the Gurkha Satyagraha United Struggle Committee, which organized the hunger strike, Gurkha veterans in Britain are paid 300 percent less than their British compatriots. Once a Gurkha soldier retires he is paid the same rate that Nepali Gurkhas get in the Indian Army.
Nepali Gurkhas are allowed to retire after 15 years of service unlike their British counterparts who can do so only after putting in 22 years in the army. According to British officials, these different lengths of service account for the lack of parity in pensions.
There is resentment across generations of Gurkhas, angry with the discrimination.
Lex Limbu, a son of a Gurkha veteran now living in London, tweeted, "My dad served as a British Gurkha soldier for 27 years, but receives a pension only for 14 years of service due to an unfair pension scheme. That is 13 years of service LOST. He retired in 2006. There is so much that is not right."
"While my dad was a serving Gurkha, we had to find strategic routes to ensure my sister could study legally in the U.K. We had to send her to a U.K. boarding school as an international student, and the army paid not a single pound."
Tim Gurung, an ex-Gurkha and the author of "Ayo Gorkhali," a history of the Gurkhas, told The Diplomat, "After over 200 years of loyal service [to Britain], it is such a shame that the Gurkhas still have to fight for equal pay and pension. The way the British have been treating them is an utter disgrace."
Gurung points out that the British are not alone in exploiting the Gurkhas. "Nepali rulers are to blame equally," he said. "Had they not been complicit in the [discriminatory pension] scheme," the British could not have implemented it. The "indifference and apathy of Nepali elites towards the Gurkhas" was a "disgrace," he added.
As of August 29, around 105,371 people have signed a petition calling on the British government to treat "Gurkhas fairly" and to pay them "the same pension as other British veterans of the same rank and service."
The petition will now be discussed in the U.K. Parliament.
Responding to the petition, the British government has described the Gurkha Pension Scheme as "a very fair scheme," which "provides a pension at least as good as, and in many cases better than, that given to their British counterparts with identical periods of service. Admitting that "Gurkha pensions are different," the British government then goes on to say that "these differences are objectively and reasonably justified and suited to the circumstances of the time."
Although the British parliament has accepted the petition, it appears that the fight of Gurkha veterans will be long-drawn.
The argument that the Gurkha Pension Scheme was designed to provide a secure retirement life for Gurkhas going back to Nepal has failed to convince veterans, many of who now live in Britain since immigration rules changed in 2009.
The plight of Gurkha veterans has ignited discussions over whether the time has come for scrapping the 1947 treaty that provided for recruitment of Gurkhas by the Indian and British armies.
However, veterans like Gurung want the recruitment of Gurkhas into these armies to continue as unemployment in Nepal is high. But the fight for fair pension should persist, he says.
Had the British and the Nepali rulers been more humane, the Gurkhas would not have had to face such disrespect and disparity. They would not have had to fight their battle for equality over the last thirty years on their own.