Understanding China's Aerial Incursions Into Taiwan's ADIZ
China's incursions are meant more as a signal to the United States than a military threat to Taiwan.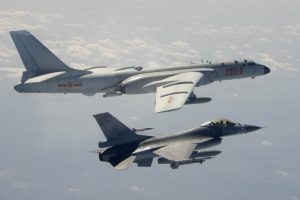 Tensions across the Taiwan Strait have risen sufficiently for The Economist to declare on the cover of its May 1, 2021 edition that Taiwan is now "the most dangerous place on Earth." According to this narrative, Beijing has invested heavily in military capabilities that it can now bring to bear in a confrontation over Taiwan, which it regards as a renegade province. The Chinese Communist Party has never forsworn the use of force to achieve Taiwan's unification with the mainland. To that end, China has only merely ramped up economic and diplomatic pressure on Taiwan, but dispatched aircraft across the previously-mutually respected median line, intruded into the island's Air Defense Identification Zone (ADIZ) with ever-increasing numbers of incursions and sorties, deployed its naval forces to conduct "combat drills" off the coast, and increased fiery rhetoric.
For many observers, these actions constitute ipso facto "proof" that the Chinese military threat to Taiwan is at its highest point since the 1995-96 Taiwan Strait missile crisis. However, we maintain that Chinese incursions into Taiwan's ADIZ serve multiple purposes beyond saber-rattling toward Taiwan: signaling Beijing's displeasure at Washington's diplomatic engagement with Taipei; surveillance of sea and air traffic in the strategically important Bashi channel; as a countervailing show of force against U.S. Navy operations near Chinese waters and the northern South China Sea; and a demonstration of a "new normal" as the People's Liberation Army (PLA) expands its training and exercise routines farther from its coast and over open sea. We argue that Chinese air incursions into Taiwan's ADIZ have had the U.S. in their crosshairs more often than Taipei.
Media attention has focused primarily on the PLA's large-scale incursions, like the one that occurred on April 12, which saw the single largest incursion into Taiwan's ADIZ thus far – 14 J-16 fighters, four J-10 fighters, four H-6K bombers, and two Y-8 ASW planes. Empirically, however, these high-profile, large-scale incursions are rare occurrences. Since Taiwan's Ministry of National Defense (MND) started making the data publicly available in mid-September 2020, only six incursions out of a total of 173 or 3.5 percent (as of June 1, 2021) have involved 15 or more sorties. Ninety percent of incursions involve no more than four sorties, 3.5 percent involve five to nine sorties, and fewer than 3 percent involve 10-14 aircraft.
Furthermore, a plausible argument can be made that with each of the large-scale incursions, Beijing was reacting to provocations from Washington regarding some form of diplomatic or political overture to Taipei. For instance, the incursion on April 12, 2021 was triggered by U.S. Secretary of State Antony Blinken's warning to Beijing that it would be a "serious mistake" to try to change the Taiwan status quo by force. The 20-sortie incursion on March 26 was in response to the United States and Taiwan signing an agreement establishing a Coast Guard Working Group to coordinate policy. Earlier, the large-scale Chinese incursions on September 18 and 19, 2020 that saw PLA aircraft cross the median line were in response to the visit by U.S. Undersecretary of State Keith Krach, the most senior State Department representative to visit the island since 1979. It is notable that since the September 2020 high-profile and high-risk incidents, no major median line violations have occurred. Since then, all publicly announced incursions have taken place around the southwestern portion of Taiwan's ADIZ.
The Taiwan MND data indicate that nearly 80 percent of Chinese intrusions involve no more than two sorties, and that of these 134 small-scale incursions, approximately 70 percent involve the dispatch of at least one KQ-200 maritime patrol and anti-submarine warfare (MPA-ASW) aircraft. These almost-daily MPA-ASW aircraft sorties near the Bashi Channel are linked to China's interest in monitoring foreign warship movements in and out of the South China Sea, and practicing the difficult skill of searching and tracking, or "prosecuting," of foreign submarines entering China's "near seas."
Detecting foreign underwater activity in and near the shallow Bashi Channel offers arguably the best and first line of defense against any foreign submarine intrusions, before they are able to reach the PLA's South China Sea "bastion." As part of China's anti-access strategy, the control of the entrance points – straits and channels – is of critical importance. In the big picture, therefore, it is not surprising that Chinese aircraft patrol frequently near the Bashi Channel in the south and Miyako Strait in the north. For these reasons, China is likely to continue or, even, increase its maritime surveillance activities within the southwestern part of Taiwan's ADIZ, near the Bashi Channel, and other critical sea lines of communications along the first island chain in the future, regardless of the geopolitical status of Taiwan.
By combining the MND-published data with other OSINT information, especially data published by SCSPI on the U.S. Navy's ship and aircraft movements, we can infer that China has also intruded into Taiwan's ADIZ in a countervailing show of force in response to a U.S. carrier strike group's high intensity and high visibility operations in the northern part of the South China Sea. We argue this has been the case on January 23-24, 2021, February 19-20, and April 20, coinciding with the USS Theodore Roosevelt CSG's presence missions in and around the South China Sea. The January 23 incident was also the first time the PLA Air Force scrambled its H-6K bombers to greet the carrier strike group. Since then, the H-6K bombers and other maritime strike capable combat aircraft have become a frequent sight in such high visibility incidents (for example, February 20 and April 12). Noticeably, during earlier U.S. Navy carrier strike group movements in the South China Sea, like in October 2020, China sent only MPA and ISR aircraft to monitor the U.S. activities. On April 20, 2021, another large-scale formation, including nine combat aircraft, confronted the USS Theodore Roosevelt CSG again, but with no known bomber presence.
It has been noticeable that each Chinese aircraft formation has involved at least one maritime patrol aircraft and other "enablers" like airborne early-warning and control aircraft or intelligence gathering and electronic warfare platforms, demonstrating high levels of sophistication. The presence of the maritime patrol aircraft further suggest that the target of these large-scale incursions has indeed been the U.S. Navy, not Taiwan. What the formations have also demonstrated is impressive maturation in coordination between theatre commands (Southern and Eastern); between the PLAAF and PLA Naval Air Force; and among different air brigades and air bases—a lesson that should not be taken lightly.
Based on our analysis of publicly available data, we can see that since mid-September 2020, when the MND began publishing its data, Chinese air incursions have grown both in quantity and intensity, with the bulk of the intrusions demonstrating the "new normal" or the more capable and confident PLA maintaining near-daily training and patrol sorties near critical choke points, including the Bashi Channel. We have also shown that the recorded incursions between September 2020 and May 2021 were predominantly directed at exigencies other than Taiwan and more directly about challenging and monitoring of the U.S. naval and air presence in the region and reacting to Washington's diplomatic and political overtures to Taipei.