US Clears F-16 Sale to Philippines as South China Sea Tensions Brew
Whether Manila can afford them is another question.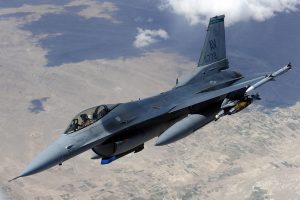 The U.S. State Department last week cleared billions of dollars in potential arms sales to the Philippines, the latest indication that Washington is ready to back its treaty ally against Chinese aggression in the South China Sea.
The proposed deal includes the transfer of 12 F-16 Block 70/72 fighter jets, along with Sidewinder air-to-air and Harpoon anti-ship missiles. The Philippines has been seeking multirole fighters to help bolster its presence in the contested South China Sea.
But the F-16s being offered will likely be "too expensive" for the Philippines, Defense Secretary Delfin Lorenzana said last week, and the Philippine Air Force is evaluating other options.
Lorenzana told the Philippine Inquirer the air force will choose between Lockheed Martin's F-16 and Saab's Gripen and would announce a decision "soon." The air force hopes to announce a deal before President Rodrigo Duterte leaves office next year, he said.
Last month, Lorenzana emphasized the country's need to acquire multirole fighter jets, calling them "a critical capability for the defense of our country's territorial airspace."
Manila has been eager for Washington to show its commitment to the Philippine-U.S. security alliance. Earlier this year, Duterte threatened to cancel the Visiting Forces Agreement, which allows U.S. forces to train with their Philippine counterparts, unless the U.S. provided billions in defense aid.
The United States sees the Philippines as crucial to combating Chinese aggression in the South China Sea. Duterte, however, has been heavily criticized for taking a stance seen as too soft on China.
A report last week by the U.S. intelligence firm Simularity said more than 100 additional ships were spotted in the exclusive economic zone (EEZ) of the Philippines in the South China Sea. These were "likely Chinese ships," the report said.
The company, which has monitored vessels in the South China Sea since last year, said the number of ships in the Philippine EEZ increased from 129 last month to 238 as of June 17.
Senator Risa Hontiveros responded to the report by urging the Department of Foreign Affairs to summon the Chinese ambassador to Manila.
"Instead of de-escalating the tensions in the disputed waters, they doubled down," Hontiveros said in a statement. "This clearly shows that China is shamelessly hellbent on aggravating the situation."
Duterte's office "should look Beijing straight in the eye and tell her to remove her ships from our territories," she said.
Duterte barred his cabinet last month from publicly commenting on the South China Sea. The gag order followed several strong condemnations by senior ministers of the Chinese presence in the Philippine EEZ, including an expletive-laden tweet by Foreign Secretary Teodoro Locsin Jr.