Uzbekistan and Tajikistan Talk Dams, Not Rogun
Tashkent seems to have delicately removed itself from discussing Dushanbe's Rogun dam, instead offering alternatives.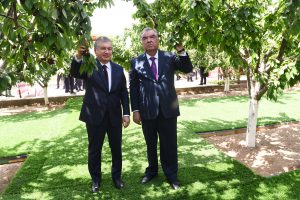 Uzbek President Shavkat Mirziyoyev paid an official visit to Dushanbe on June 10-11. It was Mirziyoyev's second visit to the Tajik capital since his presidency began in 2016. In 2018, Mirziyoyev made a state visit to Dushanbe and hosted a reciprocal visit by Tajikistan President Emomali Rahmon the same year. 
This second visit in five years by Mirziyoyev beats the record of his predecessor, Islam Karimov, who visited Dushanbe once, in 2000, in his almost three decades of rule.
Mirziyoyev's latest visit to Tajikistan focused on two areas. First, the two countries plan to continue strengthening economic activities, and second, Tashkent without directly touching the Rogun dam issue, proposed an alternative. The Rogun dam has long been a sensitive topic between Uzbekistan and Tajikistan and Mirziyoyev's latest visit suggests that despite improved bilateral relations, opposition lingers in Tashkent.
The visit took place as both countries celebrate their strongest trade relations in the past 20 years. Trade turnover grew exponentially and more than doubled since Mirziyoyev came to power, from $197 million in 2016 to $502 million in 2020. This growth is rooted mainly in increased Uzbek exports to Tajikistan – in 2020, $405 million of the $502 million in trade were exports from Uzbekistan and $97 million imports to Uzbekistan. Dominant products among the exports from Uzbekistan were food, knitwear, petroleum products, chemical products, and ferrous and non-ferrous metals. 
During Mirziyoyev's visit, the countries agreed to build two hydroelectric power plants on the Tajikistan side of the Zarafshan river. The joint projects are estimated to cost $282 million and $270 million, to be financed by internal funds and outside loans and grants. The power plants will have a capacity of 140 and 135 megawatts, respectively, and are planned to supply electricity to Uzbekistan. The two hydroelectric power plants, in essence, may remove the compelling reasons for Uzbekistan to support the Rogun dam, which Rahmon has long promised would benefit the whole region without lowering the annual supply of water.
The Rogun dam dampened relations between Uzbekistan and Tajikistan for decades. Uzbekistan's opposition was strong. Despite improving relations between the countries since 2016, under which Uzbekistan's leaders were less loud about opposition to the project, Tashkent also didn't see the benefits of the dam. The last time an Uzbek official said anything regarding the project was when Minister of Foreign Affairs Abdulaziz Kamilov expressed his concerns in 2017 about the Rogun dam having adverse effects on Uzbekistan.
Another less contentious issue between Tajikistan and Uzbekistan is the finalization of interstate border issues. No new statement or agreement followed Mirziyoyev's latest meeting with his Tajik counterpart. Both sides are currently involved in border demarcation activities that involve installing physical separators on the border according to the agreement signed in 2018, when Mirziyoyev visited Dushanbe, and the border delimitation plan that was agreed to in 2019. But activities demarcating border were launched without the signing of the 2019 border delimitation plan between the prime ministers of both countries, as had been expected. Therefore, it is unclear whether Tashkent still has outstanding issues with the plan and is awaiting the finalization of the demarcation process to sign a final document.
If the 2018 meetings between the leaders of both countries were about solving immediate issues — such as restoring border crossings between the countries, restoring the Galaba-Amuzang railroad that otherwise blockaded the southern part of Tajikistan from any outside connections, easing visa restrictions, and becoming strategic cooperation partners — then the latest meeting was about expanding and doubling economic cooperation and refining plans on the construction of hydroelectric plants. The Rogun dam project seems to have again become a taboo topic, and therefore, did not come up in the latest meeting. Instead Uzbekistan delicately proposed an alternative to Dushanbe.