Women are Key to the Humanitarian Response in Myanmar
Since the coup, local women's organizations have stepped up to meet the growing need of support for internally displaced populations, the majority of whom are women and children.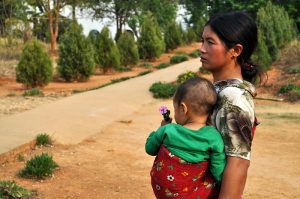 In the midst of Myanmar's current political and humanitarian crisis, never has the resilience and response of women's organizations been more tested than at present.
The country's women have a long legacy of leading humanitarian responses in Myanmar, where civil war has been present for over 70 years. Across the generations, women have played important roles in responding to the needs of displaced populations, particularly ethnic people who have long been targeted by state security forces.
In crisis situations, women's organizations are relied upon to ensure the delivery of life-saving aid and materials. They are trusted to ensure the most urgently needed materials safely reach communities in remote areas. Across decades, they've done what government and international aid organizations couldn't, given their lack of native language skills and unfamiliarity with remote areas of the country.
Following the military takeover of February 1, a series of humanitarian, economic, and security crises has unfolded across Myanmar.  Nearly 900 civilians have been killed and thousands remain in detention for resisting the junta's grip on power. But shortly after the coup, opposition forces began rising. Protesters in the streets were bold enough to begin staring down the ruthless Tatmadaw. Resistance began to blossom across the country, and people of all ages, genders, and backgrounds started joining the resistance. To the southeast in Karen State, civilians began taking up arms. Doctors, lawyers, and even teachers began training for combat in the borderlands with ethnic armed organizations.
But even with this glimpse of hope, the country has only become more destabilized. With calls for stronger international action falling upon seemingly deaf ears, women are throwing themselves literally into the crossfire of armed clashes to deliver aid. Women are among the most at risk in conflict settings. Yet in Myanmar, they are often found at the frontline of the conflict responding to humanitarian needs.
According to Radio Free Asia, more than 80 percent of those displaced in Myanmar are women and children. Those displaced are suffering from chronic illnesses as a result of a lack of access to clean drinking water. As they flee, they're robbed of basic access to clean drinking water and food in their villages. They've also been forced to put their education and livelihoods on hold indefinitely. Hundreds of thousands of civilians risk starvation, as formal channels of humanitarian aid have been blocked by the military. Thomas Andrews, the United Nations special rapporteur on human rights in Myanmar, warns of mass starvation and disease in the region. Civilians are also at serious risk of contracting COVID-19. The government has completely failed to respond to the pandemic and the conflict has only exacerbated the crisis.
Women's rights organizations operating at the local level have long been trusted for their empathy and commitment to providing aid to the most vulnerable, and things have been different in this long and challenging year. Despite the risks, women human rights defenders are putting their lives on the line to deliver life-saving support. In Kayah State, the Karenni National Women's Organization is working to support over 60,000 internally displaced persons. In Karen State, the Karen Women's Organization, continues to advocate for crossborder aid. Yet, fighting between the Myanmar Army and armed groups has displaced over 70,000 civilians in Karen State alone. Ethnic women's organizations in various conflict zones in Shan and Kachin States are also working to respond through their networks and local channels to support IDPs.
An effective gendered response to the humanitarian crisis requires assistance from the international community. The world's nations need to act in line with locally led women's organizations to accomplish the same goals. It's also critical that donors increase their flexibility at this time. They also need to be able to work with community leaders to establish the most effective ways to distribute funding safely. Crossborder aid, for example, is one channel that is being used effectively to meet the needs of those on the ground.
Local organizations need concrete action immediately, in particular, support and funding via grassroots women's organizations. Support on the ground is as important as an arms embargo or no-fly zones. Ultimately, the junta's military council must not be recognized at all. All military ties must be effectively cut by the United Nations, humanitarian groups, and international actors. The junta's ruthless approach to governance has resulted in chaos and needless death.  But it's possible to push back without being on the front lines. Donors can work with local ethnic organizations from a distance. They can help ensure that aid reaches the most vulnerable so that lives can be saved and justice can be met.