Myanmar's Democratic Future Must Start Now, With Ethnic Women Leading the Way
A federal system that is genuinely inclusive, sustainable, and democratic must include a prominent role for women from the country's ethnic minority communities.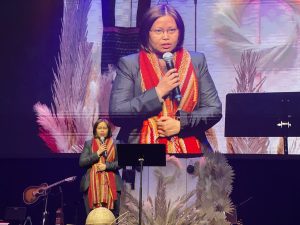 The decades-long struggle for a democratic Myanmar has been marked by many false dawns and untimely collapses, with the challenge of holding together a multiethnic and multicultural union often proving too much of a hurdle.
The civil war has only worsened since the illegal coup in February 2021, and while the military junta's rule is doomed to fail, it is clear that Myanmar must start working toward its democratic future now to ensure that peace, when it comes, is meaningful and lasting. Doing this will require reflection on why previous attempts have been unsuccessful. It is more apparent than ever that Myanmar's pro-democracy movement must adopt bottom-up approaches moving forward – and this must start with ensuring the equal participation of women.
In Myanmar, women have long faced discrimination due to laws, religious rules, and conservative social traditions. The onset of the civil war in 1948 brought concerns about women's safety on the battlefield. However, following the military coup in February 2021, the role of women has undergone a transformative shift compared to previous decades. Women have taken prominent positions in the resistance to bring an end to the brutal military dictatorship, and are leading the humanitarian relief and emergency support efforts in conflict-affected areas.
Over the decades, the women of Myanmar have been repeatedly told by men that establishing a democratic union must come before their calls to ensure gender equality. The Spring Revolution is no exception. Tragically, numerous women have lost their lives in battles against the Myanmar military. Additionally, many women in Myanmar find themselves single-handedly shouldering the responsibility of leading their families following the demise of male family members in the conflict.
Despite the many obstacles placed before women throughout Myanmar's history, they have prevailed by continuing to be advocates for peace, justice, and equality in their communities. Women continue to emerge as survivors of political and military conflict while stakeholders refuse to recognize their resilience and capabilities.
This must change.
The Myanmar military junta is undoubtedly the shared enemy of the people and the main obstacle to achieving long-term, sustainable peace and democracy. However, removing the junta from power is not the be-all-end-all of the struggle for a democratic Myanmar. As history has shown, the election of the National League for Democracy, led by Daw Aung San Suu Kyi, was not enough to ensure respect for human rights, democracy, and federalism. The roadmap to a sustainable federal Myanmar requires dismantling patriarchal attitudes and beliefs that have held back women and ethnic people from having an equal say in government and public policy. The future of Myanmar must be rooted in equality; men and women in Myanmar should work together to pursue gender-forward policies which champion all groups and identities.
As we strive for democracy, it is crucial to consistently implement measures safeguarding women's lives, security, and rights. We must devise strategies that support the courage and leadership abilities demonstrated by women who have emerged during the ongoing resistance against the military junta's brutal oppression.
Women human rights defenders have been working toward this vision for decades, but its success also requires the willpower and commitment of men. While the resistance is ongoing, all members of the pro-democracy movement must begin unlearning harmful practices, many of which stem from Burmanization. Further, the promotion of harmful stereotypes which suggest women are indecisive and incapable of holding leadership positions must be abandoned.
In the meantime, Myanmar's human rights situation is volatile and rife with widespread and systematic violations of fundamental freedoms and civil liberties. The current conditions deprive civilians, including the most vulnerable, of their dignity and basic rights. An urgent and coordinated response is needed to end military impunity and promote democratic norms and values in the country. This can be achieved by establishing local governance systems in each state and region through a bottom-up, grassroots approach.
A strong example of this approach and its adaptation is the Karenni State Consultative Council (KSCC), which recently established its interim executive committee, becoming the first state to form its governing body. The KSCC cooperates with local organizations to solve political problems and provide services. KSCC established an interim executive council (IEC) for the people of Karenni State, including women's leadership and participation. The formation of the IEC is a clear example of how this equality-focused approach can work in this context.
For federalism to be successful, what is happening in Karenni State must be replicated in the country's other ethnic states, with their autonomy recognized by the National Unity Government. Local government administrations must have clearly defined policies, meaning there needs to be equal engagement of all stakeholders, including women. Doing so will ensure that the local governance structures established meet the needs of the people, including reliable and safe access to health care, education, legal services, and accountability mechanisms. Women across Myanmar are committed to these outcomes and have decades of experience working with armed actors, political bodies, and rights groups to provide security and protection for their communities.
Therefore, to ensure long-lasting peace and security in Myanmar, it is imperative to recognize the resilience of women in the revolution and to protect their rights. Women must be supported in their various roles, including providing security and humanitarian relief for their communities. Further, their leadership and engagement are necessary for decision-making in local governance structures and through international diplomatic channels.
The development of federalism and democracy in Myanmar will no doubt require the participation of the National Unity Government and the National Unity Consultative Council. But without the participation of other stakeholders, including women, youth,  strike committees, and ethnic communities, there is no way that a democratic, federal Myanmar can be sustainable. The international community, including ASEAN, must recognize this and support and promote the participation of women in establishing local governance structures in Myanmar to ensure meaningful and lasting peace in the country.