China's Repression Reaches Australian Universities
A new Human Rights Watch report details Chinese government efforts to surveil and intimidate Chinese students attending Australian universities.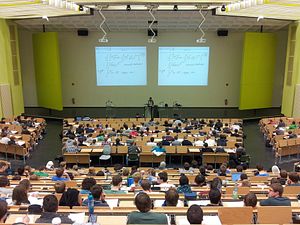 Australian universities have failed to protect the academic freedom of students from China and of academics who criticize the Chinese Communist Party, a new Human Rights Watch report has found. 
The report, titled "'They Don't Understand the Fear We Have': How China's Long Reach of Repression Undermines Academic Freedom at Australia's Universities," details how the Chinese government maintains surveillance of Chinese mainland and Hong Kong students on Australian university campuses, and – both directly and through pro-Beijing supporters – intimidates and harasses those who express support for democracy movements. 
Through interviews with dozens of current and former students and academics at Australian universities, the author of the report, Sophie McNeil, found that "pro-democracy students experience direct harassment and intimidation from Chinese classmates-including threats of physical violence, being reported on to Chinese authorities back home, or being doxed online. These acts occurred in various environments, including online, in-person, and on and off campus."
The report also highlights three cases in which students' families in China were visited by or were asked to meet with police regarding the activities of their family members in Australia. 
While the report only noted three cases in which this happened, it found that the prospect keeps thousands of students fearful.
"Fear that what they did in Australia could result in Chinese authorities publishing or interrogating their parents back home weighed heavily on the minds of every pro-democracy student interviewed," said McNeil. "It was a constant concern that had to be evaluated before decisions were made of what to say, what they could attend, and even with whom they were friends."
In Perth, a Hong Kong university student organizer told the ABC that police tipped her off that she had been filmed at a pro-Hong Kong democracy rally. She said she had been followed home by Chinese nationals and had received death threats.
"The police told them to leave and then they just waited in their car and followed us to my apartment building.
"Later that day when I went downstairs to pick up my delivery, I saw that car still there."
Academics at Australian universities have also come under attack. The new report found that students and social media users supportive of the Chinese government have subjected academics to harassment, intimidation, and doxing if the academics are perceived to be critical of the Chinese Communist Party or discuss "sensitive" issues such as Taiwan, Tibet, Hong Kong, or Xinjiang. 
The report cites an incident in January 2021 in which a Chinese language pro-CCP media outlet in Melbourne detailed student complaints about a Monash University tutor's reference to two articles about China's surveillance of Muslims in China's Xinjiang region in online material. 
"The articles slander the Chinese government, spread rumours, sow discontent between ethnicities, and have a strong anti-China sentiment," the students told the media outlet. 
In an email obtained by HRW, the academic apologized to the students for using the articles.
McNeil wrote it is concerning that the academic at Monash tried to appease the students by apologizing, writing, "Sincerest apologies again for any distress caused" and telling the students they were "welcome" to choose to study a different article instead. 
Australian universities are extremely reliant on full fee-paying international students, a majority of whom come from China. In 2019, 27 percent of total operating revenue for the Australian university sector came from international student fees. Some universities are more reliant on the fees than others, namely RMIT (38.4 percent) and Monash (36 percent).
COVID-19 hit the Australian university sector hard, with the forecast international education trade loss amounting to A$18 billion. More than 17,000 jobs have been lost so far. 
According to the Centre for Independent Studies, 152,712 students from China enrolled in Australian universities in 2018, more than the next six countries combined. 
With the relationship between Canberra and Beijing deteriorating over the past 18 months, the Australia government has warned the university sector about continuing to rely on Chinese students.  
Perhaps heeding the warnings, the Australian higher education and research sector indicated a greater willingness toward confronting Chinese government interference in a March 2021 public hearing as part of the Parliamentary Joint Committee on Intelligence and Security. 
Several vice-chancellors said they are now keen to work with the government's recently established University Foreign Interference Taskforce to develop new systems and safeguards for their institutions. 
The new HRW report said despite making these commitments, however, the universities remain "unprepared to address threats to academic freedom in a systematic way" for students from China and China-focused academics. 
The Guardian reported yesterday that following the release of the HRW report, Australian universities are considering a range of options to protect academic freedom, including allowing students to submit assignments under pseudonyms, and making it a disciplinary offense if students record some classes or share them with outside groups.