COVID-19 Tightens Its Grip on Southeast Asia
At least half of the region's 11 nations have seen record daily infection counts over the past week.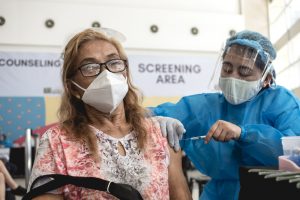 Pandemic records continue to tumble in Southeast Asia, as the region's governments struggle to control a region-wide surge of COVID-19 infections that is scrambling well-laid reopening plans and pushing health systems to the verge of breakdown.
Despite surviving the first year of the pandemic relatively unscathed, the region has been slammed by the more contagious delta variant of COVID-19 and hampered by ineffective administration and sluggish vaccine rollouts.
Over the past week, most of the region's nations have announced record highs for coronavirus infections, deaths, or both.
Indonesia, the region's largest country and its worst-hit by COVID-19, has seen near-daily increases in the number of infections. It reported a new record of 38,391 cases yesterday, six times the number a month earlier, pushing its totals to nearly 2.4 million since the beginning of the pandemic. It has also seen almost 63,000 fatalities. Both are the highest figures in Southeast Asia.
The runaway outbreak has battered Indonesia's health system, with hospitals on the densely populated island of Java straining and oxygen supplies running short. According to Reuters, four of five designated COVID-19 burial grounds in the capital Jakarta are close to full.
A record of 9,170 cases was also reported today in Malaysia, where the worsening COVID-19 infection rate – the worst in Southeast Asia in per capita terms – has now become a threat to the stability of Prime Minister Muhyiddin Yassin's government. A key ally withdrew its support on Wednesday evening; among its main reasons was the government's mishandling of the pandemic. The country's looming public health and economic crisis is in danger of being compounded by a new iteration of the political crisis that has surrounded Muhyiddin's administration for the past year.
In neighboring Thailand, today brought a further record of 9,276 cases, following another record of 7,058 yesterday, prompting the government's Center for COVID-19 Situation Administration to impose further restrictions for a period of 14 days, including a night-time curfew, travel restrictions in Bangkok, and other restrictions in designated "red zones."
Prime Minister Prayut Chan-o-cha also announced that he would not take a salary for the next three months, intending to donate the resulting $11,500 to COVID-19 relief efforts – a decision that, given the former general's considerable wealth, prompted much anger and mockery on social media.
In Vietnam, Ho Chi Minh City will go into lockdown for 15 days from midnight Thursday to head off its own outbreak. While the country's infection rates remain modest in regional terms, Reuters noted that the country has seen more cases in the past three days than during the first 13 months of the pandemic.
Crisis-hit Myanmar also saw more than 4,000 new cases for the first time yesterday – a figure that is probably much higher given the drop in testing efforts by the country's military junta –while Cambodia has recorded its highest number of cases and deaths over the past two weeks.
This dire picture represents a turnabout from last year, when many Southeast Asian nations were leading the world in containment of COVID-19. Perhaps lured into an illusory state of complacency by its initial successes, the region is now as far from a return to normalcy as any region of the world.
Vaccination rates remain low, with 5.3 percent of Indonesia's population fully inoculated, 4.5 percent of Thailand's, and 2.7 percent of people in the Philippines. Malaysia has done slightly better – it has fully vaccinated 9.6 percent of its 32 million people – while Cambodia has inoculated just over a fifth. (These statistics come care of the handy Our World In Data COVID-19 vaccine tracker.)
Southeast Asia's sorry situation was reflected in the findings of the Nikkei COVID-19 Recovery Index, released earlier this week, which ranked 120 nations for their achievements in infection management, vaccination rollouts, and mobility.
Thailand came in at 118th position out of 120 countries, just ahead of Malaysia (114th), Indonesia (110th), the Philippines (108th), Vietnam and Cambodia (tying at 100th), and far astray of Laos (66th). The region's outstanding performer was Singapore (12th), where nearly 38 percent of the population has now been fully vaccinated.
The frightening thing about the current situation is that there is little sign of immediate relief, given the increased contagiousness of new COVID-19 variants, continuing shortages of the most effective vaccines, and a combination of complacent leadership and distribution bottlenecks.
The heady days of late 2020, when pundits were puzzling over the low caseloads in countries like Thailand and Cambodia, now appear very far off. Absent another equally dramatic turnaround, Southeast Asia and its people stand on the verge of tragedy.