Thailand Raises COVID-19 Alert Level as Neighbors Brace for Omicron Surge
The fast-spreading coronavirus variant is clouding the region's economic recovery.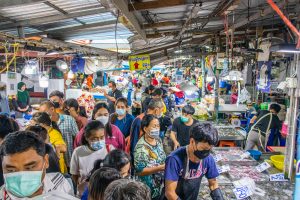 Thailand's government yesterday raised its COVID-19 alert level in response to a continued steady spread of the Omicron variant of the disease. Kiattiphum Wongrajit, permanent secretary of the Thai Ministry of Public Health, told reporters that the government was raising its alert level from level three to four following a sharp rise in daily infections since the beginning of the year.
This gives the government the authority to introduce a range of tighter restrictions on domestic travel or public gatherings. "Thailand has entered a new wave of infections, where new cases will be rising fast," Kiattiphum said. "Level four means we may close high-risk places and announce more measures."
Thailand reported 5,775 new cases of COVID-19 on Thursday, up from just 63 on December 2o, when Thailand detected its first locally transmitted case of Omicron variant. While Omicron cases make up only around a fifth of the country's current totals, the discovery of the fast-spreading strain of the virus prompted the Thai authorities to suspend a quarantine-free travel scheme for vaccinated visitors, which was this week extended until the end of January.
Thai health authorities now fear that the country faces "tens of thousands" of new COVID-19 cases, casting a deep shadow over the country's short-term economic outlook. As I wrote earlier this week, by disrupting the reopening of Thailand's economically vital tourism industry, the new variant could have a serious impact on the country's economic recovery from the first two years of the COVID-19  pandemic.
Yesterday it become clear that the Thai Central Bank harbors similar fears. According to minutes of the central bank's last policy meeting, the bank believes that the Omicron variant could have a larger and more prolonged impact than expected on the country's economic recovery. Although, under the baseline scenario, the omicron outbreak would not derail the overall Thai economic recovery, the outbreak situation remained highly uncertain.
Thailand's current Omicron troubles reflect those facing the region as a whole. While case numbers remain much lower than in countries like the United States, which earlier this week set a new global record of more than 1 million daily COVID-19 cases, the new variant continues to send ripples of concern across Southeast Asia.
In the Philippines, where infections this week hit a three-month high, President Rodrigo Duterte warned that unvaccinated people will be arrested if they disobey stay-at-home orders as infections hit a three-month high. "If he refuses, if he goes out his house and goes around the community, he can be restrained. If he refuses, the captain is empowered now to arrest recalcitrant persons," Duterte said, according to Reuters.
The Philippines reported 17,220 case of COVID-19 yesterday, the highest daily toll since September 26. While just 43 of these cases involved the Omicron variant, its appearance this week prompted the government to tighten curbs in Manila metropolitan area.
In Malaysia, the government has just approved the Pfizer vaccine for children aged five to 11, and last week cut waiting times to encourage more people to take a booster shot and protect themselves against the Omicron variant. The spread of Omicron also remains relatively contained in Indonesia. The nation has only recorded around 250 cases of Omicron, most of which, like Malaysia, have been imported from abroad.
But having only just recovered from last year's severe outbreaks, Jakarta will not be taking any chances. While a government-commissioned survey found that more than 85 percent of Indonesia's population has antibodies against COVID-19 – a testament to the extent of last year's outbreaks, which were widely believed to be worse than official figures made out – epidemiologists say it is not clear whether this immunity could help contain a fresh wave of infections.
As a whole, Southeast Asia is yet to experience the Omicron waves that are currently crashing across North America and Western Europe. But while the region's vaccination progress has been substantial, it remains short of widespread coverage in the most populous nations. Indonesia has fully vaccinated just 42 percent of its population, the Philippines 46 percent, Vietnam 57 percent, and Thailand 65 percent, according to the Our World In Data vaccine tracker. Having only recently recovered from the serious outbreaks that scarred the middle of last year, the region sits on the brink, in part due to factors out of its control, of a COVID-19 relapse.