External Concerns are Driving Modi's Kashmir Strategy
New Delhi's crackdown on Kashmir since August 2019 has turned the global spotlight on the human rights situation there.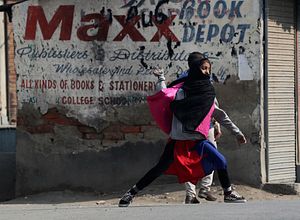 India often talks of Kashmir as its "internal matter." However, it was foreign policy and geopolitical concerns that underlay Prime Minister Narendra Modi's recent outreach to a group of Kashmiri political leaders.
For instance, countering the Chinese threat, which according to India's Chief of Defense staff Gen Bipin Rawat himself is India's top national security priority, was an important reason for New Delhi's overture to the Kashmiri politicians.
The intractable Sino-India border dispute has been getting increasingly complicated. With long rounds of talks between the two sides headed for a stalemate, China has further fortified its infrastructure in the contested region, raising concerns among Indian intelligence agencies that Beijing is preparing to camp there permanently. Chinese troops have also begun raising militias among Tibetan youth, ostensibly to counter the Indian forces. In response to Beijing's maneuvers, India has moved more of its own troops to the Line of Actual Control, the de facto border between the two countries.
But in order to make India's increased military presence more sustainable, peace and calm in Kashmir is a prerequisite. That's what Modi's outreach was aimed at.
Developments following Modi's meeting with the Kashmiri leaders have added urgency to New Delhi's imperative to normalize the situation in Kashmir.
Last week, militants carried out a drone attack on an Indian Air Force base in Jammu, prompting authorities to ban drones altogether in Srinagar, the capital of Jammu and Kashmir (J&K). Police say that militancy has become more difficult to detect and counter in recent times, as dozens of youth have been radicalized into "part-time" militants in Kashmir.
But New Delhi also has a broader foreign policy imperative to change tack in Kashmir – beyond border disputes and national security concerns. In the last two years, Kashmir's role in Indian foreign policy has changed considerably for the worse.
For decades, New Delhi strategized its foreign policy moves and geopolitical positions around its interests in Kashmir and its dispute with Pakistan. Yet Kashmir hardly featured in the outside world's dealings with India.
Unlike movements for self-determination in Palestine, Tibet, Crimea, and elsewhere, the problem in Kashmir was put down more to geopolitics than to state authoritarianism. India's democratic credentials were deemed generally unimpeachable – unlike China's or Russia's. New Delhi managed to keep the global spotlight on cross-border terrorism from Pakistan and, especially in the aftermath of the 2008 Mumbai terror attacks, India drove efforts at the United Nations in service of that agenda.
All that changed in August 2019. In the aftermath of the Modi government's revocation of J&K's autonomy that month, Kashmiri political leaders and activists were detained for months together. Internet shutdowns followed. Consequently, the global spotlight swiftly shifted to human rights concerns. In 2019, the United Nations Security Council held a series of meetings on Kashmir for the first time in over 50 years.
Meanwhile, things also changed dramatically in Washington. India's burgeoning strategic partnership with the United States since the start of the millennium had moved the needle on Washington's policy in Kashmir. Unlike during the Cold War, in recent years successive American administrations have echoed New Delhi's view that Kashmir is India's internal matter. Yet, last year, in view of continued curbs and restrictions, the U.S. House Foreign Affairs Committee issued a bipartisan letter to New Delhi, noting "with concern that conditions in Jammu and Kashmir have not normalized one year after India's repeal of Article 370."
Global scrutiny on Kashmir has also restricted India's foreign policy space on issues where it has previously been quite vocal. Take Palestine, for instance. For generations, and across political ideologies, India has been a consistently vocal supporter of Palestinian self-determination. In 2017, Modi's then Foreign Minister Sushma Swaraj called India's support for Palestine a "reference point" in its foreign policy. Later that year, India voted against the U.S. and Israel at the U.N., on the question of recognizing Jerusalem as Israel's capital.
But paranoia over the equation of Kashmir and Palestine put New Delhi in a tangle, during skirmishes in Gaza this year. As India dilly-dallied between one position and another on the situation in the Middle East, security forces in Kashmir arrested at least 20 people for protesting in support of Palestine.
The stalemate in Kashmir and the alienation of local leaders – long sympathetic towards New Delhi – has significantly dented India's credibility as a voice for human rights in international affairs. Modi's recent outreach was aimed as much at normalization as at signaling his intent to refurbish his government's image. But that won't go far unless New Delhi can agree on a strategic roadmap with the Kashmiri people, and hit the reset button on Kashmir's position within Indian foreign policy.