How the Milk Tea Alliance Is Remaking Myanmar
Why the social media-based movement, and not ASEAN, offers a vision for a democratic and federalist Myanmar.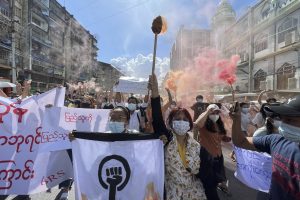 Throughout the month of June, the ASEAN flag has been burned over and over again in the streets of Yangon, Myanmar's largest city. It is evidence of the deep dissatisfaction among Myanmar's pro-democracy movement with the regional body's lack of action against Sen. Gen. Min Aung Hlaing's coup government, which seized power on February 1, 2021. In barbed language directed at ASEAN, Myanmar's Civil Disobedience Movement (CDM) tweeted: "If you don't know the answer to this, there is no way you should keep saying 'ASEAN Centrality'… you are doing more harm to us."
Frustration of this kind has dogged ASEAN throughout its history: the regional organization always seems to be doing too little, in a region where governments act regularly with impunity. However, the overwhelming focus on ASEAN – both in Myanmar and abroad – has been misplaced. Regional experts consider ASEAN the primary regional institution because it is recognized as such by governments both within and outside of the region. But ASEAN was never designed for the interventionist measures required to truly secure regional peace.
More fundamentally, scholars and commentators have failed to look beyond formal regional institutions to competing regional logics that can be as powerful – if not more so – in a crisis like the one facing Myanmar. There are symbolic, ideological, and aspirational dimensions of securing regional peace that can come from grassroots organizations that have similarly regional impact.
In particular, the Milk Tea Alliance (MTA), a regional pro-democracy movement based on Twitter, has been a central force in shaping the way Myanmar's youth understand the current battle between pro-democracy protesters and their vastly better armed opponents, a predicament faced by other youth in neighboring countries.
ASEAN's Call to Action, and Why It Will Never Respond
On July 14, U.S. Secretary of State Antony Blinken released a statement emphasizing ASEAN's centrality in the region, and its need to take strong action on Myanmar. Blinken's statement felt like a slap in the face to local activists and commentators, who have repeatedly called for the international community to hold ASEAN to account. "ASEAN has never and will never take action on the Myanmar junta," condemned one protest leader who spoke on the condition of anonymity.
The dissatisfaction comes after what was widely seen as ASEAN's greatest commitment to action on Myanmar: the special Leaders Meeting convened in Jakarta on April 24. The summit was called with the ostensible objective of ending the violence in Myanmar. The 10 ASEAN leaders, controversially including Min Aung Hlaing, agreed to five points of consensus, including "an immediate cessation of violence in Myanmar," the appointment of an ASEAN special envoy to mediate negotiations, and ASEAN-funded humanitarian assistance.
In the many assessments of the Five-Point Consensus that have followed, scholars and regional experts have overwhelmingly concluded that ASEAN has yet again failed to secure regional peace. No action has been taken, with ASEAN currently deadlocked over its selection of a special envoy to monitor the crisis in Myanmar. There is as yet no ASEAN representation on the ground, nor has ASEAN indicated that it will recognize the National Unity Government (NUG), the internal government-in-exile that most pro-democracy protesters see as Myanmar's legitimate government.
ASEAN's unwillingness to intervene in Myanmar is shaped partly by regional, Southeast-specific regional logics. As Amitav Acharya has argued, ASEAN at its genesis in 1967 was built on a principle of non-intervention, with local norms such as consensus-based decision-making, lack of legislation, and avoidance of supranational bureaucracy shaping the regional international organization's institutional design.
But supranational organizations more broadly are poor facilitators of sweeping changes because they require the buy-in of independent states, each of which must be willing to give up power to another political body. International cooperation, while possible, is hard to come by. The possibility – or more precisely, the impossibility – of cooperating in an anarchic world of multiple states with competing interests has defined international relations. Regional international organizations like ASEAN represent one highly formalized form of an institution that could be used for states to pursue a common goal.
By virtue of its highly formalized institutional structure, ASEAN is designed to make radical change hard to come by, and is thus ill-equipped to implement it in Myanmar, let alone articulate a vision for what the country's future might look like. Instead, scholars and commentators should look beyond the formal, constraining structures of regional international organizations and consider an alternative: the Milk Tea Alliance.
The Milk Tea Alliance's Vision for a New Myanmar
The Milk Tea Alliance defies our typical understanding of a grassroots movement. It is first and foremost virtual, birthed from an innocuous tweet from Thai actor Vachirawit "Bright" Chiva-aree that labeled Hong Kong a country. From there, a Twitter/Sina Weibo war between pro-Beijing wumao – paid pro-Chinese internet trolls – and Thai netizens spiraled into an anti-CCP alliance incorporating internet users in Hong Kong and Taiwan. Since then, the Milk Tea Alliance has captured the imagination of anti-CCP protesters across the world. Most recently, Thai artist Sina Wittayawiroj created a poster incorporating Myanmar into the Alliance. While primarily virtual, the MTA has at various points generated material support and spurred anti-coup protests across Southeast Asia.
More importantly, while clearly different from ASEAN, by comparing the MTA and ASEAN along three dimensions – symbolic recognition of Myanmar leaders, accountability mechanisms, and aspirations – this article briefly highlights how institutions beyond regional organizations, particularly the informal, virtual MTA, can play a critical role in the battle for democracy in Southeast Asia.
First, in terms of recognizing regime legitimacy, the ASEAN Summit seemed to do more harm than good by inviting Min Aung Hlaing. Acharya called the move "a political mistake, not to mention a great shame," as it allowed the junta to claim legitimacy as the sole representative of Myanmar at the Summit. In turn, ASEAN has failed to engage with the NUG, the government-in-exile, which includes some of the elected lawmakers ousted in the February coup.
In contrast, the MTA has a firm stance of only recognizing the NUG, directing their support to the NUG's politicians and participating in NUG forums to demand better representation or more openly federalist policies from the politicians in exile. The NUG's June 3 statement pledging to recognize Myanmar's Rohingya community and guarantee their right to full citizenship was partly the product of grassroots organizing among MTA members, who identified this as a key priority for the new government the moment it was formed. Even now, progressives continue to track the NUG's progress on its June 3 statement, asking for additional action and clarity.
By seriously engaging with the NUG, Myanmar youth involved in the MTA are setting an example for a new kind of politics in the country: one in which citizens are deeply engaged in policymaking, and where politicians are held accountable to citizens regardless of the wealth or power such citizens hold.
Meanwhile, the MTA has a strong interest in understanding and shaping the aspirations of Myanmar's youth toward a more inclusive future. "What would we include in a new constitution?" asks one MTA Twitter account in a poll with over 2,000 responses. "How do we build a better federal democracy?" asks another in an open-ended thread with over 500 retweets. In its activism, the MTA constantly reimagines citizenship in Myanmar – prioritizing inclusion of the Rohingya and wholeheartedly embracing the Karen, Wa, and Chin armies that have come to the peoples' defense – in a way that has shaped how many Myanmar citizens understand Burmese nationalism. It has done this outside of Myanmar as well: in its activism for West Papua it reimagines Indonesian citizenship; it also reconsiders Hong Kong's relationship to China.
Ultimately, while regional experts overlook MTA in favor of the well-established ASEAN, ASEAN's accountability mechanisms are more ineffectual than the online-only movement, which at least holds the NUG to account. ASEAN's aspirations are exceedingly limited, and its recognition of the junta works to normalize the Tatmadaw's reintegration into the international system. By contrast, MTA members continue to imagine possible futures not only for a democratic Myanmar but for a truly federalist Myanmar.
The Milk Tea Alliance does not constitute a regional actor in a traditional sense, and its geographic range does not fit cleanly on top of ASEAN. Ultimately, it is the MTA's lack of formal institutionalization – its flexibility to imagine virtually and subsequently advocate concretely for a democratic and federalist Myanmar – that renders it capable of offering a future for Myanmar that ASEAN will never be able to provide.
The Tatmadaw will not go quietly – or soon. But Myanmar will transform regardless of Min Aung Hlaing's best attempts to freeze the nation in time. Supporting regional efforts to encourage this progressive transformation is critical to building a better post-coup Myanmar.