Jules Boykoff on a Beijing 2022 Boycott
"China is no place for the Olympics, given that extreme human rights abuses in the country clash with principles enshrined in the Olympic Charter."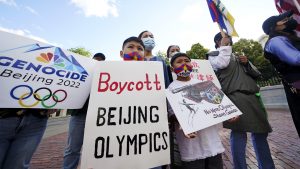 In 2015, Beijing beat out Almaty, Kazakhstan, for the honor of hosting the 2022 Winter Olympic Games. Before the International Olympic Committee announced Beijing's selection, activists warned against offering China a "second chance," arguing that the rights situation had in fact worsened since China hosted the Summer Games in 2008. In a 2015 open letter, rights advocates warned that the country was facing "a human rights crisis with a scale of violations that is unprecedented since 2008." In the ensuing years, as China's human rights record has continued to worsen – particularly as news broke of mass internment camps for Uyghurs in Xinjiang – calls echoed for a boycott of the 2022 Beijing Games.
As attention shifts to Beijing, following the opening of the postponed Tokyo 2020 Games last month, The Diplomat spoke to Jules Boykoff, a professor of politics and government at Pacific University, about boycotting the Olympics, "sportswashing," and the politics of sport.
There have been increasing calls for a boycott of the Beijing 2022 Winter Olympic Games, largely on the back of criticism of China's policies toward Xinjiang and the Uyghurs. How likely do you think a full-fledged boycott of the Olympics is? If not a boycott, what alternative approaches are available?
If by "a full-fledged boycott" you mean an athlete boycott combined with a diplomatic boycott, then I do not view that path as very likely. However, a diplomatic boycott combined with an economic boycott seems more plausible, meaning countries around the world would refuse to send official emissaries to the Beijing Games while rights advocates and others would encourage tourists to skip these Olympics.
Let's be clear: something needs to be done. China is no place for the Olympics, given that extreme human rights abuses in the country clash with principles enshrined in the Olympic Charter. Take the Chinese government's treatment of the ethnic Uyghur Muslim population in Xinjiang. Take the brutal crackdown on dissent in Hong Kong. Take China's ongoing mistreatment of Tibetans. It's impossible to square these actions with the "fundamental principle of Olympism," that trumpets "the harmonious development of humankind…[and] the preservation of human dignity."
To be sure, pretty much every country commits human rights abuses, including the United States, which is slated to host the 2028 Olympics in Los Angeles, where homelessness is a humanitarian crisis in plain sight. However, China is in a small subset of countries that is actively pursuing crimes against humanity. This is no secret.
In my view, it is too much to expect an athlete-led boycott of the Olympics. First off, many Olympians are relatively apolitical, which makes sense since they need to devote so much time to their sport. Second, for many of them, Beijing will be their one and only chance at Olympic glory. Sacrificing this chance on the altar of human rights policy is a big ask. Finally, an athlete-led boycott shifts the responsibility on to athletes' shoulders rather than the International Olympic Committee (IOC), the entity actually responsible for handing these Olympics to Beijing even though they most certainly knew that China is a brazen human rights violator. In doing so, the IOC has turned Olympians into a human shield of sorts.