Kyrgyz Politician Arrested for Involvement in October Unrest Begins Hunger Strike
Jenish Moldokmatov, a harsh critic of President Japarov, is facing charges of orchestrating riots during last October's unrest; the same unrest that saw Japarov rise to power.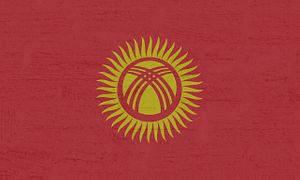 Kyrgyz President Sadyr Japarov arguably owes his position to the unrest that erupted following the country's October 2020 parliamentary elections. He had been, after all, serving a prison sentence before being broken out of jail during the protests. That hasn't stopped his government from pursuing charges against politicians who took to the streets following the election. One such politician, Jenish Moldokmatov, reportedly began a hunger strike on July 26 after learning that he would face additional charges.
Moldokmatov was arrested in early May 2021 on charges of "seizure of buildings and structures" during the October 5-6 protests. His detention was extended until September 6 on July 1 and recently new charges — "organization of mass riots" — have been added. 
Moldokmatov headed the Zamandash party into the October elections; he's now the head of a new opposition party, Turan. Zamandash was one of 16 parties vying for seats in the Kyrgyz parliament. When the October elections preliminary results were announced — seeing just four parties clear the necessary thresholds to seat members — Moldokmatov was among the thousands who protested the results.
After his arrest in May, Moldokmatov called the charges politically motivated. 
The October protests inadvertently triggered Japarov's rise to power, and his rapid ascent came with a successful push to change the Kyrgyz Constitution.
Moldokmatov was among those protesting Japarov's aims to change the constitution. In March, ahead of the April vote that ultimately approved the new constitution, Moldokmatov organized a peaceful rally in Bishkek, at which he said he was ready to sue Japarov for usurpation of power. 
Before Moldokmatov was arrested, other organizers of the rallies in opposition to Japarov's constitution were detained, including Tilekmat Kurenov. Moldokmatov called Kurenov's March 15 arrest "political persecution."
Three days after Japarov signed the constitutional amendments into law in early May, Moldokmatov himself was arrested.
At the time, Omurbek Tekebayev, the head of another Kyrgyz political party, Ata Meken, called Moldokmatov's detention political persecution. According to 24.kg, Tekebayev said the arrest was "ridiculous."
As protests on October 5, the day after the parliamentary election, intensified, Japarov and host of other jailed Kyrgyz politicians were broken out of jail. Almost all have been returned to prison, including former Kyrgyz President Almazbek Atambayev (who has also faced new charges), but Japarov instead became acting prime minister and then acting president after his supporters on the streets pressured Kyrgyz President Sooronbay Jeenbekov to resign. 
One curiosity of Kyrgyz politics is that all politicians have engaged in protests of some kind over the years, many of which have ended with the storming of government buildings or even the overthrow of governments. Japarov, for example, was first arrested in 2012 on charges of attempting to "violently seize power" with a pair of other politicians, Talant Mamytov and Kamchybek Tashiev. The three had led an "attack" on the Kyrgyz White House, replete with calls to "occupy" and "replace" the government. Tashiev, now heading the Kyrgyz State Committee for National Security, reportedly led protesters over the fence around the White House. Mamytov is now speaker of the Kyrgyz parliament.
Japarov has long argued that the various charges against him over the years — including the kidnapping charges thatlanded him in prison in 2017 on an 11.5-year sentence — were political motivated, the clear sins of an abusive system. Japarov's post-October political rise leaned heavily into a self-drawn caricature of him as a man unfairly persecuted by a corrupt system. Under Japarov's leadership, the Kyrgyz government is defaulting to the same playbook when it comes to its opponents.