South Korea and Japan Must Stop Politicizing the Olympic Games
President Moon's potential visit to Tokyo is the object of a diplomatic tug-of-war. Both sides should treat it as an opportunity, not a bargaining chip.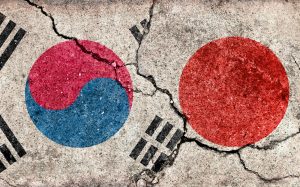 South Korea sent final notice to Japan: Unless the Japanese government shows "sincere commitment" to amending frosty relations between the two, South Korean President Moon Jae-in will not attend the Summer Olympics. Recently, the two sides have been engaged in a diplomatic tug-of-war over Moon's potential visit to Tokyo. Seoul has contended that if Moon's visit were to happen, Japan must be willing to make tangible progress toward resolving long-running bilateral issues.
The South Korean government called for "at least an hour-long" talk to be held during the Olympics so that the two leaders can resolve bilateral issues that have plunged the ties to the lowest point. Seoul and Tokyo have clashed over thorny historical issues of "comfort women," forced labor, and territorial disputes and other key matters of national importance, such as trade restrictions and the Fukushima water disposal plan. Moon wants nothing short of "meaningful and substantive outcome" following the proposed summit with his counterpart, Prime Minister Suga Yoshihide. However, achieving this goal is unlikely, given that Suga is willing to hold only a brief courtesy talk with Moon, as he would with any other leaders, even if the South Korean leader decides to visit Tokyo.
Earlier, Japan's inclusion of the Liancourt Rocks – known as Dokdo in South Korea and Takeshima in Japan – on its official Olympics map caused outrage among South Korean politicians and the public alike. The South Korean National Assembly passed a resolution on June 30, denouncing Tokyo's renewed claim to South Korea's territorial sovereignty. Some South Korean politicians, such as Lee Jae-myung, one of the top contenders for the next presidential election, have even argued that South Korea must consider boycotting the upcoming Olympics.
However, both Seoul and Tokyo must realize that it is not in their national interest to politicize the Olympic Games. First, close Japan-South Korea-U.S. trilateral cooperation is vital to addressing common challenges in the region such as the denuclearization of North Korea. Furthermore, neither Seoul and Tokyo has much to gain from taking action that drives a wedge between the two, as both have come under increasing pressure from Washington to improve their bilateral ties.
Japan can signal a positive sign to the Biden administration that it is willing to sit down and renew a conversation with South Korea by agreeing to hold an extended summit with Moon. Doing so will also send a conciliatory gesture toward Moon, who is ever more eager to improve relations with Japan. The Moon administration, in his final months in office, will welcome any Japanese move to renew talks, as it has vigorously sought to improve frosty relations with Japan in order to elicit U.S. cooperation, which is essential for embarking on activities that may help improve inter-Korean ties. South Korea will also appreciate a Japanese move to hold a "special" summit with Moon, as it is likely to be treated as a sign of acknowledgement that South Korea is potentially a vital partner of Japan.
In the meantime, Japan must stop politicizing the Olympic Games by making territorial claims over the Liancourt Rocks. During the 2018 PyeongChang Olympics, Seoul honored Japan's request to remove the islets from the Korean Peninsula flag, following a recommendation from the International Olympic Committee (IOC). Japan, too, must show respect by removing the islets from the official map and leaving politics out of the Game.
In turn, Moon should visit the Tokyo Olympics with no political conditions attached. The Moon administration is under immense pressure to make substantial progress in Japan-South Korea issues as his presidency nears its end. Nevertheless, Tokyo will be reluctant to have a serious negotiation with Seoul if the Moon administration continues to demand concessions by Japan even before any talk takes place. Moon should set aside historical issues for now and use a summit with Suga during the Olympics as an opportunity to amend relations with Japan. Publicly supporting and attending the Olympic Games without any conditions can be a first step towards achieving that goal. At the same time, the Korean government must continue internal discussions to devise a broad range of solutions to resolve disputed issues with Japan in the long-term.
Building trust is difficult, especially given the contentious history behind Japan-South Korea relations. But it needs to start somewhere. While the U.S. can help facilitate the process of restoration, it must be South Korea and Japan themselves that need to take the initiatives to settle the issue.