US Defense Chief Set for Southeast Asia Trip
Lloyd Austin's three-nation tour comes amid concerns about a lack of focus in U.S. engagement with the region.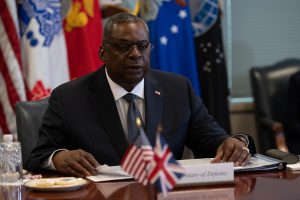 U.S. Defense Secretary Lloyd Austin will this week depart on a three-nation swing through Southeast Asia, making stops in Singapore, Vietnam, and the Philippines, the Pentagon confirmed yesterday.
Austin's visit will be the second to Southeast Asia by a top member of the Biden administration, after a visit by Deputy Secretary of State Wendy Sherman last month, and is clearly intended to allay perceptions of U.S. disengagement from a region that lies at the center of what U.S. officials increasingly call the "Indo-Pacific."
"Secretary Austin's visit will demonstrate the importance the Biden-Harris Administration places on Southeast Asia and on ASEAN as an essential part of the Indo-Pacific's architecture," Pentagon press secretary John F. Kirby said in a statement announcing the tour. "This trip will underscore the enduring U.S. commitment to the region, and our interest in upholding the rules-based international order in the region and promoting ASEAN centrality."
Austin had planned to lead a large delegation in June to the annual Shangri-La Dialogue in Singapore in June, before the COVID-19 pandemic forced its cancellation.
While the statement did not lay out a specific agenda for Austin's trip, the choice of nations gives a clear sense of its priorities. Vietnam and the Philippines have both faced the greatest challenges from China's galloping naval modernization and assertions of power in the South China Sea, while Singapore, although not a formal treaty ally of the U.S., is a reliable partner of long standing.
In Vietnam, Austin "will meet with key leaders to reaffirm defense relationships and conduct bilateral meetings with senior officials," according to the Pentagon. In Singapore, he is scheduled to deliver a lecture at the International Institute for Strategic Studies (IISS) on July 27.
During its first six months in office, the Biden administration has foregrounded competition with China in a similar matter to its predecessor. But while Washington has invested diplomatic time and energy in the Quad grouping, which convened its first virtual summit in March, its diplomatic and economic engagement with Southeast Asia and the Association of Southeast Asian Nations (ASEAN) has remained fleeting.
Ambassadorial postings across the region remain unfilled, some for years now, while the U.S. has done little to replace the Trans-Pacific Partnership that was torpedoed by President Donald Trump, an economic venture that has been described by one of its architects as "the true sine qua non" of the Obama administration's "pivot to Asia."
Governments in the region also harbor concerns about the Biden administration's framing of China-U.S. competition in ideological terms, as a global struggle between democracy and authoritarianism. This is not surprising given the region's notable dearth of consolidated liberal democracies. In general, Southeast Asian governments are concerned overwhelmingly with what China does rather than what it is: a one-party authoritarian state.
Viewing China as a potential partner with an unavoidable role to play in the region's public health and economic recovery from COVID-19, Southeast Asian governments see no reason to eschew the benefits of trade and economic interaction, even as they worry about the implications of Beijing's growing power and assertiveness. This means that, as James Crabtree argued in a recent article for Foreign Policy, "The harder Washington pushes against Beijing, the more difficult its relations with Southeast Asia are likely to become."
There are also Southeast Asian concerns about the U.S. prioritization of the Quad, both for its hard security focus and its potential to displace ASEAN from its position of "centrality" in the region's diplomacy.
As I noted last week, these divergences were on display at the Special ASEAN-U.S. Foreign Ministerial Meeting that was held virtually on July 14. In his remarks to the meeting, U.S. Secretary of State Antony Blinken condemned Chinese moves in the South China Sea, referenced principles of freedom and openness, and called for more concerted ASEAN action on Myanmar.
While some of his Southeast Asian counterparts voiced their support on one or more of these issues, they placed much more emphasis than Blinken on the concrete challenges posed by COVID-19, particularly the importance of equitable vaccine access, given the region's current surging outbreaks of the virus. Not coincidentally, this has been the main focus of recent Chinese outreach to the region.