USMC Force Design 2030: US Marines and the Indo-Pacific
The new vision for the U.S. Marine Corps will impact cooperation with allies as well.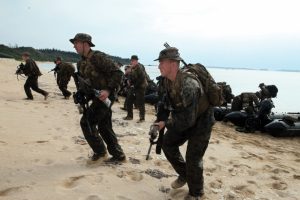 Force Design 2030 for the United States Marine Corps (USMC) sparked criticism that the USMC is becoming too specialized for the future of warfare. Given the first-ever USMC drill conducted using Japanese with Japanese Self-Defense Forces this month, there is great potential for this Force Design to impact regional cooperation with allies in the Indo-Pacific in many ways. Its new focus on diversified infantry unit capabilities and tactics will certainly affect how the USMC works with allies in the Indo-Pacific region.
Despite the criticism, these are important changes given the threats of Chinese incursion into contested territorial air and waters and the potential of missile attacks by a nuclear-armed North Korea. Force Design 2030 accurately accounts for the current threats seen in the Indo-Pacific while expanding joint operability with important U.S. allies, such as Japan.
It is worth remembering that the USMC has not always been the multi-theater branch of the U.S. military seen today. During World War II, it had similar pressures for unit development and force structure that emphasized branch-specific doctrine. At that time, the USMC was active only in the Pacific theater against Imperial Japan, specializing in amphibious assault. Despite improvements in technology, the USMC still sees the doctrine of amphibious assault as pragmatic for warfare in the Indo-Pacific. General David H. Berger, the incumbent commandant, writes that the USMC will be "optimized for naval expeditionary warfare in contested spaces," prioritizing China's activities in the East and South China Seas, while still responding to crises globally. Allies like Japan will complement the USMC with their own capabilities to create "dilemmas" – for example, diverting enemy forces during U.S. and Japanese fleet maneuvers with small groups of Marines on controlled islands.
The new design's multidisciplinary infantry battalions are also not a new concept for emerging threats in the Indo-Pacific. Marine Raiders in World War II conducted amphibious raids, infiltration operations, and large amphibious assaults on Pacific islands through "unorthodox and unexpected methods," with fewer logistical burdens. They fought alongside their standard Marine counterparts, but with more extensive training. Today, the USMC can leverage island raids with improved technological capabilities against Chinese power projection in the Pacific. New capabilities for these small teams of Marines include anti-ship missiles launched from unmanned trucks, offering new means for disruption. Such technological developments alongside these structural changes mitigate the risks of the newly proposed infantry structural changes to unit size and their amphibious objectives in wartime.
Force Design 2030 also shifts toward a reconnaissance and information focused USMC. This should work to further deepen Japan-U.S. alliance intelligence sharing with new tools. Though Japan's intelligence capabilities are still developing, USMC intelligence-sharing networks are anticipated to provide force synchronization with allies like Japan.
Overall, the USMC's means of diverting enemy forces for fleet maneuvers is innovative and complements Japan's capabilities, which rely on the U.S. for effective power projection due to its lack of manpower and legal authority – ambiguous at best, more often conservative – for offensive operations. For instance, when it comes to countering Chinese long-range weapon systems for island defense, performing 20th century style amphibious assaults will prove difficult. However, moving to more mobile, technologically-equipped and flexibly-deployed units from Expeditionary Advance Base Operations through the U.S. Navy will offer means of deploying mobile and well-equipped Marines and provide ample defense against enemy fleet maneuvers.
These changes will also balance opportunities for engagement with allies like Japan, which retains its own small amphibious forces through the Amphibious Rapid Deployment Brigade (ARDB). The ARDB cannot conduct offensive operations due to its current unit size of 2,100 personnel and its limited role of island defense. Since the ARDB's activation in 2018, Japan has funded more joint exercises for amphibious operations with the United States and other partners. This Force Design complements developing naval components of one of the United States' most capable allies in the region, given shared concerns over amphibious operations and protection of Japanese island territory.
Force Design 2030 focuses on balancing the power of an increasingly capable China with allies that complement U.S. strategy by taking opportunities to expand cooperation. It will be vital for the USMC to maintain its budget to execute these capability goals for the decade. Force Design 2030 is both innovative and necessary for the unique challenges the U.S. and its allies face in Indo-Pacific region and elsewhere.