"We Are Stronger than Their Injustice": Indian Farmers Strengthen Protest Amid COVID-19 Surge
Despite a severe COVID-19 outbreak and waning international attention, India's farmers are keeping up the fight.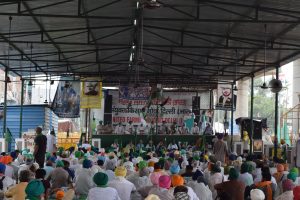 With a frail physique and a seemingly indomitable will, Gandharv Singh, a 110-year-old farmer from Etawah in Uttar Pradesh, arrived recently at the Ghazipur farmers' protest site at the outskirts of  the capital New Delhi. Like thousands of others, he came to register his resistance against the seven-year-old Narendra Modi government and its recent agricultural reform bills – so-called "black laws."
Since November 26 of last year, throngs of Indian farmers have been protesting near the borders of the capital at three sites – Ghazipur, Tikri, and Singhu borders – demanding the repeal of the three farm laws that the central government intends to implement. Thousands more have held similar protests in the northern state of Punjab.
Farmers say the combined effect of the three new laws would mean a corporate takeover of their livelihoods. They also believe that the laws allow agricultural conglomerates to dictate everything about how they farm, from the choice of crop to the pricing. They fear that this would eventually lead to black marketing and  devastate their livelihoods. They have also demanded a legal guarantee on Minimum Support Prices (MSP) for their crops, to protect farmers' from the full force of the free market.
In eight months of protests, the farmers have seen it all. From being called "anti-national" to being labeled terrorists, from being arrested, killed, and tear gassed, to being shot with water cannon while living in tents. The seasons have changed and the story has faded from the international headlines – but their stand and their struggle remains unchanged.
"The degree of injustice meted out by this government reminds me of the struggle we waged against the British Empire," says Gandharv Singh, who is older than the ruling Bharatiya Janata Party (BJP). "These laws have made clear to us, the distinction of us and them, they don't care about us. This reminds me of the 1940s when we participated in sit-ins in response to Gandhi's calls for protest."
Singh describes his feeling that this government's habit of taking big decisions without consulting the people who will be directly affected by them. His forehead creased with tension, he says, "Overnight, they make laws, kill livelihoods, and don't even consult citizens, just like mice spoil crops when the farmer is not looking." He adds, "The Modi government is more dangerous than the British Empire."
Sardar Succha Singh, a farmer hailing from Uttar Pradesh's Shahjahanpur district, is 86 years old and has been living at the Ghazipur Border protest site since January. Succha Singh is getting ready to serve langar – Sikhs serve free food as a service towards humanity – to whoever comes near his tent. As he stirs a pot of lentils, he vents his anger at the apathy that the Modi government has expressed toward the plight of the protesting farmers.
"Portraying himself as a mere tea-seller, Modi won his elections, but after becoming the prime minister, he has forgotten his humble roots that he used to get into power," Succha Singh says. "He will have to face a very bad result of all this. Farmers from Tamil Nadu, Kerala, and even Meghalaya – everyone is here! And we all can see his ruthlessness."
Talking about the hostile propaganda that has been directed at the farmers' protests, he says, "They used propaganda to portray our protest as an anti-national activity during the clash at Red Fort. The BJP should understand that many of the farmers here have even been part of the Indian freedom struggle. We released the Red Fort from the British, not the BJP." He says that the propaganda of the godi (lapdog) media will never succeed in discouraging the farmers from standing for their rights. Like many, he pledged not to leave until Modi cancels the new laws.
Sitting in a tent across from Succha are Surinder Singh and Kulwant Singh. While Surinder is resting on his hammock bed, Kulwant chants waheguru – the word of the divine – on a string of prayer beads. Surinder, a farmer from Amroha district in Uttar Pradesh feels that the government wants to systematically disempower Sikhs and Muslims. "We are not leaving until our demands are met," he says. "We have been sitting here since the first COVID wave, winters, summers, the second COVID wave and now the monsoon; we are prepared for years to come."
Kulwant, who grows sugarcane, wheat and rice in his village, Hapur, in Uttar Pradesh, agrees. He explains how these laws have led them to abandon their fields for a new lifestyle of protest. He is confident of their struggle. "There have been 12 rounds of meetings, why hasn't there been any progress? Because this government wants to talk to us, but not listen to us!" he says.
Kulwant also referenced Modi's time as chief minister of Gujarat, when a pogrom took place in which more than 1,000 Muslims were killed, maimed, and raped by anti-Muslim mobs. Modi was accused of initiating and condoning the 2002 incident, as were police and government officials who allegedly directed the rioters and provided them with lists of Muslim-owned properties. "Everyone knows his truth and what he is capable of and what he did to Muslims in Gujarat as the then chief minister. It was worse than what happened to Sikhs in 1984," Kulwant says. "The BJP government is rotten at heart."
At the Ghazipur protest site, farmers can be seen bathing in the sun together, serving each other food, shaving one another's beards, singing about the protest in their hearts, and also deliberating upon the chaos and the Government's many ills.
However, these deliberations turn satirical by the evening as Shambhu Yadav, a Bihari protesting farmer who shuttles between the Ghazipur and the Singhu Border, gets ready for another discussion with his fellow protestors in a neighboring tent.
Yadav, 56, says he prays for a BJP-free India every day when he offers water to the Sun God. "This government is not a government; they are pets of the Adanis and Ambanis (big corporates)," he shouts in a high-pitched angry voice. "It is the misfortune of India, that they elected Modi. He is dancing to the beats of his corporate masters."
All three sites also see a heavy female presence; women (jananis) live in separate tents from the men. Women protestors at the Singhu Border feel that the farmers' strength will prevail against the arrogance of the government. "We make tea for our protestors almost 10 times a day, food for almost 200 people thrice daily, tirelessly, because we are serving a cause bigger than the fatigue we face. We are serving those who feed humanity," one woman protester says.
Having traveled all the way from Bihar, on the other side of India, Sachin Singh has been treating patients free of charge for four months at the Ghazipur site. A doctor, Sachin treats people for common cold, fevers, and symptoms of COVID-19. Sachin says he is keeping the farmers healthy through their struggle.
The protests evince a keen sense of the increasing discrimination of Modi's government against Muslims and other non-Hindus. Muslims have become more vulnerable to hate crimes during Modi's second term than his first. This vulnerability stems from the two major laws passed during Modi's government – the National Register of Citizens and the Citizenship Amendment Act – which yield the power of stripping Indian Muslims of their citizenship due to lack of documentation.
Since the farmers protests began, mainstream media houses close to the government have labeled protesting Sikhs as "Khalistani" – meaning an advocate of a separate homeland for the Sikhs –and Muslims as "anti-national."  Sameer Khan, a 28-year-old Muslim farmer from Uttarakhand, in northern India, says that there is unmatched brotherhood and solidarity between Sikh and Muslim at all three protest sites in the face of the government's attacks.
Dr. Ateeq Pasha, another protesting Muslim farmer, says that the BJP government is merely surviving on speeches. He says the prime minister is a "preach minister," who loves to preach but not practice. "Worldwide, India is known and respected as an agrarian economy," he says. "Indian farmers feed the country and even the world, indiscriminately. The Government's indifference has brought us to the streets, we have been forced to protest because of their pro-corporate policies. We have been tear gassed for peaceful protests, and called 'anti-India' for questioning the government."
At Tikri Border, a stage comes alive with chants demanding the freedom of farmers from the "black laws." Tikri Border, which connects Delhi to neighboring Haryana state, currently hosts more than a thousand protestors, who have spread themselves across the length and breadth of the border in order to resist the government's legislation.
The police presence at Tikri Border and the other two protest sites is now being amped up, as the Samyukta Kisan Morcha (SKM), an umbrella body of over 40 farmers' unions, announced that agricultural workers from 22 states will participate in "peaceful" protests planned outside the Parliament building in Delhi from July 22 onwards, to press their demand for the scrapping of the three contentious farm laws and for a legal guarantee on MSP.
Bhup Singh, a farmer hailing from Fatehabad district in Haryana, arrived at the Tikri site on November 26, 2020, the first day of the protests. He describes the demonstrations as a struggle to feed his family. Apart from the laws, Bhup also points towards a related ill: the government's sale of state-owned industries and companies to the private sector. "Why are they taking decisions about us, without talking to us? Sixty percent of India's population comprises  farmers.  The government is destabilizing both, our livelihoods and lives," he says.
As Bhup draws smoke from a huqqah pipe in his tent at the protest site, he asks his tent mate, Prabhu Ram, to fetch more coal for his smoke. Prabhu Ram, a farmer from Haryana, has also spent eight months protesting at Tikri.
"We make breakfast together, discuss the progress of protests, chart out strategies," Ram says. "This protest has given us a new family." As Ram scratches his head, he says he is massively disappointed in the government. While farmers feed the country, he says, the BJP government is feeding the farmers with lies.