Afghan Forces Flee, Fly, to Central Asia
How will Central Asian states handle Afghan government forces that have fled as the Taliban take control in Kabul?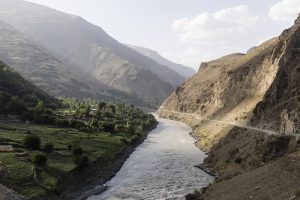 In a sense, the spillover from Afghanistan has begun, but it's not the Taliban flooding into Central Asia. It's Afghan government forces and officials. 
According to the latest reports from Uzbek media, 22 military aircraft and 24 helicopters crossed the border into Uzbekistan carrying a total of 585 Afghan servicemembers between August 14 and 15. 
On August 15, three Afghan Embraer EMB 314 Super Tucanos requested permission to land at Karshi-Khanabad, a former Soviet military base, which the United States used between 2001 and 2005. They were redirected to Termez with an escort of two Uzbek Air Force MiG-29s. En route, there was an apparent collision between the Afghan and Uzbek planes and the pilots ejected before the crash. Initial reports suggested the Afghan plane had been shot down, but later reports cite a collision. 
Uzbek authorities refer to the crossings as "illegal." 
Meanwhile, Tajik Foreign Ministry officials told Asia-Plus that more than 100 Afghan servicemembers arrived via air at Bokhtar on two planes that flew back afterward. Dushanbe denies other reported details. For example, TOLO News shared a video of Afghanistan's ambassador to Tajikistan, Zahir Aghbar, greeting a crowd of people who allegedly arrived on 18 planes from Kabul.
Not pictured in Tajikistan, however, is Afghan President Ashraf Ghani who fled Kabul on August 15, posting on Facebook that he did so to forestall bloodshed. Initial reports, citing Afghan officials, suggested he was headed for Tajikistan along with his wife; Fazal Mahmood Fazli, his chief of staff; and National Security Advisor Hamdullah Mohib. 
Ghani's whereabouts are currently unknown.
RFE/RL's Tajik Service reported two sources claiming on August 15 that Ghani had arrived in Dushanbe and was on his way to a third country. The Tajik Foreign Ministry, however, has said that Ghani's plane did not land in Tajikistan.
Abdul Rashid Dostum, the infamous ethnic Uzbek warlord, and Atta Muhammad Noor, the governor of Balkh province, both reportedly fled to Uzbekistan on August 14 as Mazar-i-Sharif fell to the Taliban. Noor blamed a "big organized & cowardly plot." Taliban were later filmed sitting around in Dostum's opulent home. 
Uzbek authorities reported the entrance of 84 Afghan soldiers; presumably those accompanied Dostum and Noor. Others have reportedly massed on the Afghan side of the Friendship Bridge between Afghanistan and the Uzbek city of Termez. 
The Uzbek Foreign Ministry has reportedly been in touch with Afghan officials regarding the return of Afghan soldiers, but it's unclear whom they have been in touch with — the government of now-fled Ghani or the Taliban. Uzbekistan has hosted several Taliban delegations over the years and maintains contacts with the group.
The Associated Press reported that some in the U.S. Congress are concerned about the Afghan pilots:
Caroline Tabler, a communications director for Arkansas Sen. Tom Cotton, said the GOP lawmaker's office was working urgently to support Afghan pilots fleeing from the Taliban to Uzbekistan.

"We're working with an intermediary who's been in touch with the pilots," she told the AP. "We have not heard from them since last night (Washington) time. We know Uzbekistan has taken their cellphones. Our primary concern is making sure Uzbekistan does not turn them over to the Taliban. We are frantically reaching out to the State Department on this case and trying to get them asylum and literally can't get a response."
That concern is warranted. As the Taliban take firm control in Kabul, and countries like China and Russia indicate a willingness to work with the Taliban (rather than try and isolate them as Washington promised the international community would), the question of what happens to forces loyal to the prior government is paramount. The Taliban have pledged amnesty, even to government forces, but there is considerable worry that those words won't be backed by actions.