Can the US Isolate the Taliban?
The answer is less clear now, in 2021, than it was in 1996.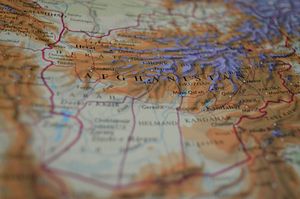 U.S Afghanistan envoy Zalmay Khalilzad is once again in Doha to deal with the Taliban via their political office in Qatar. A media note from the U.S. State Department ahead of the trip stated that Khalilzad would engage various stakeholders, from countries of the region "and beyond" to multilateral organizations, and "press the Taliban to stop their military offensive and to negotiate a political settlement, which is the only path to stability and development in Afghanistan."
In the past week, the Taliban have taken control of at least five provincial capitals in Afghanistan. Fighting continues over the capitals of Helmand, Kandahar, and Farah provinces, among others. 
Per an Associated Press report on August 10, Khalilzad came with a warning, too: That "there was no point in pursuing victory on the battlefield because a military takeover of the capital of Kabul would guarantee [the Taliban] will be global pariahs."
But is that true?
The Taliban, which swept onto Kabul in 1996, entered a city badly battered by infighting among the fractious mujahideen. But unlike the various mujahideen factions, which had forged international connections throughout their decade-long battle against the Soviet Union, the Taliban had few friends. Only Pakistan, Turkmenistan, Saudi Arabia, and the United Arab Emirates (UAE) recognized the Taliban's government in the 1990s. 
The Taliban's political acumen has evolved and their connections have expanded since the 2001 fall from power. Since 2012, the group has had a political office in Qatar. In recent years, Taliban delegations have been hosted even by governments that officially label it a terrorist group, such as Russia. In recent weeks, the Taliban intensified its fighting across Afghanistan, taking control of more than half of the country's districts, according to some estimates. Meanwhile, its political delegations were greeted cordially by Russian officials in Moscow, Turkmen officials in Ashgabat, and Chinese officials in Tianjin in July. Also in July, Iran hosted talks between Taliban and Afghan government representatives.
Last week, a Taliban delegation visited Uzbekistan on a five-day trip. Reuters reported that a senior Taliban official said the group had established a political office in Tashkent, the Uzbek capital.
India has reportedly opened a backchannel with the Taliban.
At each stop, the Taliban make pledges tailored to the host's demands and bask in proto-international recognition. In Russia, the Taliban promised to stay out of Central Asia. In China, the Taliban were asked to cut ties with East Turkestan Islamic Movement (ETIM). 
In an earlier article, I suggested that the Taliban may be aiming to play China and Russia off the United States in a gambit to get around pariah status should the group come to power in Kabul:
Across the board, the language endorsing an Afghan-led, Afghan-owned peace process remains standard, but the Taliban's willingness to meaningfully engage with the Afghan government seems more like a wishful hope than a concrete reality. While China, Russia, and the United States characterize their interests in Afghanistan similarly, their individual political preferences certainly differ, as do the range of tactics they view as acceptable. China's boilerplate policy of non-interference in domestic affairs of other countries (as flimsy as that may be in reality) provides an avenue for Beijing to deal with a future Taliban-controlled Afghanistan without much difficulty. The same holds true for Russia. 
U.S. officials, like Khalilzad, continue to push the notion of international consensus on Afghanistan and the Taliban. Indeed, if the Taliban come to power they will make Afghanistan a pariah state to most of the Western world. But Russia and China have a history of supporting Washington's pariahs, whether Iran, Syria, or North Korea. They have immediate practical reasons for doing so: China wants assurances that the Taliban and Afghanistan won't be used to base and launch attacks into Xinjiang by Uyghurs; Russia wants similar assurances vis-a-vis Central Asia. Great power competition plays a role, too: Ensuring Washington's exit from Afghanistan is as disastrous as possible is a political win for Moscow and Beijing. 
If it comes to it, can the United States isolate a Taliban-led Afghanistan? The answer is less clear now, in 2021, than it was in 1996.